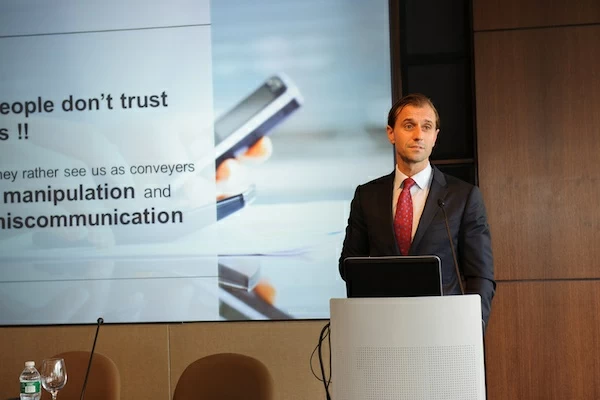 On May 10 in New York, I attended The Internationalist 100 to celebrate the announcement of the annual list of 100 Marketing Leaders.
The event, "Brand Growth in a Socially Transparent World," had some excellent speakers including:
My old colleague Paul Price, CEO, Creative Realities,
Elliot Polak, CEO, Textappeal,
Jim Gregory, CEO, Coreband and
Morten Albaek, CMO, Vestas Wind System
who closed with a rallying cry for new marketing action.
Denmark based Morten Albaek, one of this year's 100 Marketing Leaders, raised issues of marketing trust and a new generation of citizens and consumers, in an address entitled "Redefining Transparency."
He said "The fact of the matter is that consumers don't trust marketing. Advertisers regularly poll as the least trustworthy professionals, scraping the bottom alongside politicians and civil servants".
Morten Albaek, who is also an Honorary Professor in Philosophy, is known as an innovative global marketing thinker
To embrace this powerful shift towards transparency in marketing thinking, Morten Albaek suggested the following Transparency Pledge:


I will as a CMO:
Acknowledge that I have a moral obligation and professional duty to create a more honest global marketing environment
Never over-sell products nor declare them to be something they are not to gain business advantage
Encourage my gifted employees to at all times be true about the product and corporation they are marketing
Evaluate marketing not just strictly on ROI, but with metrics that measure the credibility and fact-based content of my marketing
Always stand firm on the principles of the CMO Transparency Pledge in any dialogue, discussion or decision making process with my superiors
He concluded with a challenge to marketers every where, "So over to you my fellow colleagues; challenge the pledge, tweak it, or sign up to it. The CMO role comes with the power to change society for the better. Let's join forces to make use of it. And since we all know strength comes in numbers, let's do something we've never done – at least as marketers — and come together as a group defined by shared ethics. United, we can solve these challenges and win back both the trust of the citizumers and our self-esteem."
So what do you think of Morten's CMO pledge? Can you sign it? Would you sign it? Let me know as the Internationalist is planning to put the Pledge online for marketers to pledge their commitment.
ABOUT THE INTERNATIONALIST 100


Each year, The Internationalist names 100 Marketing Leaders to acknowledge those industry executives who are consistently moving our business forward and are the champions of insuring that brands can cross borders with relevance and responsibility.

The Internationalist's 100 series of think tanks and summits focus on Reinventing Marketing Leadership amid Global Complexity. These thought leadership events offer ideas to meet the increased responsibilities of 21st century marketing leaders in a more accountable, real-time world. The gatherings enable marketers to connect, share challenges and listen to fresh perspectives in the right-sized setting among peers.
Want more articles like this? Subscribe to our newsletter: