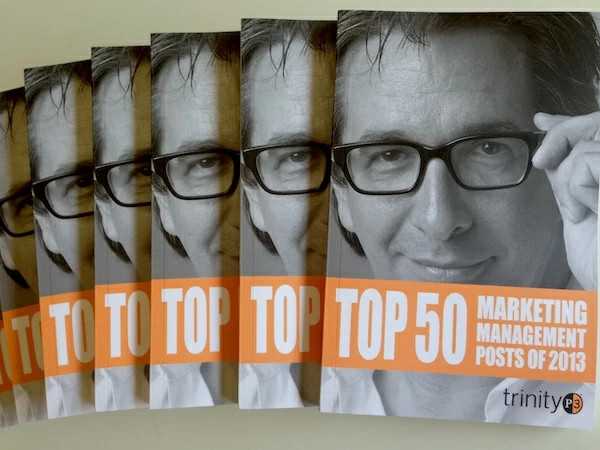 agency remuneration / compensation
,
agency search & selection
,
agency solutions
,
customer relationship management
,
data & direct marketing
,
Evalu8ing - Relationship Performance Monitoring
,
industry news & trends
,
interesting observations
,
marketing process optimisation
,
marketing procurement
,
media planning & buying
,
mobile marketing
,
print production
,
return on investment
,
social media & digital marketing
,
strategic management
,
television & electronic production
This post is by Darren Woolley, Founder of TrinityP3. With his background as analytical scientist and creative problem solver, Darren brings unique insights and learnings to the marketing process. He is considered a global thought leader on agency remuneration, search and selection and relationship optimisation.
Reading the New Year posts, 2013 has been another mixed bag for many marketers and their advertising agencies. At TrinityP3 we have had another hugely successful year. We again significantly increased the number of regional and global projects, while also increasing the number of projects in Australia and New Zealand.
We also continue to expand the type of projects from the traditional remuneration benchmarking, production assessments and agency search and selection. We have undertaken more strategic projects, assisting some major brands and companies with aligning their internal resources and processes with their external suppliers to deliver their overall strategic needs.
This culminated in us publishing our first business book that summarised the issues and lessons of the year.  The TrinityP3′s Top 50 Marketing Management Posts Of 2013 is the marketing management book of the year.
The audience for the TrinityP3 Marketing Management blog also continues to grow, with more than eight thousand people reading it each month. But, unlike the book, which has the 50 most read posts of the year, this list is the most read posts published in 2013. So here are the highlights from the past 12 months, counting them down from number 25.
Soon after we developed Evalu8ing to measure, manage and maximise agency roster performance and collaboration, my colleague and Marketing FIRST Forum co-founder Dan Hestbaek developed Hainsight to automate single agency relationship management. This post provided a comparison of the two systems and demonstrated how they can be used together.
On the back of a run of call centre projects, including search and selection and remuneration benchmarking and negotiation, Anton Buchner noted that the industry had developed two very specific approaches to pricing and  remuneration. In this post he provided an overview, which clearly proved popular.
When we commenced the content marketing strategy 3 years ago, we hoped for results, but never expected this level of success. At the end of 2012, Mike Morgan noted that unique website visitation had grown 300%, but what was the impact on TrinityP3 revenue? In this post he catalogues the strategy, implementation and the results for all to see.
It seems that when it comes to setting KPIs for agencies, many forget  KISS – Keep It Simple Stupid. We have seen KPIs and metrics for agency performance that are so complex it would confuse Sheldon Cooper. The question I addressed in this post is "How many KPIs do you need and how few do you need to get the results you need?" Good question.
Many are questioning the future role of the advertising agency. Stephan Argent challenges marketers with defining the current role of the advertising or creative agency. Digital and the increased number of communication channels means that marketers and their agencies are often not aligned on their roles and responsibilities. In this post he provides a process on how to achieve that alignment.
There is a lot of talk about paying for ideas. Mainly talk and mainly by the agencies themselves. How much is an idea worth? And should marketers pay for ideas anyway? In this post I challenged the concept of paying for ideas. It is an easy issue to discuss, but there are many issues to be addressed. But does that mean we should just give up?
Increasing numbers of advertisers are taking marketing and advertising services in house. Sometimes this is simply a design or art studio, but increasingly it includes data, digital and video production. But it is not always successful. The issues and the opportunities are outlined here.
In his first post back at TrinityP3 (He left and spent two and a half years at Starcom) Stephen took up the issue surrounding media agency remuneration and trading terms. Nic Christensen at Mumbrella started the debate with his article and Stephen continued it with this post. Plus there is more to come in 2014.
While digital technology advances innovation in all aspects of marketing and advertising, Anton noticed that most digital agencies, and especially those grown out of traditional advertising agencies, were still trapped in the old fashioned time-based remuneration and pricing model. He asked "Where is the value?" and it is clear many want to know the answer.
It was always a question I knew the answer to, but it never really made sense. That is until Nick Hand explained it to me one day and I suggested he write this as a blog post. Clearly his years as an agency CFO provided him with a deep and detailed understanding of the agency financial strategy.
At last year's CIPSA Category Management Week I collected a group of industry experts from agencies, marketing and procurement to discuss the big issues facing the industry. In this post we looked at the issues surrounding agency remuneration and the often contentious third party supplier costs.
Words like 'creativity' and 'innovation' are often thrown around marketing and advertising. Yet in this post by our friend and intellectual provocateur in the UK, Andrew Armour, he talks with industry stalwart, Gordon Torr on the important differences between the two.
With the massive changes in SEO in the past two years, first with Penguin and Panda and recently Hummingbird, there is a high interest in the impact of these changes. An interest that was clearly fulfilled with this post by our SEO expert, Mike Morgan.
"Price is not based on cost" writes Bart Simpson, in this post by Pricing Prophet founder, Jon Manning. It is a pity that more agencies and procurement people do not get this. But perhaps with so many reading Jon's words of wisdom the tide is turning and we will see a change in agency pricing and remuneration.
When people ask Nathan Hodges, General Manager at TrinityP3 about what is the best practice pitch process, he will usually ask "What type of pitch?". You see Nathan has identified at least nine different pitches, one for every occasion, and he is still counting.
As Anton Buchner says, content is getting all the attention, and most of the discussion. In fact, last year, the inaugural research report on Content Marketing by the Content Marketing Institute and ADMA drew even more attention to Content Marketing. And this post got more readers wondering what it was all about.
Over Christmas it was reported that the Myer online site was offline for almost a week. Now e-commerce is a powerful tool for business and one ignored at any businesses' peril. Chris Sewell has been working with companies on their e-commerce strategy and in this post provided insights into the issues and opportunities.
Workshops are a popular way for marketers and agencies to develop strategies, generate ideas and make plans. But often they can feel like a huge waste of time. Unless you follow Andrew's key tips for building more effective workshops. Andrew developed the Marketing Cafe concept and knows how to run an effective workshop.
To prove the positive is more effective than the negative, Mike Morgan's post on SEO providing practical insights into effective SEO strategies was more popular than the post on the risks that comes in at number 13. Both offer practical advice for marketers and their agencies when dealing with the impacts and consequences of the changes in the Google search algorithm.
Clearly, many are questioning the current models and processes. This is evidenced by the interest in this post on how to unbundle or decouple production from the agency. The question is not whether or not you should, but how and when is the best time to find a more efficient and effective way to deliver your marketing strategy requirements.
Content marketing was a real focus for 2013 as marketers, their agencies and the industry at large discussed the why's and wherefore's of a content marketing strategy. It seemed that everyone was suddenly an overnight content marketing expert. But Mike proved again his depth and breadth of thinking in this space with this popular post.
This post by Stephan was hugely popular. Not just because of the interest in who made the list and who did not. But because it raised questions about brand management and the ability of either reviving or reinventing an existing, well established brand. The most rewarding comment was on LinkedIn where a senior industry leader said "It reminded me of why I love being a marketer".
Possibly one of the easiest, but also one of the most difficult things to do is predict trends, especially in a category like strategic marketing management. But these predicted trends, developed for BizCommunity in South Africa, proved very popular, just like the same post the previous year.
My talk at the AIMIA V21 Summit led to this presentation, which led to this post, which was the second most popular post published in 2013. At the core of the presentation and the post is the simple thought that there is a fundamental difference between a digital agency and a technology one.
The most popular post of the year is not very surprising. Media is the single largest investment for most advertisers. And involved in the process are three very powerful or influential groups – advertisers, media agencies and the media owners. So when we asked the market to rank the issues facing the industry in order of importance, it clearly got the attention it deserved. Time will tell if it makes a difference.
*********
Comparing the results here – the top 25 posts that were published in 2013, with the top 25 most read in 2013, there are many similarities, but also many differences. The difference are those posts that are Evergreen content. That is content that keeps people coming back to it, linking to it, sharing it and puts it high on the search engine rankings. Mike Morgan is preparing a post on this, which we will publish soon.
In the meantime, for the top 50 marketing management posts of the year, check out the Marketing Management Book of the Year here and join the conversation and let us know your thoughts. Marketing Management and Marketing Procurement continues to develop and expand across every market.
Bring on 2014.
Thank you.
Want more articles like this? Subscribe to our newsletter: