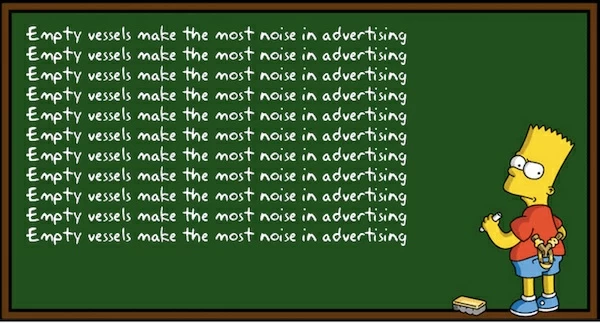 This post is by Darren Woolley, Founder of TrinityP3. With his background as analytical scientist and creative problem solver, Darren brings unique insights and learnings to the marketing process. He is considered a global thought leader on agency remuneration, search and selection and relationship optimisation.
I like to talk.
As you can see here, talking about media value.
And here, talking about creative value.
In fact at school I was often given detention for talking in class where I would have to write lines such as "Speech is silver, but silence is golden" or "Empty vessels make the most sound".
And watching The Simpsons opening sequence each week I am reminded of those detentions as Bart writes lines on the chalkboard as punishment.
It got me reflecting on the sentence above and the number of examples I have seen this in practice in advertising and marketing. I am sure it exists in other professions and categories, but it is particularly noticeable in our industry.
Perhaps this is because as an industry we have been talking at the audience for years and now find it difficult to engage the consumer in a conversation, where the marketer and agency need to give up control of the process.
Nevertheless, here are some examples for your consideration.

1. The digital expert
Especially the technical expert who can talk and talk for hours on their topic and not communicate anything that anyone listening could understand because it is littered with jargon and TLA that obscures any real meaning. If they cannot communicate the principles in plain language it is highly likely they do not really know it well enough.
2. The 'egocentric' agency CEO
Especially in a pitch situation, where they are trying to impress the marketing team. But instead of letting their team impress they start talking and don't know when to stop. The problem is for most people, when their mouth is open, their ears are closed and they are not listening to the marketer and therefore not really communicating.
3. The 'out-of-their-depth' marketer
Especially when they are either trying to brief the agency or provide feedback on the agency's work or recommendations. The problem is they are not really clear on either their requirements or their strategy and they hope that if they just keep talking they will stumble upon the solution they know is out there or someone will work out what is required and give it to them.
4. The 'enthusiastic' sales representative
…who believes they have the latest and greatest innovation in media or marketing and are just so excited to be able to share this with all who will listen. The trouble is that they never really establish what the potential buyer's issues or needs actually are so much of this enthusiasm and energy is lost, especially when the buyer is not the actual buyer, but the intermediary at the media agency.
5. The 'pompous' marketing consultant
Fresh from their latest restructuring and back into the consulting world as they regale their audience / prospect with tales of what they did when they were marketing director / CMO / Head of Marketing and Sales at their last three jobs. The trouble is that the monologue is light on detail and usually of little relevance.
There must be more, so please feel free to add them with comments below.
So besides the fact that empty vessels make the most noise, what I think you see here is that empty talking fails to communicate and fails in effectiveness. There is plenty of information on how to communicate effectively.
But here is my personal advice to assist these empty vessels.
Listening is more important than talking because it helps you understand your audiences and their needs, wants and desires.
Asking the right questions proves you know your topic if you also know the answers.
Use relevant stories, anecdotes and metaphors to make concepts and ideas more accessible to an audience.
Check in with the audience on a regular basis to turn an alienating monologue into a more engaging dialogue.
Share an opinion, point of view, story or anecdote, but be generous and allow others to share theirs too.
It is interesting that these are the skills used more in conversations than presentations.
We are, after all, supposedly in the communication business. Perhaps every so often we need to make sure we are communicating and not just advertising how clever we are.
What do you think?
Want more articles like this? Subscribe to our newsletter: