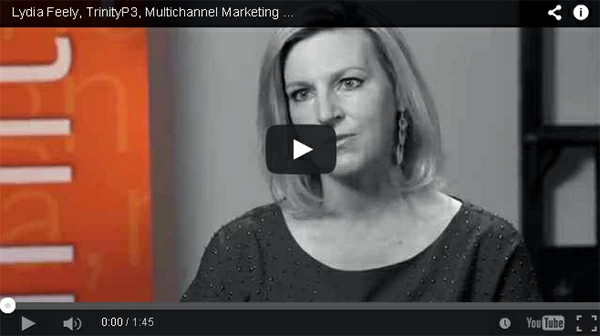 This post is by Darren Woolley, Founder of TrinityP3. With his background as analytical scientist and creative problem solver, Darren brings unique insights and learnings to the marketing process. He is considered a global thought leader on agency remuneration, search and selection and relationship optimisation.
As TrinityP3 continues to grow, so does the team of professionals within the company as does the depth of experience and expertise. Therefore I want to take this opportunity to introduce some of the core team members and their expertise, before having them answer three questions on what they do being:
What are the challenges facing marketers today in their area of expertise?
How does TrinityP3 assist marketers in this area?
What advice would they give to any marketer facing these challenges?
Lydia Feely is not just a Business Director at TrinityP3, she is a marketer with experience managing major services brands including Orange, Suncorp, Telstra and Vodafone. Telecommunications and Financial Services are particularly demanding categories with a requirement to manage a multiple of channels for brand development, acquisition, customer management and retention.
Her strategic approach to these challenges, in these challenging brands and categories has provided Lydia with a deep understanding of the requirements to best align and manage multiple channels and agencies to deliver optimal outcomes and results. It is this expertise she shares here.
Q1. What are the biggest challenges when developing multichannel campaigns?
The biggest challenge facing marketers developing multichannel campaigns is managing the complexity.
So, making sure you've got the right structures and processes in place internally and also externally.  And that sounds really simple and everyone sets out to do that, but what happens over time, you've got internally, maybe restructures, you've got new leadership, new priorities, new targets.

Externally you've got new agencies that have come on board over time, whether to run a certain project or whether to run a certain channel.  So what happens is that builds up over time and that you don't often get the chance to just take a big step back and review the whole picture at once.  That's the biggest challenge, to see if you can do that.
Q2. How is TrinityP3 able to assist them?
TrinityP3 can help marketers by taking the time that you probably don't have to really review the processes both internally and externally.
We can do all of the interviews, we can look at the issues, we can look at the gaps, the duplications.  We come to you then with the recommendations, we can make the tweaks, we can help you do that as well, and then once you've got that in place, you're off and running for the future as well.
Q3. What advice would you give to marketers facing this challenge?
The advice I'd give to marketers facing this challenge is to just take the time to step back and review the whole picture.
Given all of the channels that you're working with, it's just worth taking that time, setting up for the future, and then you'll be able to get the results that you're after.
To read more insights and knowledge on strategic management and more, check out these posts on the TrinityP3 blog here.
Video production by Phil Rich – 2 Feet Films
Want more articles like this? Subscribe to our newsletter: