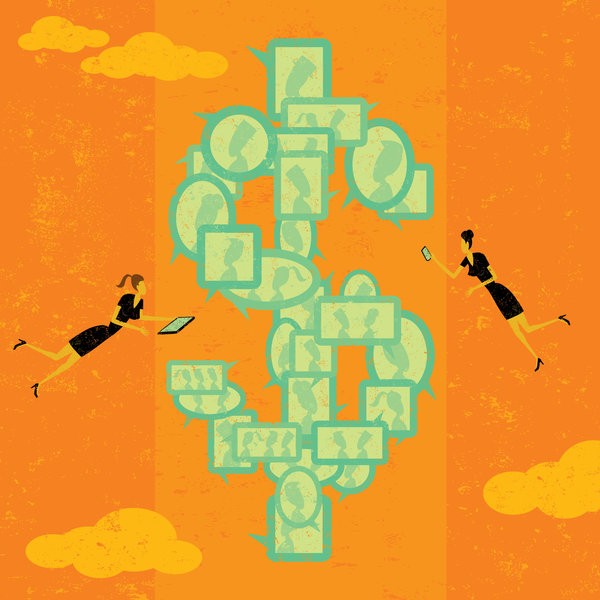 This post is by Anton Buchner, a senior consultant with TrinityP3. Anton is a lateral and innovative thinker with a passion for refocusing business teams and strategies; creating visionary, data driven communication plans; and making sense of a more complex digital marketing environment.
This post is about Smarketing (apparently a term coined by HubSpot) – the need to align Marketing and Sales. It follows on from Part 1: The Death of the IT and Marketing Divide , where I looked at the challenges that Marketers (CMOs) and IT Managers (CIOs) are facing due to the technology revolution.
"Marketing and Sales" or "Sales and Marketing"?
Before I get into it, you may be wondering why I wrote "Marketing and Sales" when most business people refer to it as "Sales and Marketing"?
I'm not saying that one is more important than the other, it's simply because chronologically, from a customer's perspective, marketing comes before sales in the communication process. People don't buy things without first finding out about them.
Hence I don't really like the buzzword Smarketing (as it should be Msales). But far be it for me to kill buzzwords with logic. But I do need your help to kill the divide.
Within organisations, many Sales Teams still think they rule the roost, as they are delivering the hard measure of revenue. Marketing tends to be viewed as a cost centre that can be cut at will, or viewed as the place where the wacky and creative types make ads and content. And the majority of CMOs have failed to make the leap to board level in Australia.
Whatever your view, in this post I would like to look at why the Marketing and Sales silos must be overhauled within organisations and how the divisive mentality needs to be killed.
Next best practice organisations have realised this and found ways to unite around common goals and create real value for their organisations.
I'd also like to pose a new definition of Marketing. Plus make the point that Sales is simply one part of the customer lifecycle, showing up at a variety of different touch points and stages. And therefore, should no longer be viewed myopically as a pipeline of leads to simply burn through and convert.
Not a new topic
Now don't get me wrong, this isn't a new topic. There has been plenty written about it over the past few years. But despite all the writing, there has been little action here in Australia.
In the companies that we work with we see plenty of finger pointing, blame, and disparaging comments about each department. Whilst they co-exist, they don't align effectively.
Why the divide?
It's also fairly obvious to understand why they don't align. Organisations have been built in silos.
Marketers are in charge of generating brand, product or service awareness and managing customer relationships. Marketers tend to set pricing for new products and take a stance on maximising margin and profit rather than discounting and selling at any cost.
And more recently, Marketers are also focussed on creating consumer engagement through content, and owned and earned social channels.
Sales leaders view marketing as 'nice to have' – the place to create advertising that is largely immeasurable, and waste money on high cost media.
Sales teams feel that they know customers best, and are typically focused on converting a high volume of leads from as many sources as possible.
One Sales Manager that I worked with recently is famous for discounting price points to meet a myriad of consumer requests, as well as demanding tactical promotional pricing to hit revenue and volume targets.
Are you nodding your head in agreement to the above descriptions?
If so, then you'd better read on.
The need for new thinking
Is there a solution?
Whilst the above feels almost impossible to overcome, there is a solution. But it involves new thinking.
Here's a new definition of marketing that I'd like to run up the flagpole.
I call it 'Total Marketing'. As you know I hate buzzwords, so you can change the name to whatever suits you. I'm not precious. But hopefully you get the point.
By Total Marketing I mean rather than one department being charged with generating marketing, the whole business should have the mindset for marketing.
HR should be finding the type of people and personalities (front line and back office) that they can attract to an organisation to help create better customer experiences, rather than simply filling job descriptions and managing internal processes.
Finance should be focused on margin and maximising opportunities over a customer's life time rather than hitting short sighted monthly and quarterly targets. Of course these targets are important but they should be a secondary measure. Have you ever seen your finance manager present a lifetime customer projection?
All staff (and especially senior executives) should be focused on building personal profiles to help create better social connections with media, prospects, and ultimately consumer and/or customer advocates.
And in order to ensure that each department is effective, it is critical to align to a clear vision and purpose, as well as consistent customer profit and experience strategies.
Make sense?
In doing so, Total Marketing becomes a united front grounded in business purpose and strategy. Everyone is clear where they are going and teams can share specific success measures.
And I don't mean superficial measures like Net Promoter Score (NPS).
Many leaders that I work with believe that they have already united their teams around common goals with NPS as the proof.
However when I explain that their score has been determined from a sample of customers that have recently bought versus bought many years ago, and customers who are high value versus low, and with varying degrees of engagement level they realise that it is indeed a misleading metric.
"So where do Sales teams come in?" I hear you ask.
Well if you take Total Marketing to be from a customer's perspective then Sales opportunities must sit across the customer life cycle and not just at one point.
After Marketing has raised a level of awareness then soft selling, social selling, lead generation, lead nurturing and inbound marketing all have their role to play.
Tom Skotidas, from Skotidas Consulting Group, refers to Predictive Social Selling, where each data point from a social media interaction represents an opportunity to identify and understand consumer behavior.  
But it shouldn't stop there.
Sales teams should be involved in relationship building and activation after an initial sale too.
Marketing can help connect new customers to a brand world with onboarding and brand world progammes, but then rather than typical upsell / cross sell relationship marketing activity, the Sales Teams can work with the Marketing Teams to determine how a relationship can best be built then ultimately converted into greater value.
This means the dismantling of existing loyalty programs, email, and other triggered communications activity. And focusing Marketing and Sales teams around the same language of value generation.
Marketing and Sales people working together in teams
One solution is to have united Marketing and Sales teams across the customer life cycle. Imagine teams of marketing and sales people working together across different stages of the lifecycle, each with specific goals and united KPIs?
Do you think the marketing and sales performance would be improved? You bet it would.
In fact we'd see organisations drop the divide and simply talk about improved performance, increased value, and ultimately happier customers due to great experiences, rather than silo KPIs.
Just look at how Apple with their retail stores is performing as a united front. Generating a staggering $4,798.82 in sales per square foot (in the US) versus second placed Tiffany & Co at $3,132.20. See here for more details
Apple has been a leader in focusing on the customer, with a procession of great products and focusing on customer-centric brand world experiences.
Time to kill Sales Territory management too
Conventional business wisdom says focus on territories and build sales teams around key areas. This was due to face to face visitation. And it made sense.
Until the explosion of digital technology allowed business to transcend borders. Location started to became relatively meaningless, except from a contextual and communications targeting point of view.
So given that best customers don't contain themselves to one area, the old sales territory approach is now suboptimal.
And if you don't agree, take a look at your highest value customer base and see where they are all located. I can guarantee that you'll find them located all over the country.
So why do so many organisations persist with sales teams split by territory in a digital world?
It's time to kill territory management and structure sales teams with marketing around customer life-cycles.
And by doing so, the divide between Marketing and Sales can be overcome.
The result? 20% YOY growth
And if you're still asking why you should unite your Marketing and Sales Teams?
A 2010 study by Aberdeen Group indicates that companies with strong marketing and sales alignment achieved 20% annual revenue growth versus -4% declines in laggard organisations.
Or if you look at Marketo's 2013 Sales and Marketing Alignment Study, when marketing and sales teams are in sync, companies become 67% better at closing deals and generate 208% more revenue from marketing.
Do you need more evidence?
I'd love to hear your thoughts on this.
Have you managed to kill the divide between Marketing and Sales in your organisation?
Do you totally disagree with me?
Or are you struggling with conflict between marketing and sales teams and self-interest within your business?
Feel free to add a comment below, or email me directly at anton@trinityp3.com
TrinityP3's Marketing Structure Review service offers a comprehensive assessment of your internal structure. We deliver recommendations designed to optimise performance via the alignment of your marketing structure with the strategic focus and commercial purpose of your organisation. Learn more here
Want more articles like this? Subscribe to our newsletter: