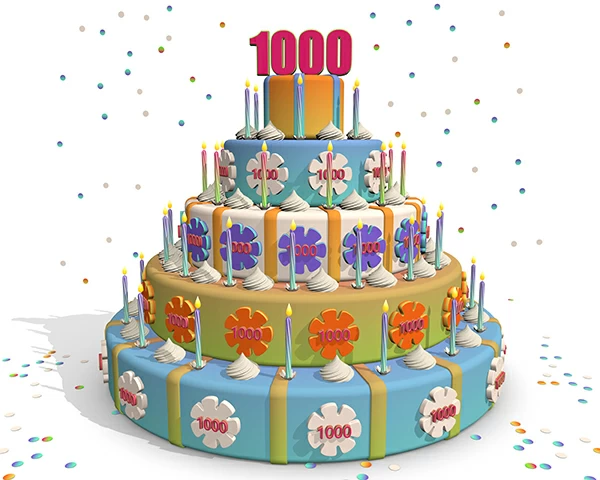 This post is by Darren Woolley, Founder of TrinityP3. With his background as analytical scientist and creative problem solver, Darren brings unique insights and learnings to the marketing process. He is considered a global thought leader on agency remuneration, search and selection and relationship optimisation.
Ten years on and this is the one thousandth post here on the TrinityP3 blog. I think that is an achievement worth celebrating if I do say so myself. The marketing management space is very different today to how it looked ten years ago. And TrinityP3 itself is a very different consulting firm to what it was back then. The post topics reflect that, if you take the time to look back to some of the earlier posts they capture the topics and issues of the time.
Looking across our most read posts, we see topics that have been read and referred to by tens of thousands of marketers, marketing procurement and agency professionals, not just in APAC, but around the world.
But let's take a closer look at the Top Ten from the last ten years and the last 1,000 posts (though technically 999) to see how the world of marketing management is evolving.
Published in 2014 this post has been the most popular post on the TrinityP3 blog ever. The recent industry discussions on the application of Zero Based Budgeting (ZBB) to marketing by global firms like Unilever have made this post important reading for marketers and finance professionals alike.
It is increasingly important for marketers to align their activities to organisational and financial objectives from budget-setting right through to performance measures, so that activities are seen as an investment and not simply a cost of business.
Since 2000 we have been advising advertisers and marketers on their agency compensation. The methodology we developed was based on linking scope of work outputs to agency resources to agency compensation. Today it is the basis of our Output and Value Based Compensation methodology.
But in 2011 this post was written because there were still many marketers and advertisers who were unable to either provide a detailed and measurable scope of work or be able to see the link between the scope of work for the agency and the agency fee. Back then most marketers were still using the "All you can eat" retainer model, where the scope of work was largely irrelevant.
An oldie, but a goodie, and a clear sign that sometimes the simplest questions can have interesting and engaging answers. After all, in a world where agencies are compensated on a resource based model, it seems natural to consider how many hours a resource could bill in a year.
Back in 2007 there were all sorts of wild statements on this topic and it lead to us firstly developing the Resource Rate Calculators on our website and then the Resource Rate Calculator Business Phone App for iOS, Android and Windows. See #10 below.
With all of the talk about digital disruption and digital transformation it was seemingly natural that a post on the brands that had reinvented themselves in the digital age should be so popular. Inspired by Argedia Group President, Stephan Argent's post (see #10 below) TrinityP3's Anton Buchner researched and compiled this list of brands.
Reading through the post reminds you that it is never the technology that is the solution, but the enabler for business to be able to create new value chains in which to satisfy customer needs, wants and desires.
Many people make the mistake of thinking that TrinityP3 is only focused on media, creative and digital agencies and suppliers. But the truth is we have always encompassed the full gamut of marketing and marketing communications including Call Centres – both inbound and outbound and both.
After managing a number of call centre tenders, Anton Buchner was inspired to write this post on the various pricing models in the market place back in 2013, reviewing their underlying strengths and weaknesses.
Only last weekend in Melbourne I had the honour of launching Shawn's new book "Putting Stories to Work", written for business leaders on how to collect, remember and refresh stories for business. But four years ago in 2012, Shawn and the Anecdote team were busy using stories to help organisations to get their strategies to stick and as a way of encouraging collaboration.
This post first appeared on the Anecdote blog and we reposted it here because fostering collaborative working environments is one of the biggest challenges marketers face in managing their agency roster. Shawn's distinctions between the various types of organisational collaboration clearly resonated with our marketing audience.
Social media was the hot topic of 2012 as evidenced by the number of industry forums and conferences addressing the subject. It was after one such one day seminar that I was inspired to write this post because I realised that so few of the speakers up on stage actually used social media, yet here they were in a forum speaking about the issue as if they were experts on the topic.
Personally, this is a huge issue for the industry. With so many conferences, seminars, workshops, webinars and the like available, we need a greater level of diligence on the credentials and the expertise of the speakers taking the stage. Too often the only reason they are on stage is because they have paid the organisers to get up and pitch their wares.
I remember having the same discussion with a number of procurement professionals when it came to calculating agency hourly rates. They would take the salary and multiply it by the overhead and profit factor and then divide by the number of billable hours to get the hourly rate. This clearly understated the agency profit margin, often by half.
In 2012 we launched the TrinityP3 Resource Rate Calculator, a business phone app for iOS, Android and Windows that made this process, accurate, rigorous and easy. It also meant that agencies, marketers and procurement were working to the same methodology. The App is still available free today, just not for Windows any more I believe.
Denise Shrivell at Mediascope approached me in 2013 to collectively run an industry survey on the issues facing the media industry and more importantly how to prioritise the issues to be addressed and how to address them. This was the second year we had run the State of the Media Industry survey, which we presented in a panel format at Mumbrella360 that year.
You have to remember this is before people were openly talking about the issues today around value banks, programmatic buying, ad-blocking, ad-fraud and the like. The disappointing thing was looking back on these issues raised in 2013 and 2014 and realising that they still face the media industry today, along with so many new ones.
My colleague and friend in Canada, Stephan Argent is the president of Argedia Group. He is also a regular contributor to the TrinityP3 blog. This post from 2013 captured the brands that had successfully reinvented themselves. What an eclectic list it is too. From tea to the Royal Family and Lego to William Shatner.
It is an entertaining and thought-provoking read with many astute insights into what it takes to truly reinvent a brand.
The next 1000 posts
So what will the next 1,000 posts look like? Only time will tell. Certainly there are already some major trends and new issues on the agenda. Beyond programmatic and further technology, we are working more with marketers to structure their teams to be more customer centric, business aligned and technology enabled.
One thing is certain, the next 1,000 will not take ten years. We are on track, at the current rate of publication, to hit 2,000 by 2022. We will continue to write about and share the topics that interest us in marketing management and share the insights and knowledge we gain along the way, solving the marketing issues of our clients.
Thank you
I want to take the opportunity to thank the TrinityP3 consultants, past and present, who have contributed to the content of the TrinityP3 blog along with the guest authors outside of TrinityP3 who have likewise shared their opinions, insights and knowledge.
I especially want to thank Mike Morgan and his fantastic team at High Profile Enterprises who bring knowledge, wisdom, discipline and humour to these efforts.
And I want to thank you the readers, commentators and social sharers who make it all worthwhile.
Here is to the next 1,000 posts.
TrinityP3 has developed a suite of products aimed at increasing your marketing performance to achieve improved business outcomes. Find out more here
Want more articles like this? Subscribe to our newsletter: