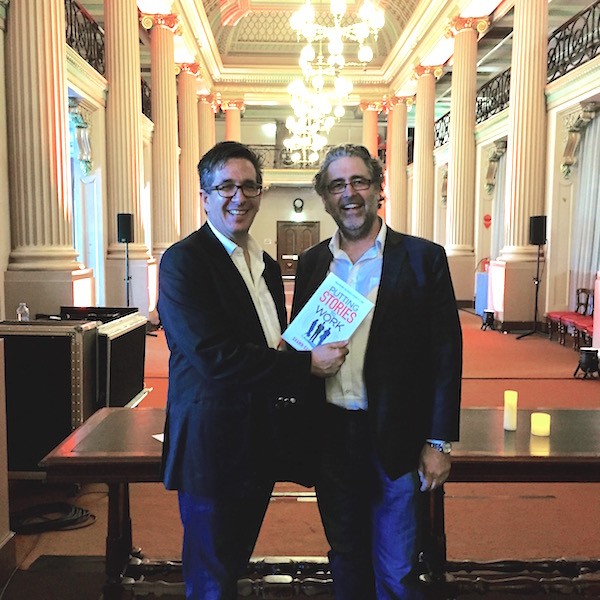 This post is by Darren Woolley, Founder of TrinityP3. With his background as analytical scientist and creative problem solver, Darren brings unique insights and learnings to the marketing process. He is considered a global thought leader on agency remuneration, search and selection and relationship optimisation.
About a month ago I had the pleasure of launching a business book on Storytelling for my friend and colleague Shawn Callahan at Anecdote. Shawn has been working with storytelling and story-listening for almost two decades, firstly at the IBM Cynefin Centre and then later with his own consultancy Anecdote. He has even contributed to a number of posts on storytelling here on the TrinityP3 blog.
Shawn's book "Putting stories to work" is a distillation of all of his experience and knowledge from working with business leaders around the globe on how to use storytelling to achieve their business objectives and is available here in hardback and paperback or as an e-book here.
But while his focus has been business leaders across the C-suite, I think there are some major insights into storytelling that are especially relevant to Marketers and particularly marketing leaders.
With the transformation, or as some call it disruption, of business due to technology innovation, the focus for marketing is moving from brand building to brand management of the customer engagement and experience.
Increasingly marketers are taking a leadership role in defining and managing this across their organisations. And what better way to influence this than with the exceptionally powerful techniques of storytelling.
An incredibly practical book
Putting Stories to Work is structured in three parts.
The first part lays down the foundations of the purpose of storytelling in business and why it is so important these days for business leaders to master storytelling as a skill. Specifically he is referring to oral stories, the ones people share in day-to-day life and of course business.
But interestingly he sees business storytelling as not just a skill, but a habit that anyone in business can develop and master.

The second part is a step-by-step guide for anyone wishing to develop the habit of business storytelling. It explains how to discover stories, how to remember stories, how to share stories in the right way and at the appropriate time and how to refresh stories to avoid them becoming stale or out-dated.
But most importantly he tells you how to deliberately create opportunities to practice, practice, practice and refine your storytelling skills.
The third and final part provides advice on embedding stories within your business, providing a structure and a case study to demonstrate the challenges and effectiveness for driving cultural change. He also provides guidance on the ethics of storytelling.
In every part Shawn uses stories to support and make his points, demonstrating the very effectiveness he is espousing.
Defining what is a story
The first terrific distinction Shawn makes for me is the concept of what is a story and what is not. I think this is particularly important for marketing and advertising where everyone talks about storytelling without necessarily having a correct understanding of what is a story and what is not.
The example he uses is the website for the skincare company based in Melbourne, Aesop. Aesop's Fables  are ancient stories with strong moral messages, so it is a reasonable assumption that they would embrace storytelling like their namesake.
But as far as their brand story goes, he finds there is no story at all, just a list of statements.
It is surprising since so many people talk about storytelling, but so few actually seem to understand what makes a story let alone a good story. Previously Anecdote launched an on-line story tester to test if you can tell the difference between a story, opinion, an analogy or a case study. We reviewed it here, so why not put yourself to the test? 
In his book, Shawn points out that many business people struggle with identifying stories and he has dedicated a whole section of the book to help the reader practice and refine the ability to spot a story. And even how to tell a good story when you hear it and how to remember, share and refresh a story for every business situation and occasion.
Big S versus little s stories
The next big insight is when Shawn defines the concept of Big S and little s stories. Often in media and advertising, agencies will talk about storytelling and will use Big S examples such as bestseller novels, blockbuster movies and the like to make their point.
This Big S storytelling is about telling entertaining stories, memorable for the expansive landscape they are created on.
They are also the stories that you usually need to suspend disbelief to be able to enjoy. As an advertising agency colleague recently shared on social media, he was at a client workshop "teaching his client how to lie and deceive, yes I am teaching them storytelling".
Sarcasm or not, it is indicative of the approach to storytelling many in the industry promote. This is the world of fiction, larger than life stories that entertain, often follow one of the seven plot lines and are filled with archetypes, the most common and popular one being "The Hero's Journey".
But as Shawn shares, it is the smaller, usually truthful stories that perform best in business. The accessible, relatable, shareable stories that allow the listener to discover the point of the story for themselves and in doing so engage in the story.
Even better is if the story moves the listener emotionally as these are the ones most remembered and more likely to be shared with others.
Do yourself a favour
Yes, in the words of Ian 'Molly' Meldrum, if you are interested in how to use storytelling in a business context, and I believe anyone in marketing, media and advertising should be, then Shawn Callahan's book 'Putting Stories to Work' is a refreshingly practical perspective on using storytelling.
The book is available here in hardback and paperback or as an e-book here. 
Book Details:
Title: Mastering Business Storytelling – Putting stories to work
Author: Shawn Callahan
Publisher: Pepperberg Press
Date: March 20, 2016
ISBN: 9780992338558 (Hardback)
Available on Paperback and Kindle on Amazon.com
TrinityP3's  Marketing Business Alignment service strikes at the heart of our reason for being: driving enhanced marketing performance via alignment of process and commercial purpose.
Why do you need this service? Read on to understand more
Want more articles like this? Subscribe to our newsletter: