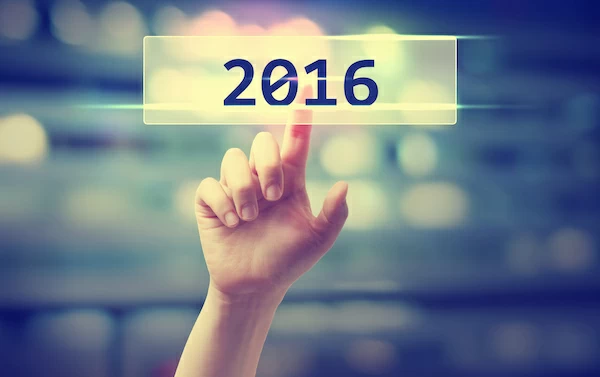 This post is by Darren Woolley, Founder of TrinityP3. With his background as analytical scientist and creative problem solver, Darren brings unique insights and learnings to the marketing process. He is considered a global thought leader on agency remuneration, search and selection and relationship optimisation.
Wow, what a year 2016 has been. It will potentially go down in history as the year the people of the world rejected the political norm with Britain rejecting belonging to the European Union and voting to Brexit, when the Philippines voted in a very unconventional President in Rodrigo Duterte and the USA followed suit electing President Trump against all of the predictions of the polls and the mainstream media.
Where this will take society, time will tell. But here we are reviewing those topics published this year on the TrinityP3 blog, which have attracted the most interest from our audience of marketers, procurement professionals and agencies.
This audience continues to grow each year to almost 200,000 around the globe. So what are the topics that captured the attention of this audience this year? Lets take a look and see what it could mean for the year ahead.
With the continuing downward pressure on marketing costs and therefore agency fees, it is not surprising that the post on the latest trends in agency remuneration proved so popular. This was actually the transcription, video and presentation by Darren Woolley, founder of TrinityP3 as the first of a series of successful webinars held at the end of the previous years. The insight was that while most advertisers were still relying on a cost based model there is an emerging trend for value based remuneration models.
The great conundrum for marketers and agencies is that the relationship is changing as marketing, media and advertising is changing. But at the same time there are some core enduring issues that are maintained. In this post, TrinityP3 senior consultant, Zena Churchill was able to distil four problems that cause breakdown that clearly resonated with the audience of marketers and their agencies.
Successfully reinventing a brand can be hard work. Doing this in the digital age means that marketers have more possibilities and more choices to make, which increases the complexity of the marketing process. It is no wonder then that when Anton Buchner, Senior Consultant at TrinityP3 further shared examples of brands that had reinvented themselves, there was significant interest in what it takes to get it right.
With so much of the industry conversation focusing on media and media transparency, veiwability and rebates it is possible that many advertisers will be thinking that the media buying process is broken. So when David Angell, Media Lead at TrinityP3 shared the details of Blackwood Seven, an Artificial Intelligence management programmatic trading desk as the possible future of the media agency the audience was definitely interested and engaged.
There is something undeniably attractive in the confessions of a poacher turned gamekeeper. So when Bruno Gralpois, co-founder of Agency Mania Solutions chose to share his confessions on agency / client relationships from his time as a marketer and client to agencies it made compelling reading. I just wonder how many marketers felt his confessions personally and deeply but could not bring themselves to share?
Speculative creative pitches are clearly not the ideal way to select a new agency. It is time consuming, wasteful and flawed. But we are not alone in this opinion and so when agency industry legend, Rod Curtis, Managing Director, T20 Group provided this guest post on the pitch process it reinforced our position on this. But I am wondering if his call for agencies to stop pitching will actually resonate when new business revenue is in the offering?
This post actually got a number of comments on social media suggesting that we should not be critical of marketers as these are also our clients and that it is not good business to criticise your clients. It makes me think that we had touched a sore point in some people with this. Sure most of these personalities had a negative impact, but in actual fact it is only by recognising these types that you can develop strategies to address these issues.
Content is King, as the saying goes. But I recently read that content is now Queen and that the channels to access it have taken the reign. But content marketing is still a significant strategy for many marketers, especially those in the B2B category. So Fergus Stoddart, Managing Partner at The Edge provided his list of the top ten things to look for in a Content Marketing Agency, based on his experience from the agency and industry perspective.
This research from Korn Ferry Institute, the Marketing Pulse Survey, provided some qualitative insights into the magnitude of the issues facing CMOs today. This post by Darren Woolley, Global CEO of TrinityP3 looks at these issues and attempts to explain and understand the underlying mechanics of these issues. The most interesting past is that many of these issues are not that different from ten years ago, just perhaps a little more complex today.
Social media is powerful. It breaks news. It influences elections. It creates public opinion. So it is curious as to why so few company CEOs have embraced social media as a channel to promote their organisations and engage their various stakeholders and audiences such as the media, customers, investors and suppliers. Suzie Shaw, CEO at We Are Social Australia, brilliantly explains the reason why they should here. In fact this post was so popular Suzie also joined in a Marketing Management podcast on the topic too.
Have you noticed that everyone is selling these days? Tech companies are pitching their latest marketing platforms, media agencies are pitching their programmatic trading desks, and digital agencies are pitching their development capabilities. So Darren Woolley at TrinityP3 asked is everyone is just a salesperson these days, because it seems like everyone has something to sell other than simply providing independent advice to solve marketers problems and issues.
Some of the most engaging posts are those that share a personal and insightful story (Just read Shawn Callahan's book "Putting Stories to Work"). David Angell, General Manager at TrinityP3 shares a personal story from early in his career. He reminds us that while trust is often quoted as being the most important quality in agency client relationships, often you need a much important quality to earn and maintain that trust.
With the news this year that Marketing Directors' tenures are getting shorter, it took an ex-Marketing Director and now the Managing Director of TrinityP3 UK, Bill Merrick, to reflect on what is needed to save them because if the trend continues inevitably they could disappear. Bill's critical mission provides a plan for how to save the Marketing Director and it is a mission that clearly has some supporters.
The role of data analytics and insights is becoming increasingly important with the explosion of customer data and the ability to collect and analyse it. It is often described as the transition from Mad Men to Math Men. But as Anton Buchner, Digital and Data Consultant at TrinityP3 highlights, one of the issues for many marketers is that the Data Analytics function in many organisations is separate from the Marketing function and yet this is no longer sustainable.
The ANA K2 Report into Media Transparency and Rebates and the ISBA Media Agency Contract template was the latest public milestone in a process that TrinityP3 first became aware of four years earlier. In that time we had posted regular updates and insights on this issue and in this post Darren Woolley, TrinityP3 founder provides a step-by-step review of the unfolding train wreck that is the media transparency crisis.
In a software / technology world it is predictable that its trends and methodologies influence other areas of business, including marketing. The principles of agile software development became the basis of Agile Marketing as a way to provide greater responsiveness and flexibility to the marketing process. So Lara Sinclair, Content Director at Simple provided a review of the Agile Marketing process and posed the question, does it deliver everything it promises? Well does it?
In many organisations there is a huge divide between the sales and marketing functions. In fact this is possibly the most traditional of divides and one that is increasingly becoming redundant as marketing is increasingly taking responsibility for building and maintaining customer relationships. In this, the second of four posts written by Anton Buchner of TrinityP3 on the divides for marketing to overcome, sales and marketing makes this top 20.
In 2015 we started a fortnightly podcast called Marketing Management, with interviews between Darren Woolley and various industry thought leaders and specialists. These podcasts are transcribed and posted on the TrinityP3 blog. In this podcast with Elliot Polak the CEO of Textappeal and Newsroom, we discuss the role of transcreation for global marketers and their brands. Clearly it has universal appeal.
Robin Hicks, Asia Editor at Mumbrella Asia called Darren Woolley one day and asked if he had advice for agencies that were being asked unreasonable requests by unreasonable clients? Of course he did and this became an opinion piece in Mumbrella Asia, but then after it was published there was an opportunity to expand on this original article and it was published on the TrinityP3 blog.
In this Managing Marketing podcast, Darren Woolley has a discussion with Michael Farmer, author of best selling industry book, Madison Avenue Manslaughter on the changing economics of the advertising agency business, a topic that Michael has tracked and studied since the early nineties. It is a topic of interest to marketers and agencies alike because everyone acknowledges that the current system is broken but how is it going to change?
Simply the best of 2016
Each of these posts was published this year and of the more than 150 posts they are the most popular – the most read and the most shared on social media. They represent the topics that captured the attention of those interested in marketing management.
From agency remuneration to managing client agency relationships. Media transparency to content marketing. Social media to global transcreation. And all of the things that keep the CMO awake at night and ways to save the Marketing Director.
These are the topics of 2016. What will be the marketing management topics that capture the industry in the coming year? Time will tell or perhaps if you cant wait you can check out the predictions of the TrinityP3 consultants here.
Advertising and marketing trends, strategic marketing management, agency solutions, agency remuneration, media planning and more can be found on the TrinityP3 Blog
Want more articles like this? Subscribe to our newsletter: