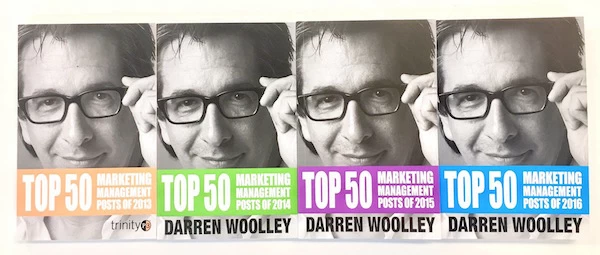 This post is by Darren Woolley, Founder of TrinityP3. With his background as analytical scientist and creative problem solver, Darren brings unique insights and learnings to the marketing process. He is considered a global thought leader on agency remuneration, search and selection and relationship optimisation.
Following a series of high profile international scandals, media transparency has, for the first time, made it into the top three most popular subjects in the Marketing Management Book of the Year 2016.
While social media measurement and gender equality have also received considerable attention over the past 12 months, the relationship between client and agency once again tops the list, followed by posts on agency remuneration.

The most popular subjects on TrinityP3's Marketing Management Blog 2016:
Client/Agency relationship
Agency remuneration
Media transparency
Digital marketing
Marketing challenges
Procurement
Agency search and selection
Social media
Now in its fourth edition, the Marketing Management Book of the Year published by strategic marketing management consultancy Trinity P3, is a collection of the top 50 most popular posts based on readership, commentary and social sharing from TrinityP3's marketing management blog, which has more than 150,000 visitors each year.
In 2016 the 270-page book, the biggest yet, reflects the subjects that have captured and engaged the interests of marketers, procurement and agencies, across the world.
Client / Agency Relationships
The sometimes complex relationship between client and agency dominates this year's Top 50, with 13 entries focusing on the various challenges between the two parties as well as how to measure, manage and maximise performance.
Subjects include 4 problems that cause breakdowns; Confessions of an ex-client; 5 things agencies hate hearing from clients; The art of saying no to clients without feeling guilty and 8 ways to be a better client.
Lydia Feely, Managing Director of Evalu8ing, part of the TrinityP3 Group, said: "At a time of such complexity and disruption it makes good sense for marketers and advertisers to be focused on how to improve the performance of the agencies they are already working with rather than going through the time-consuming process of adding new agencies to their roster."
Agency Remuneration
Agency remuneration or compensation was the second most popular subject on the Trinity P3 blog this year, with the top post being The latest trends in agency remuneration. Six other posts made the book including What is included in the overhead when calculating the agency retainer?; Defining Value Based Agency Compensation and 7 essential considerations when moving from agency retainer to project fees.
Darren Woolley, Global CEO of TrinityP3 said: "There is a growing dissatisfaction with the cost based remuneration models such as retainers and with the increased use of Zero Based Budgeting for marketing. More companies are looking to value based models to reward their agencies for results and not just compensating for costs."
Media Transparency
Media and in particular media transparency broke into the top three this year, as international scandals shone a light on the practices of agencies. One post, Strategic ways to use Media Added Value, which was first posted in 2011 has made it into the Top 50 demonstrating the hunger for information and strategies to maximise the value of the media investment today.
Other posts to make the book include 10 programmatic questions to ask your prospective media agency and The slow motion train wreck that is the media rebate and transparency crisis.
"Global attention is now firmly fixed on media transparency and we have seen significant increase in interest on posts about that subject," said David Angell, General Manager and Head of Media at TrinityP3. "Beyond media transparency, most of our work with advertisers is identifying where media value is being created, lost and hidden and assisting them to maximise their media value and performance."
The Top 50 Marketing Management Posts of 2016
Now in the fourth year, it is our biggest and best yet with over 260 page covering a wide range of hot marketing topics from agency remuneration, digital marketing to agency roster management, media transparency, marketing procurement, production management and everything in between.
The book represents the top 50 posts; based on readership, commentary and social sharing, from the popular TrinityP3 Marketing Management Blog, which has more than 150,000 visitors each year. The largest readership of the TrinityP3 blog is North America, followed by Australasia and then UK and Europe.
The Top 50 Marketing Management Posts of 2016 is priced at $17.95 and available to purchase via TrinityP3's website here or the e-book version is available on Amazon.com, Apple iBook Store and all good online bookshops.
Want more articles like this? Subscribe to our newsletter: