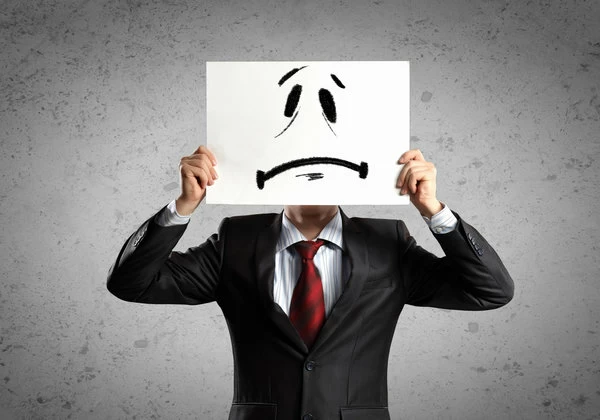 This post is by Nathan Hodges, TrinityP3's General Manager. Nathan applies his knowledge and creativity to the specific challenges of marketing management, with a particular focus on team dynamics and behavioural change.
Any marketer, obviously, would want to increase the degree to which their discipline infuences the organisation in which they work.
At least, you'd think so, wouldn't you?
In fact, in our experience the best efforts of some marketing teams can sometimes have quite the opposite effect.
Here are five of the quickest ways we've seen to make a marketing team less influential. Have you and your team ever been guilty of any of them?
1. Be lazy with your budget-setting
We all know you can set your marketing budgets top-down or bottom-up.
Both approaches have strengths and pitfalls, and we've blogged about this plenty of times before (see here). Smart marketers usually do a bit of both.
But budgeting top-down often seems quicker and easier to many marketing teams. Especially for the ones having trouble measuring or proving the effectiveness of their marketing activity.
It's not that hard to take last year's budget and add 10% – or reduce it by 10% if there's some cost pressure (responsible marketing team that you are).
It's a lot harder to apply zero-based budgeting, and to have to generate a business case for every dollar you spend. All those presentations, data analysis, insecurity and uncertainty …well, it's not for everyone, is it?
But be aware that, in most cases, if you budget top-down in isolation, you are probably setting marketing up as a cost rather than an investment. A luxury rather than a vital neccessity.
And you know what accountants like to cut when things are tight?
2. Use your customer data problems as an excuse
Almost every marketing organisation we've worked with over the last year alone has problems with accessing, analysing or applying their customer data. Usually all three. And the solution – the one where everything is migrated, silos are removed, integrated systems talk to each other, dashboards are on every desktop and everyone is a CRM expert– is always 'about a year away'.
So if you're a sensible marketing team (like most of the ones we work with) at the very least you use what information you have to produce the best result you can, and then capture data as you go to test, learn and optimise.
If you're less sensible though, you can wait. You can use your customer data as a cast-iron excuse to try nothing new, put off that decision, delay that initiative and keep things as they are. You can keep doing what you did before in the same way you've always done it, even though it isn't working very well any more.
For maximum influence-reduction, try bringing in expensive consultants every few months to assess your data capablities and develop comprehensive, practical recommendations – which you can then shelve 'until next year'. Your CFO will absolutely love this.
3. Swing in the wind.
'All marketing briefs are equal, but some are more equal than others' (as Orwell might have blogged). If you have no objective, evidence-based, ROI-centred methodology to prioritise the ideas, briefs and tasks that come into your marketing team, then other people will make that decision for you, and quickly.
What better way to reduce your influence than to bear the imprint of the last person, crisis or sales team that sat on you? Has a shiny sponsorship opportunity just popped up out of nowhere? Great – then do it! It'll take up half the annual budget and you'll  have no way of measuring its likely effectiveness, but hey – the sales director and the media agency love it. And the board will all get season tickets!
We had nothing else that important to do with the money anyway….
4. Appear in lots of party photos at lots of awards bashes with lots of your agencies
To follow the sage advice of Kool & the Gang, of course we should celebrate good times. Come on.
But if you're truly hell-bent on making marketing look smaller in your organisation, then this is a golden opportunity for you to take it to the next level.
Esoteric awards ceremonies for a questionable 'innovation' you've commissioned are always a good start – even better if its something tech-related but with no commercial benefit, Failing that, just get your agency to enter for every award going. Then frock up, tuxedo down and pose with the beautiful people!
Don't forget to put every selfie and press shot of 'Kool' you and your 'Gang' on all your socials – private and company. The sales department will love it. So will finance. And no doubt the board will appreciate the whacky side of you crazy marketing guys and your agency chums right away. Go you!
5. Go public on how your slightly improved logo design is going to make the entire world a better place.
In any highly specialised endeavour, it's probably not a great idea to let too much light in on magic. People outside just won't quite understand. That certainly holds true for most projects in the design field – and most definitely for corporate identity.
Now, we all know that getting these things right means a fair bit of introspection. Most of the time, those involved keep that stuff within the project team. Not all marketers though. Entertainingly, so many seem driven to rush to a public forum to make themselves look like they've disappeared up their own proverbials. Two recent examples will help make the point better than I ever could.
"The wants and needs of our customers have changed, and with that we've changed too. We challenge the status quo and push the boundaries to give people something that they won't find anywhere else."
So how did this team 'challenge the status quo'? They reversed the colours in their logo. Nice work, guys!
"Conversely, the new brand was built for people to use: to connect, to share, to learn, to play, to enjoy. It could flex but still feel familiar, it could be fun one day, formal the next, it could be professional yet personal."
Oh dear.
What have we missed?
How aligned is your marketing team with your organisation? We bring best-practice thinking to bear in delivery of improved marketing performance. Learn more here
Want more articles like this? Subscribe to our newsletter: