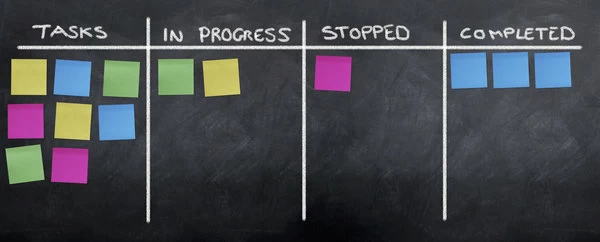 This post is by Anton Buchner, a senior consultant with TrinityP3. Anton is one of Australia's leaders in data-driven marketing. Helping navigate through the bells, whistles and hype to identify genuine marketing value when it comes to technology, digital activity, and the resulting data footprint.
For the penultimate post in the Become an Instant Expert series, we'd like to focus on Agile Marketing Delivery.
To agile or not to agile?
It's a great question, and has been the starting-point for many marketing teams this year, when looking for ways to improve their go-to-market process.
Should you consider an agile marketing approach within your organisation?
Well before you do, it's important to first understand what agile marketing is and isn't.
Agile marketing explained
It's a term that came from the software development industry back in the 1950s, whereby solutions were developed and evolved with cross-functional team collaboration.
Agile software development was designed to have all aspects of planning, analysis, design, coding, and testing included together to have working prototypes and products developed and presented to stakeholders for fast approval and implementation throughout defined release cycles.
It involves the notions of minimum viable product, test and learn, and fail fast allowing defects to be repaired, and a continuous improvement culture based on fast feedback to be created.
Marketers then jumped on the bandwagon over the past few years, to speed up their go-to-market processes for specific product launches, events, and media/channel opportunities. Resulting in tactical teams being created to get activity into market quickly and provide feedback on failure/success to management.
However, from TrinityP3's perspective, marketers and agencies are mixing up speed to market, with the essence of more effective collaborative creation.
Five tips
So if you are hearing "agile" being used within your marketing team, then here are five areas to be aware of if you're going to become an instant expert and successfully implement an agile marketing approach:
Tip #1. Agile marketing is not a strategy, it's a process
Agile marketing can sometimes be confused with not needing a strategy. Some marketers that we have worked with had decided to throw away their strategies in favour of getting tactical activity into market based on dynamic conditions.
This is a dangerous position and a misunderstanding of agile marketing. Agile marketing, as we've outlined is a process. It is not a replacement for strategy.
You will still need a marketing strategy outlining how you will deliver on your objectives. However, the plan to execute your strategy may involve an agile approach to fast tracking collaborative solutions for some of your activity (not all!).
Tip #2. Agile marketing means a better way of collaborating
So what do we mean by collaboration?
Collaboration is the act of working with someone to get something done.
So for marketing teams, it's the ability to work with other functional areas of your business (eg: product, IT, sales, legal, customer service), and external suppliers (agencies and tech vendors) to get your marketing activity into market.
How did marketing teams collaborate in the past? The marketing process typically followed a linear cascading waterfall method.
Whereby business cases were agreed, requirements gathered, strategies set, tactics defined, ideas created and approved, and then the activity was implemented, and results were analysed.
However, by following this linear method in a large organisation, success relies on each area being available, and you can't move ahead without each stage being achieved in the flow.
In today's world, marketing is circular around an organisation and should not be considered linear.
By that we mean that marketing needs to be considered from all angles: internal employee profile, front line staff experience, technology platforms and plug-in opportunities, social networks and content, as well as advertising, communications, media, and analytics.
So a new form of collaboration is required.
Tip #3. Why do you need to collaborate better?
Collaboration works best when there's a focused project to deliver. And with focus comes a collaborative effort. Everyone on the team pulls their weight and gives focus to an end result, rather than their specific silo perspective only.
For example, during times of Olympics sponsorships, we often see stand alone teams of specialists being established within a business to purely focus on the opportunity. Everyone works together to ensure that outputs are achieved, refined and optimised.
In many cases if a traditional cascade waterfall approach was adopted, projects would simply get bogged down and impacted by other day-to-day business issues within each department.
Hence better collaboration provides the opportunity to take advantage of opportunities in a more effective manner, and to take concepts to market in an attempt to gain competitive advantage or to catch up to competitors.
Tip #4. What level of capability do you require to make an agile marketing process work successfully?
Hopefully you're getting the picture that agile marketing doesn't just happen with the same resources, technology and processes that you currently have in place.
To be successful your senior leadership team needs to fully understand the new way of working, and must fully endorse and support it in order to prevent conflicts of interest and resistance from other internal forces.
Ownership will then need to be delegated to the team so that it can effectively operate in an agile manner. And a "scrum master" needs to be appointed as the team leader to manage the one to two week cycles of work (or "sprints").
The team itself will need to be comprised of people from multiple disciplines of expertise that are relevant to working on the project.
And each team member will need to be sufficiently freed up from his / her day-to-day activities in order to be able to fully focus on the project at hand.
Finally, and most importantly, analytics resources will be required for agile marketing to be successful.
Data from the tests will need to be analysed in order to modify, iterate and optimse activity.
And as your agile marketing process improves, you'll notice that the volume of work that the team can get through can become incredibly large. When focused with the right resources, processes and technology, the agile marketing team may be able to run a myriad of tests and market activities that were previously impossible to manage under an older silo system.
Tip #5. What are the impacts on your overall business?
The ultimate impact on your business is getting faster feedback on what is working and not working for your customers. In order to make better decisions and focus budget on the most effective opportunities for delivering greater value.
There are also many other benefits to implementing agile marketing including:
Better internal communication by removing roadblocks and resistance

Greater transparency and openness

A better culture, and improved employee satisfaction.

A better ability to handle and adapt to market change

Greater accountability with an emphasis on making your marketing activity more measureable and responsive

And on a personal level you can grow your knowledge quicker
Does an agile marketing process sound like it's worth exploring for your organisation and customers?
Act now
If so, then TrinityP3 can help assess People, Purpose and Process. We help people achieve commercial purpose through creative process.
So, if you'd like to pick our brains, then you can discover more here, or feel free to contact us now.
Thank you for reading. Here is your TrinityP3 Instant Expert Certificate:

PS – remember to keep an eye out for the final post in the 'Become an Instant Expert' Series:
1. Marketing performance measurement
2. Agency Performance Measurement
3. Media performance management
4. Digital and Technology Alignment
6. Environmentally sustainable marketing
Our Engagement Agreements service is all about ensuring an agreed campaign development process is truly achievable and adhered to. Learn more here
Want more articles like this? Subscribe to our newsletter: