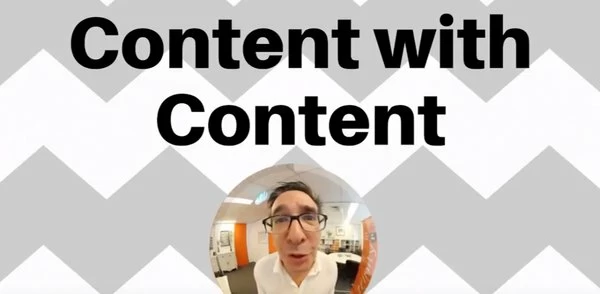 This post is by Darren Woolley, Founder of TrinityP3. With his background as analytical scientist and creative problem solver, Darren brings unique insights and learnings to the marketing process. He is considered a global thought leader on agency remuneration, search and selection and relationship optimisation.
This is the next in a series of one-minute videos that address one of the many complex challenges facing marketing, media and advertising today. The Golden Minute series is an attempt to prove Albert Einstein right when he said "The definition of genius is taking the complex and making it simple".
But he also said "Everything should be made as simple as possible, but not simpler". So we will leave it for you to judge. Please let us know here if there is a topic you would like us to cover in a Golden Minute.
Content Marketing has been all the rage for the past few years. But content marketing is not new, it has been around for centuries. It is just that today technology and the Internet make it much more accessible. So why do so many marketers struggle with content marketing?
And it is not just marketing. A few years back I was speaking at a Procurement Conference in London on the topic of Content Marketing and specifically how procurement can assist in managing the process. I had explained that content marketing is like the organisation becoming a publisher or broadcaster, developing content that will entertain, educate or inform the audience and attract them to the brand and business.
One of the senior procurement professionals in the room put up his hand and said "We tried content marketing and it didn't work". As he represented a top brand and a brand considered a major player in the alcoholic beverages category, I was surprised. I inquired as to why it failed and he informed me they discovered that no-one was interested in how they made their product. They failed to get any engagement.
It was not surprising that this was the failed content marketing strategy, because it is basically flawed. It is a factory out view of the world rather than a consumer view. Why would anyone be interested in how you make booze? Except perhaps a small group of fermentation fanatics. If his company wanted to inform their audience on how they made their booze, then perhaps a factory visit (real or virtual) would be more successful.
But I took the opportunity to demonstrate the principles of successful Content Marketing. We discussed what would be the objective of a content marketing strategy for his brand? The answer was obvious and that was to create consumer engagement to influence further purchase opportunities and drive sales and market share. Fair enough. But how would informing people about how the product was made achieve this? Clearly it did not.
But this is a product that is closely associated with sport and the celebration of sporting success. In fact the company is one of the biggest sporting sponsors. This sponsorship strategy could be extended into a Content Marketing strategy by leveraging the sponsorship arrangements to create unique sporting content that money can't buy. This is the sort of content that consumers love and value but is only possible through the influence of the brand.
But this is the point. While Content Marketing has been around for hundreds of years marketers often struggle with getting the basics right, only to be disappointed by the results or lack thereof.
The mistake many make with Content Marketing is a clear lack of strategy and relevant success metric. The first is to be very clear on what you want to achieve. Content Marketing is not a tactic, it requires strategy, resources, management and time.
The fact is that TrinityP3 uses Content Marketing as part of our overall marketing approach. You can find out more about how we do this here.
So how do you get your Content Marketing right?
Let us show you here in a Golden Minute.
Golden Minute Script
Content Marketing – It's been around for years – Hundreds of years.
In fact Benjamin Franklin first published his Poor Richard's Almanac in 1732 to promote his printing business.
The Michelin Guide was first published in 1900.
And Procter & Gamble started radio soap operas in the 1930s.
So it is not like Content Marketing is new.
But it does seem to create some problems for many marketers today.
While the Internet means it is easier to become a brand publisher there are three questions you need to consider before you do.
First, what do you want to achieve with your content marketing?
Second, do you have the resources to create content your customers will value?
And finally, how will you measure the performance of your content and over what time frame?
So there are the questions
Talk to us if you need help with the answers
Because we want you to be content with your content.
Wondering if your Content Marketing Strategy is delivering results? We can provide an independent assessment here.
Or if you are wondering if you have the right budget and performance metrics and KPIs then check out how we can help you here.
Want more articles like this? Subscribe to our newsletter: