Welcome to the 4th Chapter of "The Ultimate Guide to Digital Marketing in a Data-driven World". If you missed Chapter 3 you can read it here.
This is one of a series of 11 posts or if you want to get the entire book in one hit you can download the full book here.
In this Chapter we look at the development of your actual digital marketing strategy and how to best focus your energy on the right aspects of your strategy.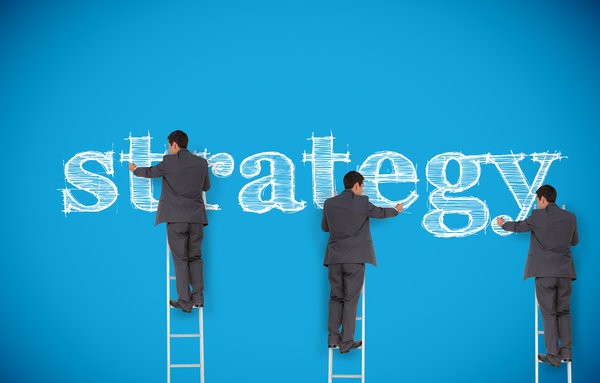 Now that you have set your mission, vision, goals and objectives, along with the framework for collaboration, it's time to flesh out the actual digital marketing strategy that will help you reach your objectives, allocate resources and budgets, and define the critical metrics for measuring success.
The development of your go-to-market strategy, which is the focus of this chapter, should be done in conjunction with listening to your customers, identifying their needs and creating a more relevant customer-segmentation strategy – these issues are dealt with in Chapter 5.
In the past, the conventional wisdom was to use the marketing funnel to create a plan. The funnel was a plan of campaigns that aimed to migrate prospects through a series of sequential steps to reach a purchase decision. It involved four key stages:
Create awareness – getting your company, product or service name in front of a potential target market
Generate leads – gathering prospects who have inquired or shown interest in your offering
Nurture and educate prospects – deepening the relationship to educate prospects about your offering or keep it top-of-mind until the prospects have a need for it
Convert prospects into customers – closing the sale and ideally managing the relationship through to ongoing repeat purchases (lifetime value)
However, life in the new digital world, as we've already mentioned, is highly interactive rather than one-way and sequential. Digital technology allows consumer actions and decision-making to be more iterative and integrated.
So many leading digital organisations now cite the McKinsey loyalty loop (shown below) as the preferred consumer decision journey (CDJ).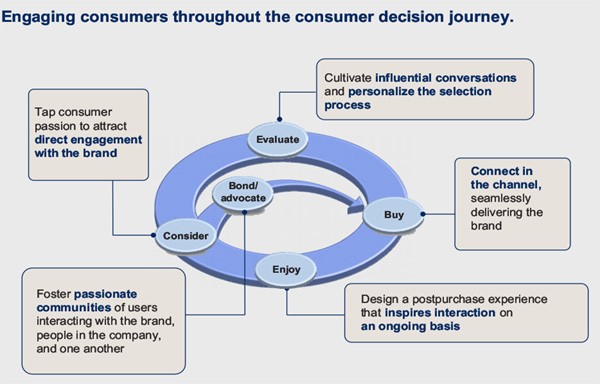 The CDJ takes a more complex, customer-centric approach than the marketing funnel. It focuses on five stages through which a consumer can move back and forth:
Consider – brands that people consider when thinking about a purchase
Evaluate – information-gathering about the above brands to narrow the choice
Buy – buying the preferred option
Post-purchase – post-purchase reflection on whether the brand purchase was suitable and whether expectations were met; this often informs the decision about whether or not to make another purchase
Advocate – telling friends and colleagues about the purchase and the experience of the product or service
The CDJ approach opens up a much richer range of strategies and allows you to focus your energy on the right aspects. It changes your thinking from a conversion mentality to a belief in satisfying needs and behaviours.
Using the following hypothetical example, let's now bring these stages to life.
Continue reading "Chapter 4: Launch your digital marketing strategy with a rock-solid foundation"