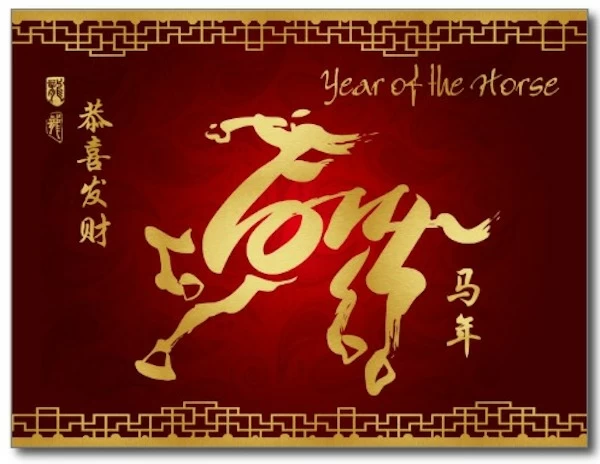 This post is by Darren Woolley, Founder of TrinityP3. With his background as analytical scientist and creative problem solver, Darren brings unique insights and learnings to the marketing process. He is considered a global thought leader on agency remuneration, search and selection and relationship optimisation.
新年快乐,恭喜发财
To make the most of the year ahead (because knowledge is power) here are some predictions for the year of the Horse.
In Chinese astrology, the Horse year is considered a fortunate year that brings luck and good things.
According to the Chinese, the year of the horse is one of their favourite years because the horse symbolises 'travelling' as the horse needs the space to roam.
The Wooden Horse
The Horse is a hero in China because important battles were won due to the power and strength of the Horse.
Each of the 12 Chinese astrology signs have 2 hours. The Horse hours are 11 am – 1 pm including the heat of high noon.
This year has a lot of elements such as wood, fire and the earth element. In order to have a balanced year water, heat and air is needed.
The horse is considered the strongest fire animal among the 12 Chinese zodiac signs and should these meet a dog or a tiger element it would create too much heat or temper.
Business (and Career) in the Year of the Horse
The Wood Horse is the symbol of strength and power in any battle and brings forth heroism, peace, and blessings.  The Horse has an undying spirit that encourages people to perform with excellence in any aspect of their lives.  The spirit of the Horse allows them to be more able, bright, energetic, intellectual, and vibrant individuals.
According to traditional Chinese Astrology, the Year Of The Horse 2014 is the time to consider business expansion as well as achieving success in your chosen career.  This is a year that will bring good luck and good fortune to those who take the time and effort to improve themselves through sheer determination.

For this Year Of The Horse 2014, expect to achieve great victories over obstacles that you might be facing today. Energy is at its peak which will eventually lead to a high quality of overall production. You will definitely be rewarded handsomely in 2014 by giving your 100% best performance in everything that your do.
The Horse is also a symbol of speed and quickness.  You have to think fast and act quickly during this Year. Remember that a carefully planned action without any procrastination will bring about a victorious battle over any circumstances.
You need to use your keen judgment and natural intuition when it comes to making  decisions without any hint of doubt or hesitation.  Act on your plans with certainty if you do not want to be galloping into the wrong direction.
The Horse around the Globe
On a global scale, expect some world economies to become stronger while others experience economic chaos and collapse. Under Horse's strong influence there is no middle ground. (The time for middle-ground diplomacy and planning was last year in Water Snake 2013.)
Anticipate extremes in stock markets, fluctuation of prices, and general chaos in all things financial. There will be wars, battles, and skirmishes all over the world.
There will also be protests for fair development, even wars. Peace can be restored in Wood Sheep year 2015 but Wood Horse 2014 will be a wild ride as the world changes, and changes fast.
It is also a year where those who know how to build and stay humble and kind will be able to create a lot of new and healthy relationships with everybody.
Does that sound like you?
Want more articles like this? Subscribe to our newsletter: