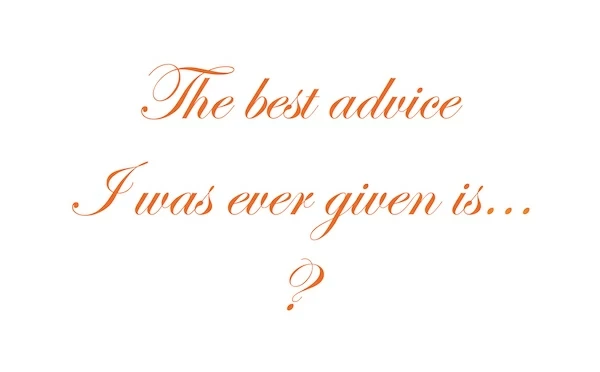 With social media there are now more opportunities than ever to read or heed career or business advice for free. Log in to LinkedIn, browse business groups, subscribe to newsletters and there it will be, business and career advice from someone you may know, may know of by reputation or not know at all.
And the advice?
Well it could be life changing, inspiring and inspirational. Some have gone on to become internet memes that are shared and liked and fill up your newsfeed as they are shared over and over again. Some advice is simply regurgitated common sense. The rest is wallpaper that becomes part of the social media clutter.
So at the risk of either adding to the clutter or being more regurgitated dross, we present the best advice I was ever given as told by the TrinityP3 Consultants. Who knows, there could be something here that does inspire you or even change your life. If so, please let us know on social media as we would really love to know this made a difference, no matter how big or small.
Be the most enjoyable part of a client's day
The best piece of advice I was given in my time in advertising was that our job, as the Creative Agency, was to be the most enjoyable part of a client's day. We had the opportunity to surprise, entertain, delight and remove them from the other, less creative sides of marketing that took up most of their day.
I made it a rule to try and deliver this to all my clients and in order to do so, I often had to buy a bit more time or negotiate a bit more money. And 9 times out of 10 it worked and we got to deliver the fun stuff and the client got to enjoy it.
So in order to deliver this wonderful piece of advice, to truly make meetings with a creative, media or other communications agency the most enjoyable and memorable part of a client's day, agency folk need to step up, often push back a little and give the agency the time it needs to deliver inspiring creative that clients will truly appreciate and applaud.
Anita Zanesco, Senior Relationship Consultant
Never come to me with a problem, always a solution
The one thing that stands out was being told 'Never come to me with a problem, always a solution'. This has really formed the way I think and how I tackle life in every aspect. It changed the way I worked and also made me think twice when issues arouse to become a more valuable member of the Team. And less a pain in the butt! It's something I always passed on to my own Teams.
Kylie Ridler-Dutton, Senior Consultant
A job title comes cheap
Here's three quotes from senior executives I remember while I was growing up!
Regarding job promotion and remuneration:
'Beware… a job title comes cheap… always go for real tangible benefits'
And
'Don't chase higher salary as the more you earn the more ways you find to spend it in an ever increasing level of commitment that's hard to reverse'
On Market and Category domination:
'Keep your competitors poor and 'on the back foot' as once you lose your market domination you lose it forever, given the increasing strength of retailers.'
Julian Barrans, Business Director, APAC
The most important thing remains the most important thing
My uncle gave me a terrific piece of advice ten years ago, which has helped me enormously, especially when the chips are down. He said that 'in business, the most important thing is to make sure the most important thing remains the most important thing'. During really tricky periods, that's the kind of advice that gets you through intact.
Nathan Hodges, Managing Director
Luck Is What Happens
When I was studying at University, a good mate of mine introduced me to the famous quote by the Roman philosopher Seneca, who famously stated "Luck Is What Happens When Preparation Meets Opportunity". It resonated with me, and always has throughout my career, never more so than in the accounting space working within the creative industry.
As we all know, working for the big Multi-National Agency Networks is extremely complex, highly scrutinised by corporate governance, and regulated by strict policy controls and procedures. A large part of my success in this industry has been driven by following the guidelines in the advice of Seneca.
You certainly make your own luck, and career progression in accounting, is about being hard working, passionate and well prepared. For me, being well researched, highly organised and diligent in preparation has allowed me to thrive in the high-pressure environment that is advertising finance.
The ability to meet tight reporting deadlines, drive delivery of key objectives, and be commercially successful, is the result of being on the front foot due to always being highly prepared for what lies ahead….
Lyndon Brill, Lead Global Financial Consultant
You're not saving the world
A memorable piece of advice, in the midst of a late night pitch freak out from a Production Manager with a very dry sense of humour who I think hated the industry as well. When a Creative Director couldn't get what he wanted in time and stormed out of the Production Office, the guy chased him out the door yelling 'You're not saving the world you know'!
I always loved to keep the flame burning on that one. I think every work place I have been at in my career, at some point, it has been used in times when we all take ourselves a little too seriously.
Kylie Ridler-Dutton, Senior Consultant
The secret of success in business
It's a story – probably apocryphal, and probably about somebody else, and probably appearing on a LinkedIn feed near you every five minutes – about JP Morgan agreeing to pay some enormous amount of money for 'the secret of success in business', which a man he'd just met claimed to have written on a piece of paper.
The nameless man and JP Morgan agreed that if, having seen the piece of paper, JP Morgan didn't feel the advice was worth the money, he was free to pay nothing. When the paper was handed over, the advice read: 'The secret of success in business: 1) every morning write down the most important things to do that day; 2) do them'. JP Morgan paid the man. I don't care about the provenance of the story. I just think it's useful.
Nathan Hodges, Managing Director
Go in with what you're worth
A wonderful piece of advice on negotiating salaries from my first boss and awesome mentor Brian Martin. I was 20 at the time and had just interviewed with Brian for my first job in advertising and we'd been talking about salaries and I'd given him a range.
He said, "One piece of advice…when you go meet with the CFO don't give him a range. If you say you want between $30k-$35k of course he's going to give you $30k. He minds the money! Be confident – go in with what you're worth". I went in at $35k and got it.  Note the salaries were slightly lower all those decades ago!
Anita Zanesco, Senior Relationship Consultant
The most important person in the agency to befriend
The best piece of career advice I was ever given was from Grahame Dingle, a senior art director who told me the most important person in the agency to befriend is the Finance Director, not the Executive Creative Director.
He said on your first day at the agency make sure to introduce yourself to the Finance Director and invite them to lunch. Then make sure you extend an invitation to them to attend all of the creative department events, from Friday lunch (it was the eighties) to the Award night and the Photographer Christmas party.
Why? Because most people do not make the effort so when you do it makes a difference. After all they are the one that ultimately approved all of your expenses and when it is time to leave the agency, especially if not by choice, they will look after you on the way out the door. Worked every time.
Darren Woolley, CEO and Founder.
Always double or triple the film allowance
When I worked in Singapore for a regional production house my executive producer told me that I should always double or triple the film allowance when budgeting to shoot a TV commercial.
This way you had some fat in the budget if you ever got into trouble or a tidy profit if you didn't. Using film stock for a contingency, she reasoned that nobody in advertising knew what a reasonable allowance should be, as they had no idea what a footage to on-air ratio was, let alone what was an acceptable one. She was right.
Clive Duncan – Senior Production Consultant
Spend as much time talking with the customers
Best piece of marketing career advice I have received is to spend as much time talking with the customers at point of purchase as possible. Why? So you can fully understand the process they go through when making a decision between brand A and brand B, what the pain points and objections are and most importantly, what they want from your goods and services.
Work in the call centre, accompany the sales team on their schedule trips, schedule regular days working at retail or log onto the online enquiries platforms. No amount of desktop research or focus groups will give you the insights you will get from doing this.
Zena Churchill, Senior Marketing Consultant
People remember who you are
Stuart Nelson, Agency producer for Mattingly Melbourne in the early 90's once told me it was important that people remember who you are, even if you are crap at your job. This was personal brand building long before social media. Stuart made sure people remembered him by wearing spats and bowties. I never followed his advice.
Clive Duncan – Senior Production Consultant
You must not change anything
Ogilvy had a formal 360-appraisal system centered around feedback from at least 8 people at different levels in the organisation – who knew you well. At the end of my first year – running our largest client –IBM; I'd had the process but hadn't seen the feedback.  I was in Shanghai on a coach to an event – sitting alongside my boss – Miles Young – Ogilvy's Regional Chairman.
He asked how I felt about the result and feedback from the appraisal.  I replied I hadn't as yet seen anything. Miles was upset that I had been left in the dark. He said, "I'll take you through it before dinner."
A nerve-racking day passed.  Later, as planned, he took me through a large document – which was glowing in every dimension except one: "Collaboration" with country management. I said that I would work on that.
Miles looked aghast and said, "You must not change anything, it is the thing that makes you most effective. They need to work on leadership and discipline in their markets."
It was definitely the right advice at the time. However, like most advice, as I subsequently discovered, not for all the time.
Bill Merrick – Managing Director EMEA
Bring an idea to every meeting
The best career advice came from my boss, when helping launch FOXTEL (Pay TV) into Australia. I can't remember his exact words but I've never forgotten the sentiment:
Get your head around the numbers, run with the client, and bring an idea to every meeting". 
I was 5 years into my advertising career, and working on FOXTEL was a whirlwind.
They were fighting a neck and neck race against Optus Vision. Rolling out cable TV (and later satellite) around Australia.
My role was to account manage the activity and get hold of the acquisition numbers, churn numbers and conversion results from the marcomms activity. All down to postcode, region, state and national levels. We had to work out where we were winning and losing, and it was all plotted on maps on the wall.
So there it was, creativity meeting science way back in 1995.
Ideas were being thrown from every angle. I still remember talking with one of the creatives on a Monday morning about an idea that I had come up with over the weekend based on a sporting result. He roughed it up and I had it in my arms to show the client that Monday afternoon.
The agency and client marketing teams truly operated as one: openly transparent, hugely respectful, and big on celebrating successes. As a result, FOXTEL won the race. But more importantly, I've never forgotten the advice.
Anton Buchner – Senior Consultant
The best job they possibly can
'Everybody does the best job they possibly can, according to the circumstances they perceive.' Plenty of people I know don't think making an assumption like this is a good idea. I disagree.
Assuming positive intent goes a long way in every walk of life, and of course the challenge in the advice is for you – or anyone – to change the circumstances or perception. I like the implied faith in people – that only sociopaths and Homer Simpson actually turn up to work trying to do a bad job.
Nathan Hodges, Managing Director
What is the best advice you have ever been given? Let us know by sharing it on our LinkedIn Company page, Facebook page or Twitter with #bestadvice @trinityp3 as we would love to hear and share.
You can learn more about the TrinityP3 team here
Want more articles like this? Subscribe to our newsletter: