This post is by Chris Sewell, Business Director at TrinityP3. Chris has a wide ranging knowledge of all areas of the advertising and procurement world and specialises in helping companies understand the environmental impact of their marketing spend.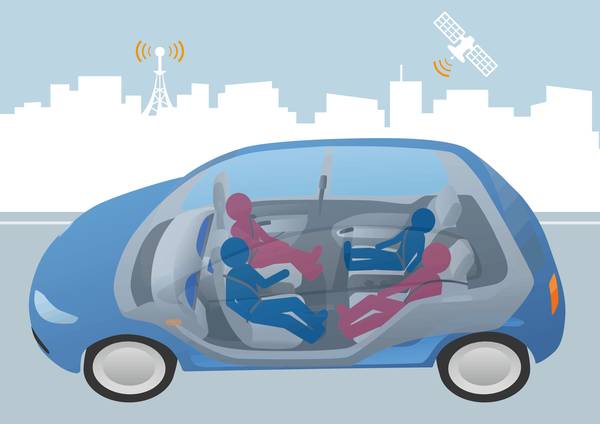 Introduction
I recently prepared a technology assessment on Autonomous Vehicles (AV) as part of my Master's degree in environmental management. It occurred to me as I read yet another option piece on the future of AV that my report also formed the basis of my own opinion piece on this subject, especially where it relates to marketing and the environment – both key areas of interest for me personally and TrinityP3.
So, I will explore the social and environmental impacts of Autonomous Vehicles as they move out of the current testing phase to a widely accepted technology.  This report will focus mainly on road-based vehicles and consider what disruptions we are likely to witness as businesses, and therefore marketing teams; wrestle with the dilemma of selling a new service without completely cannibalising the existing gold mine that is car sales and the flow on services.
The Origins of the Autonomous Vehicle
One of the first concepts for an Autonomous Vehicle can be traced back to Leonardo da Vinci, circa 1479. 'Da Vinci's car' is a drawing of a vehicle developed by the great renaissance artist and engineer. The car has a boxy shape and resembles a wagon (see figure 1). Sometimes called the clockwork carbecause it's propelled by springs. Da Vinci's car was designed as a robot, running according to a pre-set course and travelling a few metres at a time. So, clearly not a hipster's ideal of a dream-car!
The concept of autonomous or self-driving vehicles starts to capture the public's imagination within the realm of science fiction rather than in the science and engineering world. In 1935 at an expo in Silicon Valley, well before the advent of computers, the modern idea of self-driving cars using 'smart highways' to guide the vehicles was introduced (Frontier 2014). One of the more bizarre visions of a future with driverless cars was captured in the 1974 horror classic 'The Cars That Ate Paris' (Figure 2).
Today engineers from technology companies such as Google and the leading traditional vehicle manufacturers are preparing their businesses for the future of mass-market, driverless transport. Whilst it is still early days, we will attempt to explore the potential for disruptions which are numerous. An emphasis will be placed on the key areas of resource usage and importantly, societal change and the subsequent marketing challenges.
Continue reading "The impact of Autonomous Vehicles on marketers and the environment"