This post is by Anton Buchner, a senior consultant with TrinityP3. Anton is one of Australia's leaders in data-driven marketing. Helping navigate through the bells, whistles and hype to identify genuine marketing value when it comes to technology, digital activity, and the resulting data footprint.
It's strange how the universe works. Or maybe it was an amazing algorithm predicting my behaviour.
Having just completed a marketing team assessment project for a client where one of the findings was meeting overload, up popped this Infographic by Oisín Grogan, The $200 Million Business Coach: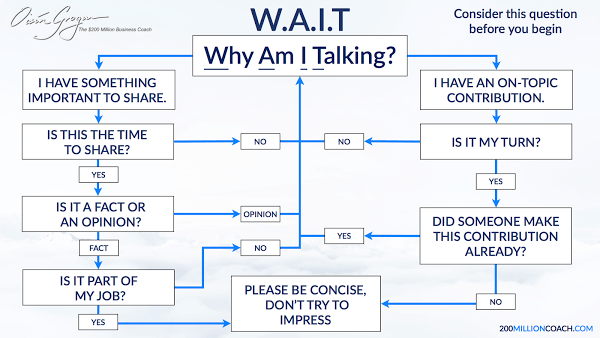 It's a lovely flow diagram of how to decide on the importance of your meeting contribution – neatly phrased as, Why Am I Talking, or W.A.I.T.
However I'd like to pull back a step, and ask whether you actually need to have the meeting in the first place.
Plus discuss whether a whole lot of meetings can be amalgamated or prevented to give back time to focus on your business.
Here's another infographic by Oisín Grogan that succinctly challenges you to think why you are having meetings: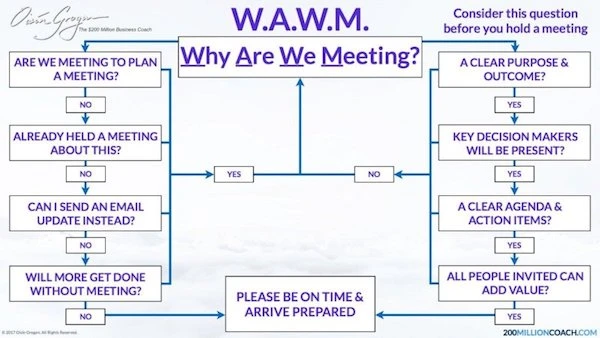 Time has become a major focus in our new economy. Whether it's businesses becoming more agile, automating, integrating artificial intelligence, or consumers wanting to interact quicker, time is becoming a central theme in management and consumer circles.
Everyone is saying they're busy. So it's no wonder that Oisín released his infographic. If you can reduce meeting times, or ensure that conversation is focused, then it will save time.
How much time are you wasting in meetings?
Continue reading "How much time do you waste in meetings per week?"