This post is by Michael Farmer, Chairman of TrinityP3 USA and author of Madison Avenue Manslaughter: an inside view of fee-cutting clients, profit-hungry owners and declining ad agencies, which won the Axiom Gold Business Book Award for the best marketing / advertising book of 2016.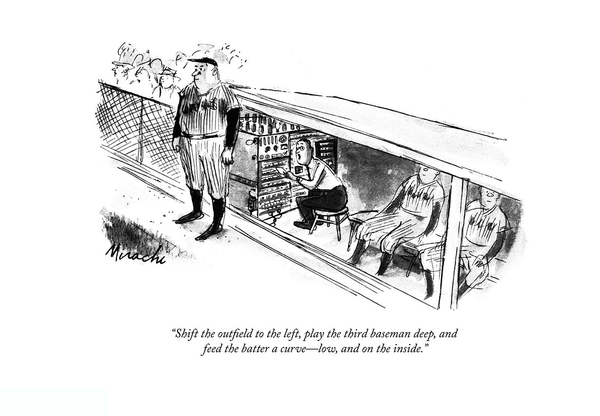 By now, we know what "Moneyball" is:  The best-selling book about baseball by Michael Lewis (2003), the Academy Award-nominated movie with Brad Pitt (2011) and — most importantly — the underlying concept that obscure metrics reveal the truth about how the game of baseball works.  Moneyball general managers, like Billy Beane of the Oakland A's, could consistently win games despite payroll disadvantages that prevented the A's from hiring expensive talent.  Lewis asked, "How'd they do it?  What was their secret?"
Is there a moneyball strategy for the game of advertising?  Is there a secret way for beleaguered agency CEOs to compete and become "winners" again?
Baseball fanatics had, for many years, raised questions about the relevance of the statistics gathered by the Elias Sports Bureau, which kept the score sheets for Major League Baseball.  Hits (singles, doubles, triples and homers) were lumped together in batting averages, but walks were completely ignored.
A batter with high RBIs was evaluated as a hero, even though the batters before him made it possible by getting on base.  If batting averages and RBIs were maximised through high player salaries, would a team always win? Not at all.
Beane used a full set of baseball statistics, sabermetrics, to identify how to put together a low-cost team that maximised on-base percentages and runs.  His success challenged the assumptions about what it took to win in baseball.  It wasn't all about money.
The game of advertising is less clear-cut than baseball, but many of the fundamental questions are the same.  What is the nature of competition?  What defines "winning?" What are the generally accepted metrics of the game?  How are teams put together?  How well are game strategies working?  What "hidden" metrics give a different picture of what matters?  Is there a Billy Beane strategy for creative agencies? Continue reading "Madison Avenue Moneyball: Insights About the Game of Advertising"