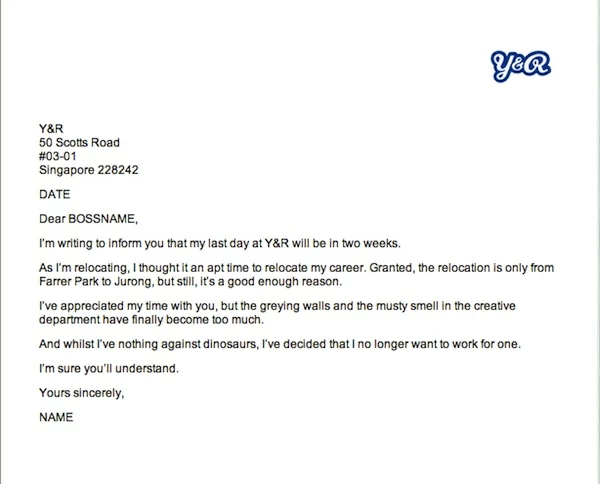 Was just sent this link to a website called iQuit.
Very funny, unless you are the senior agency management at Y&R, Ogilvy, Publicis, Leo Burnett, BBDO, Saatchi & Saatchi, Grey, McCann WorldGroup or DDB in Singapore.
The site reads, "BAD BRIEFS? CLUELESS CLIENTS? JUST PLAIN DON'T RESPECT YOUR BOSS?"
Sounds like you need a new agency. And we're here to help. So whether you're the person that writes the words, draws the pictures or talks to the clients, we've got just the resignation letter for you.
Then gives you a template resignation letter. Just type in your name, your boss's name and the date and you are done.
A disgruntled creative with too much time on their hands? A recruiter trying to stir up some business? Or a creatively satirical go at the advertising industry in Singapore and most likely many other markets at the moment?
The interesting and amusing thing is the reasons for resigning. (I have copied excerpts here in case the site disappears).
Y&R: "Whilst I've nothing against dinosaurs, I've decided that I no longer want to work for one".
Ogilvy: "Thank you for moulding me into a copywriter who can craft copy that's neither true nor sincere"
Publicis: "I would like to say I appreciate the opportunities, the professional guidance and support that I have been given here, but let's be honest, writing terms and conditions for 235 property ads is neither an opportunity or something to be appreciative of."
Leo Burnett: "The reason for my decision has to do with my name. It's not Samantha or Simon and it's definitely not Youthere, Excuse me or Oi Intern. You wouldn't think it'd be that hard to remember, would you?"
BBDO: "I used to dream of being a great artist and adman. Thank you for crushing my soul."
Saatchi & Saatchi: I'm not a paranoid person by nature, but I feel that something is amiss. Last month men in overalls came and took away the water-coolers. Then the microwave and fridge went walkies. Last Thursday the accountant walked out in tears. He had put all his files through the shredder and left nothing. Except his password."
Grey: "My increment was due 6 months ago. I spoke to the CD who sent me to the ECD who directed me to the MD who sent me to your boss who asked me to speak to you. This process required 17 appointments, 11 meetings and yielded the sum total of zero results."
McCann: "I'm officially bored. So I am left with no choice but to officially resign. Effective immediately. There's not much else to say really, except that I admire your ability to somehow work here."
DDB: "If I wanted to work for the government, I would've joined the civil service like my father wanted me to. I want to work in a creative ad agency. Maybe it's time I started looking for one."
Want more articles like this? Subscribe to our newsletter: