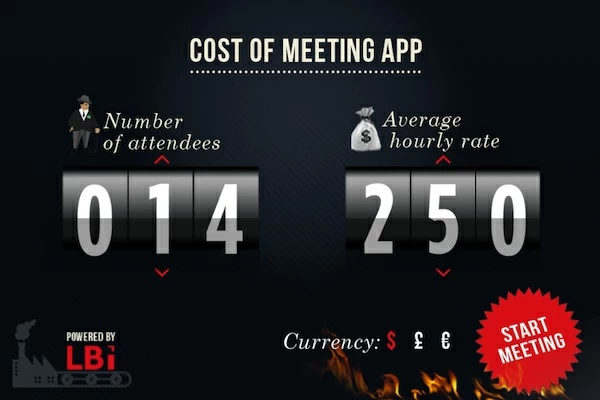 Over the summer (Southern hemisphere) I was checking out apps similar to the TrinityP3 Resource Rate Calculator Business App on the iTune App Store and came across this beauty from LBi, one of the hot digital shops (who in late 2011 opened an office in Sydney)
It is called COMA – Cost Of Meeting App. 
THE TEST
I finally got a chance to give it a real life test in a client meeting recently. We were discussing agency remuneration negotiations between the agency and the marketing and procurement team.
There were five people from the client (3 marketers and 2 procurement), eight from the agency (The CEO, CFO, General Manager, Group Account Director and four account management staff). And of course me. 14 in total.
I opened the COMA on my iPhone prior to the meeting, while I was waiting for everyone to arrive (Amazing how it is almost impossible for everyone to get to a meeting on time) and set the parameters. I took a guess at the average hourly rate but with the heavy hitters in the room I think I erred on the low side.
THE RESULTS
When the meeting finally commenced 20 minutes late (I am not telling who was last to arrive, but there was lots of conversation between the account team and procurement. I set the calculator running and an hour and almost five minutes later stopped it as the meeting was winding up.

One meeting. One hour. 14 people. The cost was almost $3,400. Excluding Tax.
Now before you argue that the marketing and procurement team should not be included in the calculation because the only people charging to be there are the agency and me, the consultant, consider this – All of those people in that room are employed to provide a service to the company. All of those people receive a salary and cost the company overhead and contribute to profit.
Therefore the total cost of that meeting is $3,400 + Tax. Excluding travel and waiting time.
THE CHALLENGE
I would recommend everyone go an download the LBi iPhone COMA App from iTune and put your meeting to the test. Work in progress. Internal review meetings. Strategy planning days. Etc. Etc. Etc.
Lets have a competition for the most expensive meeting?
Let me know your COMA results.
Anonymously if you like by direct message on Twitter @trinityp3 and hashtag #COMA
Want more articles like this? Subscribe to our newsletter: