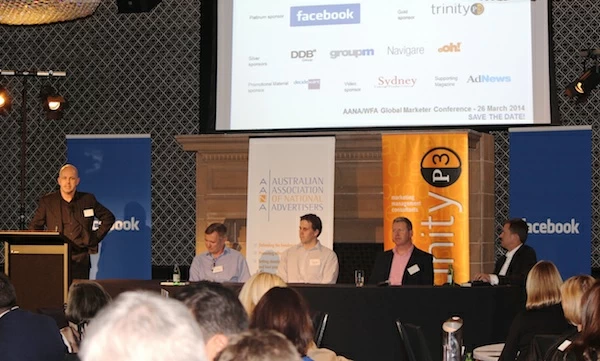 This post is by Anita Zanesco, a Senior Consultant at TrinityP3. Anita brings a unique blend of insights, creativity and understanding to the communications industry particularly in the areas of talent management, agency process and new business pitch management.
As Strategic Partners and Gold Sponsors of last Thursday's AANA Connect Conference, I was one of five TrinityP3ers soaking up the collective brain power gathered in the sumptuous surrounds of Doltone House in the city. The agenda focused on the biggies impacting the marketing and communications industry right now and as such covered areas including innovation, data, digital, content, online and social media.
This post is merely 10 take-outs for you to takeaway from my seat in the house. My views may not be the same as other attendees but for anyone who didn't get a chance to go they give you a snapshot of who said what and what went down and a prompt to delve further into some of the topics that might interest you.
So here's your takeaway, no delivery fee and much better for your waistline than a pizza.
Take 1: Inese Kingsmill, Corporate Marketing Director Telstra. Intro and announcement of Sunita Gloster as the new CEO of the AANA.
Inese Kingsmill eloquently opened up the day and set the scene for how it would unfold. Her announcement of Sunita Gloster as the new CEO of the AANA was great news and a huge coup for the AANA – we can expect great things if Sunita's track record is anything to go by.
Take 2: Keynote Address. Creel Price, Serial Entrepreneur. The Enemies of Innovation.
Creel kicked off our day with energy, motivation and the 7 Deadly Sins of Innovation. The room was captivated by this serial entrepreneur, as he presented with passion, insight and a fair amount of humour and self deprecation.  Applying the 7 deadly sins to innovation, his watch-outs soon led to must-dos.  Sticking to the pizza theme, here's just a few slices of Creel Super Supreme.
Avoid gluttony. Peel back the fat within your organization but don't get too lean or you'll lack flavor and substance. Counteract slothfulness and introduce flexible job descriptions that can evolve based on project and prototype. Envy can be an evil force, instead look to your existing people and partners and motivate and inspire them – the grass is rarely greener. Side-step pride that can creep in and slow business down and use similar tools to Creel's 'Magic Metrics' which set goals that staff can own and work towards.  Don't get too greedy. If it's all about profit, staff will switch off.  Social causes can incentivise so much more than dollars and deliver so much more satisfaction.
And finally, wrath. The fear of failure is present in all of us.  Make your staff fearless, encourage brave ideas and give them power to help your business grow.  Creel and his partner did that by being very clear on their company's DNA – they knew exactly what type of pizza they were creating and everyone who joined them on their adventure worked to the same recipe, ultimately a recipe for success.
Creel's story and his approach to business is inspiring and the work he continues to do with both corporates and children is outstanding. Companies wanting to find out how they can get involved in his work channeling the entrepreneurial spirit in children should visit www.clubkidpreneur.com or www.fiftydollarchallenge.com. And if ever you get a chance to hear Creel speak, I can strongly urge you to take it. I'll be seeking another slice of Creel Super Supreme myself.

Take 3: Mark Reinke, Executive GM – Group Marketing, Suncorp Group.  Data Reigns Supreme.
Mark then took the stage, laughingly making a note to self never to follow Creel Price again. However, Mark need not have feared. He was insightful and entertaining, making the often dry subject of 'data' not only bearable but interesting with his 'Myths, Mistakes and Mad Men' approach.  The big takeaway for me was not to suddenly become vegetarian and throw away all that meaty instinct and creativity but rather to add value and go gourmet with data as a vital base moving forward. Asking the right questions to address your business issues will focus your data collection and enable data to be used to fuel innovation and business growth. In a nutshell, ignore data at your peril, use it to survive, use it cleverly to succeed.
Take 4: Helen Crossley, Head of Measurement and Insights, ANZ, Facebook. The Future of Online Marketing.
Helen was engaging and to the point in her presentation of The Future of Online Marketing. A mammoth topic to speak about in half an hour let alone half a day, but addressed nicely with her Top 3 trends of Hyper-targeting, Cross Platform usage, and the coming of age of Analytics.
One of the tasty morsels Helen focused on was multi-screening and the figures in the US highlighting the fact that around 93% households have multiple screens "on" at any one time. Interesting to note is that mobile, the most intimate of all the channels, seems to be under-utilised as a primary source of communication, possibly due to fear of privacy issues.
Further analytics in this area may well make it easier for marketers but in the meantime, are there opportunities right now to harness the intimacy of the mobile device and use it as a primary means of communication to truly hyper-target at the most personal level?
Take 5: Anthony Hourigan, CEO, Hourigan International. Elevation of Marketing as a Profession.
Anthony's rallying cry to the troops to elevate marketing as a profession went down a treat before lunch. "Our Tribe… our creative tribe" as he referred to the marketing and communications industry as a whole, needed to lift our game and occupy more seats at the very top, many of those currently held by CFOs. Hourigan defined marketing's Creative Leaders needing to be both General and Artist, having the unique ability to balance commercial reality with creativity.
The big question is, do we have the marketing talent in this country to see more CMOs as CEOs?  Talking to other delegates at the conference I think we do. Some of them are already there. I also believe there is a need for some mentoring in the financial space to not just make our CMOs capable of doing the CEO role but confident. Undoubtedly, as Anthony points out, there is an untapped source of creative leadership within our marketing community and Anthony will take anyone interested in joining him on his crusade to elevate them to the top.
Take 6: Spaghetti Sticks
Creel Price's team building exercise posed the challenge: Were we smarter than a 5th grader? Who knows but we had a lot of fun doing it and to those at my table, we may not have won but our little tower was still standing when all others had toppled…say no more (other than a huge thanks to John Chatterton for his 'inspiration' and good memory!).
Take 7: Choose your track: Adrian Weimers, Brand Communications Corporate Manager, Toyota or Madeleine Fitzpatrick, VP / Director of Marketing McDonald's.
Adrian focused on media fragmentation and the multi-tasker taking his audience through case studies illustrating how media fragmentation has benefited Toyota. Toyota's use of sponsorship and online content, activations, user participation and most recently its first digital only launch highlighted how forward thinking companies are using this new world of fragmented media options to benefit rather than slow them down.
At any one time there are so few people looking to buy within the automotive category, it is a classic case for hyper-targeting as Helen Crossley pointed out, allowing companies like Toyota to get truly innovative not just pin-pointing their target but talking directly to them at the right point in the purchase cycle.  Companies can either view media fragmentation as a disabler or they can, to use my favourite pizza terminology, MYO (make your own), tailoring each slice of their campaign, indeed each mouthful, to individual needs, wants and tastes.
I didn't attend Madeleine's presentation, for the third time this week annoyed I can't yet clone myself and be in two places at once, but from what I gather it was equally as entertaining and insightful as Adrian's. Madeleine's focus was on the rise of consumer power and the importance of engaging with them and her case studies demonstrated McDonald's focus to do just that, TrackMyMacca's being just one of many data-driven creative innovations for the fast-food giant.
Take 8: CMO Panel:
Ahhh the 3pm slot. It's a hard one and Nathan Hodges, GM at TrinityP3, did well to get the panel and audience talking about the key industry issues of the day. The panel was well chosen with Yannick Durand, Ben Slocombe, Andrew Caie, and Bryan Meridith all sharing their knowledge and experience, happy to chat about their views and company perspectives on innovation, digital, content and creative leadership.
Just one little morsel from this session was an interesting insight offered up by Ben Slocombe from Lion. Ben had an epiphany a few weeks back on the topic of Content. With so many options available he felt he was drowning in them so he simplified it. Ben defined 4 types of content – Text, Photos, Motion Content or Participation.
Put simply in these buckets, the maze of content available becomes easier to decipher, data can support which audiences relate best to what, and your decision making becomes somewhat easier at least in terms of what type of content you can use to connect with a given audience.  It's what you then say or do that will determine whether you'll have a sizzling bestseller or a pizza left to go cold.
Take 9: Clash of the Media:
Less of a clash and more of a classy sit down with these well spoken media directors and CEOs airing their views. John Steedman, Chairman CEO GroupM did a great job moving the questions around the panel, consisting of Liam Walsh, Ed Harrison, Alastair Fysh and Nick Chan. He also did a respectable impersonation of Russel Howcroft who unfortunately had to scoot back to Melbourne for something more important than us (just joking Russel).
One of the hot topics for this group was clearly whether newspapers and magazines would survive this digital revolution we are experiencing. I thought Nick Chan's point helped to sum it up and reiterate sentiments from earlier in the day: digital and online are creating opportunities to increase interaction with existing customers and establish connections with new audiences. Chan's experience is that online interaction has actually increased accessibility to his publications, Better Homes and Gardens being a case in point.
Know your audience, use data to help inform you of their needs, wants, likes and dislikes, then create key messages that connect with them on different levels in multiple channels. You essentially become a part of their everyday life much like the technology you are using to connect to them.
Take 10:
So how was my takeaway on Thursday night post AANA Connect? In one word it was inspiring.
Inspiring Australian marketers to innovate.
Inspiring us to get smarter using data.
Inspiring us to use this digital revolution to talk more directly with individuals, connecting with them as intimately as possible, becoming a greater part of their lives.
Inspiring us to look at media fragmentation and the rising power of consumers as opportunities to talk to our customers at a more intelligent level in a more interactive way.
And inspiring us all to take risks, be brave and have the confidence to elevate marketing to its rightful position at the top table steering businesses to commercial success through creative leadership.
Not a bad way to spend a day really.
Want more articles like this? Subscribe to our newsletter: