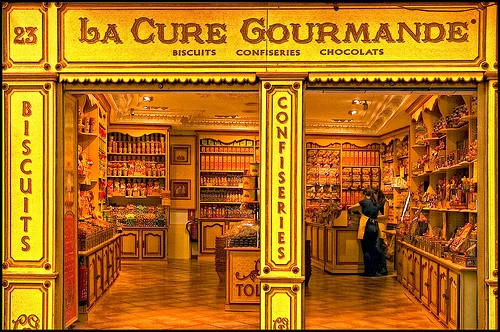 This post is by Toronto-based writer and brand marketer Katherine Gougeon, the co-founder of Top Button, a communications agency that works with decision-makers to create meaning and momentum for emerging and established brands around the world.
Game on: how e-tail is evolving from retail outlier to your new best friend
Ten years ago, few believed on-line shopping would take off. Why would anyone buy clothes or shoes they couldn't try on or even touch? And what if the item didn't fit or was damaged or – worse – ugly in real life?
Since then, through a series of innovations – technological, logistical and just plain friendly – savvy e-tailers have systematically eliminated all barriers to entry.
Beyond mobile apps, faster delivery times, and free returns, the best of the bunch have turbo-charged the customer experience, creating benefits of use, unexpected perks, and massive communities of engaged users that have left more traditional retailers scratching their heads and green with envy.
First in the water were designer flash sale sites like Hautelook, Gilt and Net-a-Porter. Combining deep discounts, limited brand name inventory, and a time limit to purchase, these pioneers whipped bargain-hunting fashionistas into a frenzy previously reserved for sample sales and Boxing Day.
Since then, on-line shopping environments have continued to refine themselves, borrowing 'old school' retail techniques and purchase motivators and reinventing them for a new generation of consumer. A few observations on customer-centric etail innovations that are meeting – and sometimes surpassing – the B&M experience:
On-line brands built around market needs and niches
For the 'lazy' male who hates shopping, sites like Frank & Oak courier the customer a curated selection of fashion-forward yet reasonably priced clothing every month, while Manpacks doles out razors, underwear, condoms and t-shirts on a subscription basis.
In the words of Manpacks' 34 year-old founder, "our customers don't want to have to think about these kinds of things anymore." For that matter, why blow $1000 on a designer dress when online brands like Rent the Runway, Girl Meets Dress, and Rent frock Repeat are lining up to help you choose it, accessorize it, and 'borrow' it, often for under $100.
The emergence of very personal stylists
Cyber-sales associates who respond to your email query with the immediacy, intimacy and tonal enthusiasm of a friend. By phone or online chat, these fashion-forward advisors are able to spontaneously illuminate the particular virtues of the piece in question and even make recommendations on how to wear it and pair it.
So much love, so much positive reinforcement…when all you had was a sizing question.
On-line designer 'debuts'
For e-tailers, 'discovering', hosting and promoting new talent amps their street cred. For newbie designers, launching online is a cost-effective introduction to a captive audience.
In a related trend, up-and-coming designers like Ministry of Supply and Whitney Eve are popping up on crowdfunding sites like Indiegogo and Kickstarter where they engage with consumers to generate momentum, notoriety and funds online.
On-line Ambassadors
Who could have predicted a small army of independent bloggers would fan the flames of online shopping by dedicating themselves to ordering, reviewing – and linking to – their favourite labels.
In addition to detailed critiques, these brand enthusiasts post 'selfies' in which they model their finds (often with the tags still hanging off).
All of which informs the shopping choices of like-minded followers who post comments, tips and notifications about when a coveted item has gone on sale. (The savviest etailers have no doubt reached out to these influencers, providing flame-fanning perks and recognition.)
A magazine of its own
Bringing the trend full circle, Canadian etailer Beyond the Rack recently announced its
intention to launch a print magazine dedicated to – you guessed it – on-line shopping. Nothing like seeing something in print to make it real.
This post originally appeared on the Argedia Group blog
Want more articles like this? Subscribe to our newsletter: