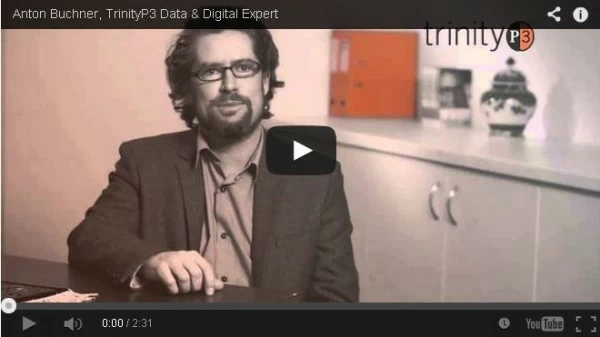 This post is by Darren Woolley, Founder of TrinityP3. With his background as analytical scientist and creative problem solver, Darren brings unique insights and learnings to the marketing process. He is considered a global thought leader on agency remuneration, search and selection and relationship optimisation.
As TrinityP3 continues to grow, so does the team of professionals within the company as does the depth of experience and expertise. Therefore I want to take this opportunity to introduce some of the core team members and their expertise, before having them answer three questions on what they do being:
What are the challenges facing marketers today in their area of expertise?
How does TrinityP3 assist marketers in this area?
What advice would they give to any marketer facing these challenges?
When it comes to digital, data and content, there is none with more breadth of experience than TrinityP3 Senior Consultant, Anton Buchner. Anton is a self confessed Direct Marketer who really understands the interplay between data and technology.
You can tell he knows his way around digital, because he has a unique way of cutting through the jargon and the clutter and giving you what you need to know in plain English. Certainly someone you want on your side when confronted by a digital pretender, desperately trying to confuse you with technical weasel words.
Anton works with TrinityP3's clients to help them integrate their customer data and analytics into their digital strategy to ensure the structure and process is aligned to your customer. Here he talks about some of the challenges he sees marketers grappling with in regards to digital and data and how TrinityP3 can help.
Q1: What are the challenges facing customer centric relationship marketers?
The biggest challenges are two-fold.
The first one is really understanding what customers want and that sounds easy, but it's very hard for big businesses to understand, listen, monitor and really interpret what customers want from a business. We're so used to pushing out products at customers, but when we stop to really listen and unearth what customers want, that's the trick.
The second challenge is internally within the business, is really getting the business leaders and the managers within divisions of a business to really understand it's a people centric culture and people drive business.  And if you can really harness what the internal culture is moving from product to people, then we change our mindset to become customer centric.
So it's moving from a product culture to a people culture that's a massive change and challenge for most businesses today.
Q2: How can TrinityP3 assist with data, digital and improved processes?
TrinityP3 helps on two levels.

We focus on the external customers and really help clients with their agency partners to understand how an agency can deliver value to the business.  So what are they doing with data and technology in helping business to really understand their customer data?
And we can assess how efficient that is.  We also focus internally with clients to really understand where the knowledge sits in a business, where the data and information sits within a business, who owns that information across different silos and how that knowledge gets shared across the business to really become people centric and understanding what customers want.
Q3: What advice would you give to marketers facing this challenge?
The advice I would give a marketer about facing this challenge, is really to listen to what people want.  More listening and we've got so many opportunities to listen these days with social media and consumers being able to feed back into a business.
But also importantly, it's acting on that listening.  I hear time and time again that people have listened and found all this data and information about customers, but how can you really act on this information?  Bite-sized chunks of insights that will really make a difference to a business.
So those would be the top two I'd say.  Really focus on listening and more importantly, acting on that as a business.
To read more of Anton's insights and knowledge on digital, data, customer relationship marketing and more, check out his posts on TrinityP3 blog here
Video production by Phil Rich – 2 Feet Films
Want more articles like this? Subscribe to our newsletter: