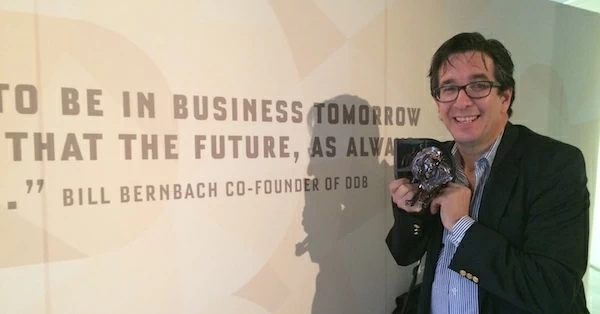 This post is by Darren Woolley, Founder of TrinityP3. With his background as analytical scientist and creative problem solver, Darren brings unique insights and learnings to the marketing process. He is considered a global thought leader on agency remuneration, search and selection and relationship optimisation.
Scam awards entries have come to industry attention again, following the most recent Cannes Lions Awards. In the process, several high profile advertisers have been associated with their agencies' entries. But what are the implications for the advertiser?
It is a standard response that advertisers are not really interested in creative awards. But the fact is that marketers are human and those that have healthy and close working relationships with their agencies actually enjoy seeing them being recognised, especially for work they may have created together.
But when it comes to controversy such as scam ads, it is natural that marketers would prefer not to comment on these situations. The advice from their corporate affairs people would be to ignore it and hope it will go away.
But the creative advertising awards business is a multi-million dollar industry and one that can make or break an agency or creative person's reputation with one award-winning campaign, as we all witnessed last year with Dumb Ways to Die, which won its awards entirely fairly.
Award shows have tried to capitalise on building advertiser interest in creative awards by recognising advertisers themselves for the outstanding work produced by their agencies. The more marketers they encourage to want to win creative awards, the more entries they will get, creating a virtuous circle for award organisers like Cannes Lions.
While I'm not referring to any of the recently published examples where questions have been raised, let's be honest here; scam advertising for the purpose of winning awards is potentially fraudulent. An agency participating in this behaviour could be seen as defrauding other entrants by deliberately misrepresenting the intention or purpose of the advertising.
And the marketers that stand silently by and allow their agencies to do so are guilty by association.
Scam advertising is not an isolated problem. It exists in almost every market including the more mature markets like the US and the UK. It only seems particularly prevalent in Australia because of a self-critical industry culture, supported by the anonymity provided by the local trade media.
So as a marketer, what should you do if your agency is suggested to have been involved in a scam?
Well that depends on how complicit you are. If your agency enters an ad into an award show that you the marketer has not approved then you should check the facts to make sure there was no approval before issuing a statement that condemns the behavior. The reason being is that the agency has taken advantage of your brand and brand reputation for the purposes of self-advancement. If not, you could be seen as condoning this by one of your suppliers, with the implication being that you are perhaps complicit.
If you approved the ad and paid for the media for it to run then you should immediately support your agency in proving the validity of the entry. By saying nothing, it suggests that this is not the case and that in fact a fraud has been performed, with your approval.
And what if an agency that is not contracted by you enters an ad that has your brand on it without your permission? Then in this case they have breached your intellectual property rights and you have recourse to prosecute them to the full extent of the law for that breach, with damages to your brand reputation possibly leading to significant compensation.
Of course there are implications for the agencies and the agency personnel who participate in this type of fraud, but the risk is worth the potential rewards of winning a creative award and the associated reputation and career benefits that come with it. But what about the advertiser? What is in it for them?
I am sure there will be those in the industry, especially some advertisers, who cannot understand why a few ads are creating such a fuss, especially as creative awards are seen as having so little relevance or importance to business. But having the brand or business dragged into this is a risk no advertiser can afford to take.
Sure, you can dismiss this by believing it is only minor and not important. Or even justify it on the basis that everyone does it. But who has the most to lose? In actual fact it is the marketers who do nothing that put the most at risk for themselves and their brand integrity.
Want more articles like this? Subscribe to our newsletter: