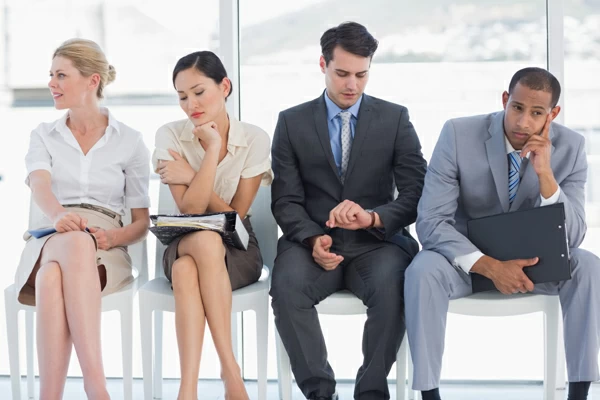 This post is by David Simpson, a seasoned former CEO who has devoted himself to the mentoring and development of other CEOs, senior executives and management teams.
Throughout my management career and more recently as an Executive Coach, I have been frequently asked by friends and colleagues to help a young person find their first serious job. I seldom refuse because the memory of my own struggles to get my foot in the door during the first Oil Crisis is still fresh in my mind forty years on!
The methodology is fairly straightforward: Get the CV in order, hone the narrative, develop a networking plan, do the homework, treat the exercise as a full time job and above all stay positive. I am happy to report a high success rate; however I have become increasingly dismayed in recent times with what young people have to go through to get to the finish line.
The widespread lack of professionalism in the recruitment process I have witnessed second-hand, and what has been observed from the sidelines by many other members of my generation, is alarming to us.
Of late I keep asking myself:
"Don't you people realise that these young folks could be your potential clients some day and they will remember how well or how poorly you treated them? You are on the front line of your brand. At the very least you should treat people as you would expect (or at least hope) to be treated. Have you forgotten completely the anxiety of seeking your first job when you were in that very same position?"
I recognise that the commercial landscape has changed. In the wake of the global financial crisis and the restructuring of the economy, there have been increasing pressures on margin, a reticence to invest in entry level talent development and an obvious reduction in the number of trainee type roles. As a result, it is a buyers' market; employers hold all the cards and recent graduates are more accepting of a challenging job market than their pre-GFC counterparts.
All that is understandable but here is what is not:
Lack of process
In many cases the recruitment procedure is fairly random. There are instances where it seems no effort has been made to review a resume beforehand and the questioning is at best superficial. In a panel situation, the interviewers often don't seem to be on the same page about job specs and there is often a lack of consensus about the key "what counts" factors for the vacancy.
"I don't know what I am looking for…but I'll know when I find it" is simply not an acceptable default.
Too often the "what happens next" question is handled in a vague manner and in an attempt to be "nice"; the interviewers convey a false sense of optimism about a positive outcome.
Poor follow up
In far too many cases, a date for a decision is promised and then nothing happens. The wait causes anxiety. Uncertainty about whether a follow up call is appropriate makes it worse. Some of those calls go unanswered.
I know that hiring timetables stretch out; however, I also know from experience that this typically happens when it's a toss-up between a couple of candidates or more commonly a total lack of suitable hires and the need to recast the net. In either case, the unsuccessful should be told immediately and those still in the running should be advised of a realistic revised date.
Frequently the candidate chases the interviewer for an answer only to be told: "Sorry, we hired somebody else last week" which translates to: "You are not worthy of our consideration."
Inadequate feedback
Being unsuccessful as a job applicant is discouraging but not understanding why is worse. The emotional as well as rational reasons behind decisions on winners and losers should be clear after a proper internal discussion. Surely that thinking can be captured and shared with each candidate ideally with some suggestions to the "nos" about future preparation, skill acquisition, Q & A improvement or deportment.
Questionable etiquette
I am probably showing my age but common courtesy seems to be slipping through the hands of the Internet generation. To me, passing along bad news via email is a form of cowardice. Make the call (when you say you will) to explain the decision. If you have to leave a voicemail, break the news but give a time when the candidate can call you back. Have a clear answer why they missed out and be able to provide some constructive criticism.
To the argument that it is too time consuming to ring every unsuccessful candidate on the phone, I say: do a better job of shortlisting those you interview or have the balls to tell the obviously unqualified at the end of the initial session while offering some advice about how to improve.
What do I suggest?
To senior management I encourage you to invest in some relevant training. Recruiting staff is time consuming and making the wrong people decisions is costly. If you are asking more junior staff members to do the interviews, give them the tools to do it properly.
They should take the time to prepare, know how to review a CV, understand what the key criteria for the position are, learn to ask the right questions and importantly be able to sell the virtues of your company. Expect your people to be able to articulate a clear point of view on every interviewee.
Be forthright with your people on your expectations of dealing with prospective employees. What is your stand on etiquette? They will model your behaviour. What you tolerate is what you teach!
Encourage honesty. Don't be deliberately brutal but don't raise false hopes when it's clear the candidate doesn't pass muster.
Lastly be respectful of other people and don't leave them hanging in the lurch.
In all honesty, first time job seekers are well served by having to pound the pavement. Through rejection they get to know themselves and their chosen field better. Some of the stuffing gets knocked out of their Gen-Y sense of entitlement when employment is not simply handed to them.
To a Baby boomer that's a good thing. But when the employers handle the process unprofessionally I can't help but think the candidates become a little more cynical….and cynicism is something we need less, not more of, in business. For my part I extract a solemn promise from my charges to be prepared, empathetic and responsive when the roles are reversed and they are called upon to interview entry level candidates.
Want more articles like this? Subscribe to our newsletter: