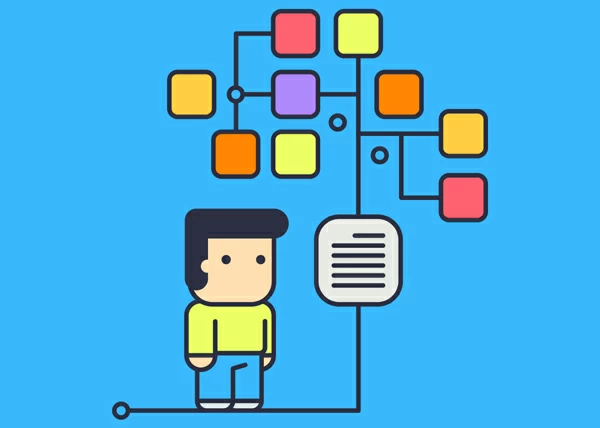 This post is by Beate Duesterwald, Senior Consultant at TrinityP3. Beate has over 18 years experience in helping clients to translate their business objectives into compelling digital marketing strategies.
From marketing funnel to customer decision journey
I was working on a presentation recently where I referenced McKinsey's Customer Decision Journey (CDJ) model. If you are not familiar with the CDJ model here is a graphic that illustrates the difference between the classic marketing/sales funnel and the more iterative customer decision journey model.

The CDJ model reminded me of an established method that might assist marketers in better understanding their target audience's decision-making journeys.
The CX (customer experience) and UX (user experience) disciplines use Customer Journey Mapping (amongst other methods) to capture user journeys and the experience a user makes along the journey with a business, product or service. It's an insightful and efficient method to better understand your target audience and their engagement with your business, product or service, especially when the mapping is conducted as a group exercise (e.g. with other stakeholders and/or management).
Customer engagement is more than a series of interactions, or getting people to visit a website, "Like" something on Facebook, or download a mobile app.  Genuine engagement focuses on how your organisation, product, service or brand fits into your existing and prospective customers' lives.
Customer Journey Maps
So, what is a Customer Journey Map?
It is a visual interpretation (think 'infographic') of the overall story from an individual's perspective of their relationship with an organisation, service, product or brand, over time and across channels. The method is ideal to map user journeys in preparation of a digital initiative, as it looks at multiple channels that influence the interactions and user behaviour in the digital channel.
Here are some benefits of creating Customer Journey Maps to define or re–refine digital initiatives:
The maps provide a holistic overview of the paths, interactions, touchpoints and experiences that a user or customer makes with your business, product or service
The maps identify the emotional experiences that the user/customer makes at various touchpoints. This is a great way for all stakeholders to project themselves into their customer's/user's shoes
You can identify those 'moments of truth' that can be turned into a great experience for the user/customer.
Ultimately the Customer Journey Maps assist you in defining what might convert a user/customer into an advocate for the business, product or service.
Customer Journeys and Personas
Ideally you create a Customer Journey Map for each of your key Audience/User Personas.
Creating user/audience Personas is another method commonly used by CX and UX practitioners e.g. for a digital initiative. If you don't have or use Personas it may be time to consider it.
Audience/user Personas are a powerful way to capture more qualitative insights of your target audience segments.
Wikipedia describes a Persona as:
"A user persona is a representation of the goals and behaviour of a hypothesised group of users. Personas are usually captured in 1–2 page descriptions that include behaviour patterns, goals, skills, attitudes, and environment, with a few fictional personal details to make the persona a realistic character."
What are the benefits of developing audience/user personas?
Personas assist to ensure your product, service and content meet your audiences' needs and at the same time contribute to your business goals.
Personas can be a powerful addition to the standard marketing segmentation as they focus on the qualitative insights such as the audience's needs, attitudes and behaviours that can span across age groups. Most likely this captures user segments more accurately and meaningfully when planning a digital (or other marketing) initiative.
In a nutshell the benefits include:
providing a human "face" to an audience segment that is otherwise defined by demographics.
helping team members share a specific, consistent understanding of various audience groups. Data & demographics about the groups are placed in context and this makes it easier to understand and remember
proposed solutions for a product or service that can be guided by how well they meet the needs of individual user personas. Features or services can be prioritised based on how well they address the needs of one or more personas.
Customer journeys and data
So, how does a Customer Journey Map fit into the mix with other data about your users/customers, such as insights from Google Analytics?
The Customer Journey Map also captures 'data' about your users/customers but the focus is on the 'qualitative' aspects.
For example, you might find that users/customers click through from your email newsletter and read your article but feel frustrated because there is no call to action to take the next step. You learn about the user's disappointment via comments that they made in social media.
Google Analytics might tell you that X users clicked through to your article from the eNewsletter; a good result as it exceeds your KPI for that interaction. But the experience for the user/customer in the journey is disappointing which might lead to ignoring your newsletter in the future, or worse, commenting about their negative experience in social media.
The customer journey mapping exercise can illustrate this scenario and highlight the opportunities. The quantitative data from e.g. Google Analytics can add valuable background info to the Customer Journey Map.
For example, Google Analytics user journey reports can be used to identify the main traffic flows through your website or application. This information might inform the type of Customer Journey Map that you workshop through with your team or stakeholders. Also, the metrics 'traffic sources' can assist in defining the relevant touchpoints for the Customer Journey Map.
Basically the qualitative data from a Customer Journey Map and the quantitative insights from Google Analytics form a powerful combination to capture what your audience is actually doing and how they might prefer to engage with your business, product or service.
Other tools
Google also has a smart tool to identify how different marketing channels affect an online purchase, called 'The Customer Journey to Online Purchase'.
In Google's words: "…We analysed millions of consumer interactions through Google Analytics and distilled how different marketing channels affect online purchase decisions…"
The tool generates a graphic of the marketing channels that influence your target audience's purchase decision. This is a smart way to show the information, provided your business or product fits within the predefined industry categories. It's a quick snapshot view of your user's interactions with the business that could be valuable to gain buy-in from stakeholders or management when embarking on new marketing initiatives.
It's all about knowing who your audience really is
In today's digital and data driven world marketers can find numerous tools and methods to assist them in better understanding who their target audience really is and what they are looking for.
These tools and methods borrowed from the CX and UX practitioners assist marketers in creating more products and/or services that truly meet their audience's needs and expectations and ultimately benefit the brand.
To find our how TrinityP3 Marketing Management Consultants can help you further with this, click here.
Want more articles like this? Subscribe to our newsletter: