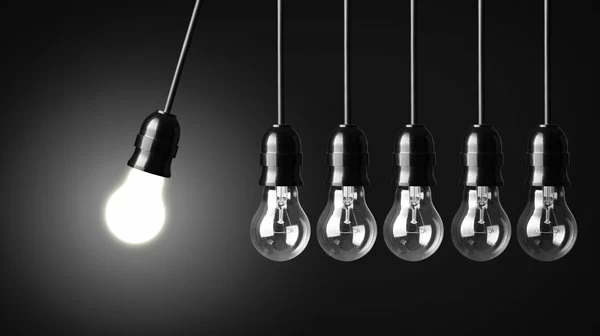 This post is by Anton Buchner, a senior consultant with TrinityP3. Anton is one of Australia's leaders in data-driven marketing. Helping navigate through the bells, whistles and hype to identify genuine marketing value when it comes to technology, digital activity, and the resulting data footprint.
There is incredible innovation happening all around the globe. Science fiction is turning real in almost every industry sector.
From augmented reality and artificial intelligence applications, to interoperability in healthcare, light bulbs that kill bacteria and much much more.
It's opening marketers' eyes at a rate of knots.
There's even a $10M contest to develop the Star Trek Tricoder (a multifunction, hand-held device used for sensor scanning, data analysis and recording data) – to be used in healthcare and not in space. 
Here are 9 advances and innovative uses of technology that became a reality in 2016:
1. Wearable sweat sensors to track your health
You may not know that sweat can be used to detect certain diseases due to its chemical properties containing simple ions and complex proteins.
Scientists have been embedding sensors and micro devices into soft rubber patches, about the size of a 20c piece, in order to identify and analyse biomarkers (markers for health).
Whilst this wearable technology and testing has been around for a couple of years now, I like it as it's starting to yield real results.
Different sections of the sensor slowly change colour as they react to different levels of certain chemicals found in sweat. Then with the right App you can take a picture of the sweat sensor on your smartphone to automatically interpret the colour changes and biochemistry of the sweat as certain health signs.
Which means maybe, just maybe, we can do away with having to sit through blood tests.
2. The world's first robot lawyer with a 64% success rate
In 2011, Gartner boldly predicted that by 2020 "customers will manage 85% of their relationship with the enterprise without interacting with a human".
Well, five years on, as chatbots (digital assistants) gather momentum, I've come across this practical application – the world's first robot lawyer – created by a 19-year-old British programmer, Joshua Browder.
The Do Not Pay bot service helps people appeal parking, speeding, and other mishaps with tickets (eg: missed flights).
And it has apparently successfully appealed 160,000 out of 250,000 tickets in both London and New York.
That's a 64% success rate. Not bad I say.
So if you've been slapped with a parking fine, or have just missed a flight and aren't getting anywhere with the airline, then maybe you should visit donotpay.co.uk
3. Is this the world's smartest CRM?
Salesforce's research team have spent two years building artificial intelligence (AI) into their CRM platform, thus bringing AI to the business masses.
It's called  Salesforce Einstein and as a core part of the Salesforce Platform, Einstein empowers developers to build AI-powered apps to machine learn, harness the power of smart data, and learn and improve business processes.
It allows users to analyse leads and focus on best opportunities. It also analyses communication to make predictions on whether deals are trending up or down as well as predict many other outcomes based on behaviour. So in theory conversion rates will only improve.  
Marc Benioff, chairman and CEO of Salesforce states that, "Salesforce Einstein is a set of best-in-class platform services that bring advanced AI capabilities into the core of the Customer Success Platform, making Salesforce the world's smartest CRM." 
4. Measuring the influence of sport sponsorship and influential conversations
We recently came across a data technology platform called Piptook, which measures influencers and helps marketers identify other insights from social media to drive commercial opportunities.
Whether you're looking to identify contextual influencers, track and compare engagement performance of a brand, person, partner or competitor, understand emotion (sentiment), or simply understand what content is resonating with your audience, then take a look at Piptook.
Also check out Hookit which tracks, measures and values sports sponsorship and activation beyond traditional media channels to quantify value from social and digital media.
According to the DMA, "Hookit enables brands to track, measure, and value sponsorship investment across 1) athletes/ambassadors, 2) event sponsorships, and 3) team, league, and federations.
The data demonstrates the social and digital dollar media value that athletes/ambassadors produce for a specific brand. To do this, Hookit implements its proprietary algorithm that incorporates sophisticated image-recognition tools and market-based CPE (cost per engagement) rates on top of our social/digital media statistics."
5. Google launches physical product – a US$6,000 smart whiteboard
Taking on Microsofts Surface Hub (launched in March 2016) and others in the already cluttered interactive whiteboard market, Google has just released its version, called Jamboard.
And of course it integrates with all the Google products so that you can search, grab images from the web or in your Google Drive, pull in work from Google Docs, Sheets, Slides, and share all the content you create.
6. Neuroscience explains Trump's US election victory
Daniel Kahneman explained the neuroscience behind good decision making with two systems of thinking in his book Thinking, Fast and Slow.
System 1 thinking is fast, intuitive, emotional, and energy efficient.
System 2 thinking is slow, logical, rational, and hard work for our brains.
In looking at Trump's sound bites, he continually went for System 1 thinking, whereas Hilary Clinton often fell in to the trap of System 2 with too much detail.
For example when you look at the proposed immigration policies, Clinton offered up nine points. You can read them all here if you're really bored. 
Whereas Trump, like him or hate him, harnessed the power of simplicity: "I'll build a wall".
And he used the technique for most of his election run, and of course with his running slogan to "Make America great again".
7. Big data, big brother, big insights
I love simple insights that can make a powerful impact to a business. Here's one that Uber discovered, as revealed by its head of economic research, Keith Chen.
Uber found that people are more likely to pay for surge pricing if their mobile phone is almost out of battery.
How does Uber know how much battery your phone has?
Well the Uber app apparently captures that information to know when phones switch into power saving mode.
According to Chen, "We absolutely don't use that to push you a higher surge price, but it's an interesting kind of psychological fact of human behaviour." 
8. A 47-year old Venture Capitalist uses Snapchat to give corporate finance lessons
While all his competitors use Twitter, Mark Suster, a Venture Capitalist partner at Upfront Ventures, is paving the way by using Snapchat to target first-time entrepreneurs.
He posts his hand-written scribbles, formulas and calculations to simplify the complex world of venture capital and highlight some of the realities that can cause headaches for first-time entrepreneurs.

Photo: Mark Suster / Via Snapchat
And he runs what he calls "SnapStorms", offering live advice by posting multiple videos and photos on a given topic in his Story (which disappears after 24 hours).
According to Suster, "In 5-6 minutes I can put out the equivalent of a blog post that would take me 45 minutes to write. And I get 6k or so views in less than 24 hours. And unlike writing you can see / hear me, so context isn't lost."
Find him on Snapchat: msuster
9) Selling cosmetics via Facebook Live with a wine in hand
Brands have started to take a 'series' route with Facebook Live. Broadcasting videos at a set date and time so that people can schedule around them.
In April, Benefit Cosmetics launched a series called "Tipsy Tricks", that runs for 30 minutes every Thursday at 4pm.
The host, Stephanie, has a glass of wine in hand as she gives out make-up tips and tricks, talks about products, and occasionally interviews special guests.
However what makes it work from my point of view, and achieve thousands of viewers live and tens of thousands of views after the live sessions, is that it's highly interactive.
Stephanie asks viewers questions and answers them live, and also allows viewers to choose the products to be focussed on (via polls), all with a down to earth personality that resonates with a specific consumer segment that they are targeting.
According to Internet Retailer, they have an in-house studio that films its Facebook Live and YouTube videos – producing four to eight per month. The studio has two full-time employees – a content manager and video producer – plus a freelancer who helps with lighting, footage and the shot's composition.
To encourage people to tune in during the live event, they produce a Snapchat Story on the day of the segment, giving users a view behind the scenes of Tipsy Tricks and reminding them to tune in. And they also promote to their 5.3 million Instagram followers on the day of the show.
It just goes to show what can be done with a dose of pragmatism and personality.
Do you have a 10th?
So there you have it. I hope you found these 9 advances and innovative uses of technology interesting.
I wonder if you have a 10th to add to the list?
Are you struggling with the complexity that digital and data offer to business? Let TrinityP3 make sense of the new digital ecosystem for you.
Want more articles like this? Subscribe to our newsletter: