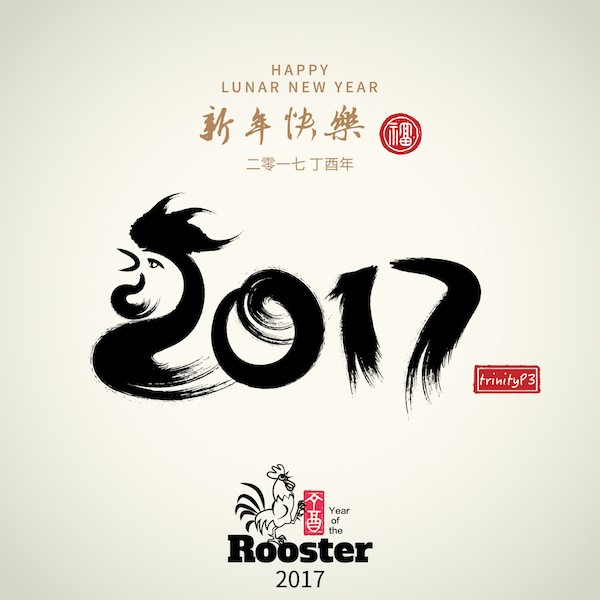 This post is by Darren Woolley, Founder of TrinityP3. With his background as analytical scientist and creative problem solver, Darren brings unique insights and learnings to the marketing process. He is considered a global thought leader on agency remuneration, search and selection and relationship optimisation.
The Chinese Year of the Fire Rooster starts tomorrow on January 28, 2017 and lasts until 15th February 2018. Astrologically we are coming out of a pretty confusing period of time and entering a rational and constructive period.
The Rooster gives the year ahead some of the characteristics of the bird it has as a symbol: ambition, pride, the desire to be admired, punctuality and courage.
Most importantly the relationships between people will be under the sign of great honesty.
We will all prove to have more passion in life, especially regarding work, where we will not hesitate to roll up our sleeves in order to reach our objectives.
"Always higher, always going on" is the motto of the Rooster and it will inspire all of us. Braver than usual, we will not be defeated by difficulties and adversities.
So what better time to consider addressing some of the honesty issues that plague our industry including:
Media Transparency
Media Fraud
Misleading Metrics
Production Fraud
Lets look at each issue with a view to great honesty:
1. Media Transparency
It was Monkey business this year with regards to media transparency with the Association of National Advertisers (ANA) announcing that TRANSPARENCY was the marketing word of the year for 2016.
The issue for advertisers is not just about how much the media agency is making, but much more importantly what impact are the opaque media buying arrangements having upon the value of the media and the performance of their media investment.
Agency remuneration has the ability to influence the way media agencies plan and buy media and therefore if the agency is generating revenue through undisclosed financial arrangements with publishers and other intermediaries, how is this impacting the media agencies' media recommendations.
In response advertisers are making plans to take more control of their media planning decisions in house with the appointment of Media Leads and embracing new technology solutions such as Blackwood Seven.
But if the Year of the Rooster is a year of honesty, what will need to happen this year to return honesty and trust to media agency remuneration?
2. Media Fraud
A bigger issue for advertisers and the whole industry is media fraud. It is estimated to be a multibillion-dollar criminal activity globally which significantly impacts advertisers and publishers.
The huge volume of transactions and the extensive fragmentation of the value chain makes it ideal for fraudsters to scam advertisers' media budget. Issues include viewability and determining if the ad was served or not and if it was served was it viewed by a real person or one of the many fraud bots.
But bots do not simply trigger wasted ad delivery they also inflate publisher numbers and more. It is not as simple a problem to solve as you may think with millions of publishers and sites providing advertising opportunities.
The multiple layers of stakeholders and service providers involved in the transaction makes this a much more complicated crime to solve and will require the assistance and co-operation of all those involved.
Hopefully the Year of the Rooster is the year the major players of this multibillion dollar a year business make an honest effort to solve the issues of media fraud that plague the industry to date.
3. Misleading Metrics
Media has always required measurement to ensure advertisers are getting what they paid for, but as the Year of the Monkey comes to a close many advertisers will be questioning if they are able to trust the metrics the media provides.
The past year has seen a series of reports, especially from Facebook, that there has been a succession of flaws discovered in their metrics that conveniently exaggerated or overstated their performance.
Facebook is not alone, with Snapchat, Twitter and others also owning up to misreporting, making it difficult for advertisers to know who to trust. While some may maintain that owning up to it is the honest thing to do, it would only be a matter of time before they were found out.
But it is not just digital publishers who are undermining the value of their metrics, with media publishers in Australia withdrawing support for independent media audits placing question marks over the robustness of the publisher metrics.
Media Agencies have not faired well either with Dentsu Inc. in Japan, owners of Dentsu Aegis Network (DAN), owning up to their clients and the industry that they had been over charging their clients.
In each case the publishers have been open and honest in admitting where their metrics have been misleading. But will this honesty be enough in the face of the Rooster?
4. Production Fraud
While it may seem that the issue of trust and honesty in the industry appears to be all about media, the Department of Justice (DoJ) in the USA announced an investigation into possible fraudulent behaviour by advertising agencies in regards to advertising production. Particular focus is on television production.
Advertising agency holding companies and their agencies are accused of manipulating the tendering process to position their in-house production option as more cost effective.
But this is not limited to the USA alone with agencies around the world increasingly expanding their capabilities to compete directly with their traditional suppliers and capture a greater share of their clients marketing budget.
But it is dishonest to manipulate external suppliers to assist in supporting your margins. With the Department of Justice continuing their investigation we hope that the finding to be delivered now in the Year of the Rooster will lead to a greater level of honesty from agencies.
Wishing you a happy and prosperous year ahead
No matter what you are hoping to achieve this year or what your objectives, we are happy to help you find a greater level of honesty, transparency and to build greater trust and better performance along the way.
More on media transparency, value and performance can be found here
More on production assessments can be found here
Want more articles like this? Subscribe to our newsletter: