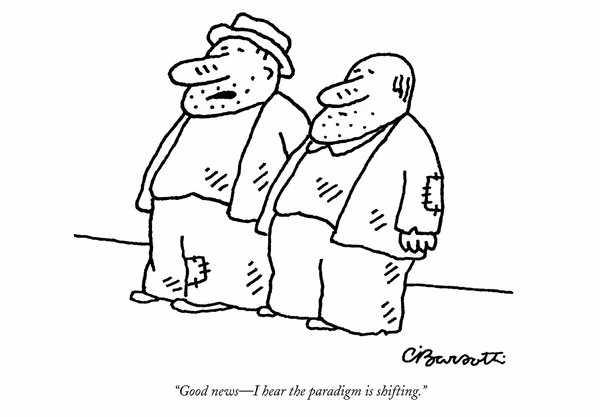 This post is by Michael Farmer, Chairman of TrinityP3 USA and author of Madison Avenue Manslaughter: an inside view of fee-cutting clients, profit-hungry owners and declining ad agencies, which won the Axiom Gold Business Book Award for the best marketing / advertising book of 2016.
Madison Avenue's self-destructive practices need to come to an end!  In the wake of a decade or more of marketing cost reductions, CMOs have lost credibility and power; procurement departments have confused benchmarking with marketing, and demoralised agencies have seen their capabilities severely compromised through downsizing, juniorising, and Scope of Work inflation.
Cost reduction programs have run their course. They were never a credible substitute for brand growth as a way of delivering shareholder value.
There have been few strategic winners during the past decade, other than the disrupters — Google, Facebook, Amazon and the unicorns of online commerce. Legacy brands are languishing. Millennials remain a mystery. Digital and social marketing are question marks. Trust has eroded. Advertisers and agencies alike are battered like addicts caught in a vicious cycle of self-destructive behavior, their relationships increasingly unmanageable. Madison Avenue's Manslaughter (MAM) has taken its toll.
Advertisers and agencies must develop a new paradigm and work in unaccustomed ways to restore brand growth and profitability.
What should be done?
The Pledge: We, advertisers and agencies, pledge to work together constructively to realise the full performance potential of our brands. We pledge to enhance our working relationships and avoid or end behaviors that undermine our relationships and our prospects for success.
Partners, not vendors. We will view our relationships as strategic partnerships designed to deliver improved results, not as commodity-like relationships between customers and vendors that are bought and sold on cost.
Simplicity, not complexity. We will work together with a minimum number of partners to reduce complexity and increase our long-term focus on results. This will require enhanced agency capabilities and long-term commitments from advertisers.
Analysis and planning, not ad hoc experimentation. Together, we will analyse and determine the long-term growth potential of our brands, and plan annual media, media mixes, spend levels and Scope of Work deliverables that have the highest probability of achieving brand success. We will adjust our marketing programs based on concrete feedback and learnings rather than on speculative hope.
Fair fees and resources for the work. Agency fees and resources will be determined transparently based on 1) the work to be done at 2) market billing rates that support agency talent needs. Over time, agency value-added will be expected to deliver a multiple of cumulative fees paid.
No dysfunctional practices. We will monitor and root out unacceptable practices, like unplanned ad hoc SOWs, unpaid scope creep, inefficient briefing and ad approval processes, off-brief creative work, excessive rework, excessive resources for relationship and project management, abusive relationship behaviors, use of one-sided (and questionable) benchmarks, and unnecessary agency churn.
The industry is near a "tipping point" on these issues, and now is a good time to take the problems by the throat and do something about them.
Marc Pritchard of P&G had blunt words for the industry at the 4As Transformation Conference earlier this month: "Ads are too expensive. They're not driving client sales growth. Agency structures are too complicated. We at P&G fed the complexity beast by hiring thousands of agencies globally. With a specialist for everything, it was difficult to determine who was in charge of anything."
Pritchard now seeks to make logical, data-based, reasonable decisions and spend time on great creativity to drive growth.
On the agency side, Ogilvy & Mather has recently tackled excessive complexity under CEO John Seifert by consolidating the various Ogilvy "brands" and reducing the number of competing profit centers, all in the name of providing improved integration for the service of clients.
Management consulting firms have track records of focusing on improved client results. More recently, Accenture, Deloitte, and IBM have acquired creative agencies to add to their consulting capabilities — marrying creativity with analysis to enhance their ability to solve client brand problems.
These initiatives — and there are many others around the industry — will coalesce eventually, but it may take an industry crisis, like an earnings failure or growth shortfall at one of the holding companies to mobilise industry action.
Alternatively, leadership from within the industry could signal new directions. The 4As' new CEO, Marla Kaplowitz, could speak about industry health and the need for fundamental changes at the ANA Financial Management Conference in Hollywood, FL at the end of April, 2018. What she says needs to go well beyond the media transparency issues that have dominated recent conferences.
Imagine the effect if Ms. Kaplowitz, as head of 4As, and Bob Liodice, head of ANA, jointly stood together and took the pledge to end Madison Avenue's Manslaughter? That, my friends, would be worth listening to!
Cartoon credit: Charles Barsotti, The New Yorker, The Cartoon Bank. With permission.
This post was originally published at Media Village.
Rather than just rationalise your roster, it is important to align it to your strategy. Find out more about how we can help you manage your total roster to maximise performance.
Want more articles like this? Subscribe to our newsletter: