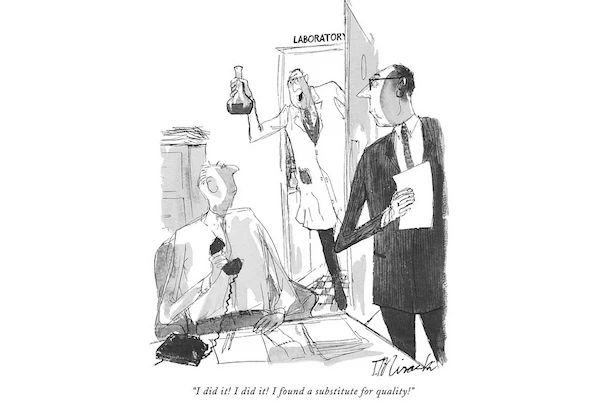 This post is by Michael Farmer, Chairman of TrinityP3 USA and author of Madison Avenue Manslaughter: an inside view of fee-cutting clients, profit-hungry owners and declining ad agencies, which won the Axiom Gold Business Book Award for the best marketing / advertising book of 2016.
If we were on a guided tour of the advertising industry, here are the points of interest that ought to be on every sightseer's list.
1) The Advertisers.  "Lower cost" is their strategy du jour, with reductions in media spend, cuts in agency fees, continued use of cost benchmarks and investments in less expensive internal agencies.  Amazing!  Increased shareholder value — marketing with the stroke of a pen, crossing out columns of unnecessary figures.
2) The Holding Companies.  Restructuring and cost reduction is their response du jour.  Only the restructuring is new — they've been reducing costs every year for more than two decades, imposing tough budgets on their agencies, who react to the chronic fee cuts foisted on them by their procurement-led clients.
3) The Media and Creative Agencies.  Downsizing is their annual modus operandi, shedding senior people, leaving themselves with staffs that are significantly more junior and stretched.  Add to this hiring freezes, depressed salaries (see Glassdoor.com) and high employee turnover.
4) The Agency Scopes of Work.  They're not so easy to see since they hardly exist.  In my consulting work, I gather and analyse Scopes of Work to figure out "how much work are agencies doing at the request of their clients."  In 25 years, I've had to reconstruct these SOWs from interviews, incomplete Word documents, PowerPoint slides, e-mail communications and job jackets.  Thus far, we've had to reconstruct 977 Scopes of Work.
SOWs are not primary documents at either agencies or their clients.  More effort goes into documenting FTE salaries, agency overhead rates and travel expense reports than SOWs. SOWs are growing, and have been doing so for over 20 years, which is remarkable when you consider that agency fees from clients have been declining every year for over 20 years.
Pay attention to this, because it gets at the heart of the client-agency problem — SOWs do not matter.  They are a detail in the relationship, not worth the time to plan, negotiate or discuss.  They have almost nothing to do with fee-setting.  They are irrelevant to agency CEOs and their office heads, neither of whom have a clue about how much work or what kind of work their agencies are doing for their clients.
The SOWs have changed dramatically.  An office with 50 creatives in 1992 would complete 385 briefs in TV, print and radio.  Twenty-five years later, in 2017, a comparable office with 50 creatives would complete 14,750 briefs in TV, print, radio, direct marketing, digital and social.  In neither case was there any documentation of these SOWs — the numbers come from an after-the-fact reconstruction.
Some advice going forward:
Pay attention to the growth of client brands in the marketplace.  That's easy to do — just read the Wall Street Journal.  Legacy brands are stagnant.  Think about FMCG companies like P&G, Nestle and Unilever; beer companies; financial services companies; pharmaceutical companies. They are struggling with Millennials, e-commerce, retail disruption, Amazon, the questionable effectiveness of social media, brand safety, shareholder challenges and CMO insecurity.  Legacy brands are failing in the marketplace. Spend levels are being cut back in response to poor sales growth.
Pay attention to Wall Street.  Holding company shares are declining.  According to the Financial Times (3-12-2018) "hedge funds have amassed bearish bets of more than $3 billion against the world's largest advertising companies in an attempt to profit as the industry undergoes wrenching disruption and slowing growth."  Hedge funds are shorting holding company shares.
Think about quality.  Quality has been sacrificed in the quest to lower costs.  How long before the holding companies realise that their strategy of "buy and squeeze" has been played out and ends as self-liquidation?  How long before they focus on management quality issues as well as cost reduction issues in their portfolios?
Their agencies are failing, strategically, to help clients grow and succeed in the marketplace. Why?  Their agencies are failing to influence or master the art of pricing. Why?  Their agencies are failing to put high-quality Scopes of Work on the table, or to even keep track of the Scopes of Work they carry out. Why?
Their agencies are failing to provide rewarding employment and equal (gender-neutral) opportunities for their underpaid staffs.  Why?  How long before clients realise that growing Scopes of Work are incompatible with declining fees?  Whatever happened to the concept of partnership to achieve extraordinary results?
Think about the future. At some point, too close for comfort, agencies will find that they have cost-reduced, downsized and liquidated their remaining capabilities, and that clients will find new ways to plan and buy media, carry out strategic and creative work, and rekindle brand growth. That will be the day when Wall Street extracts its final pound of flesh from the holding companies.  It will not be a pretty picture for those in the agency world, but you can be sure that Wall Street will profit handsomely.
Cartoon credit: Joseph Mirachi, The New Yorker, The Cartoon Bank. With permission.
This post was first published at Media Village
Our Scope of Work Management service evaluates your current agency scope of work and recommends the best approach, calibrated to your needs. Read more here
Want more articles like this? Subscribe to our newsletter: