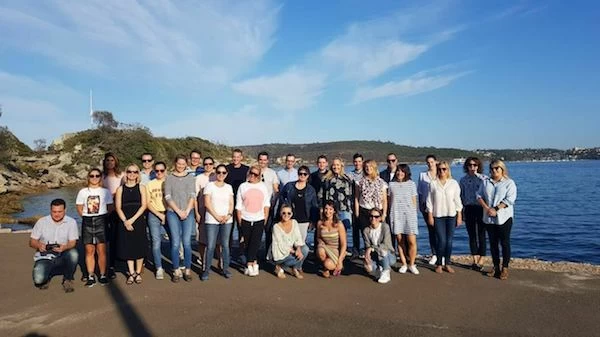 This post is by Lucio Ribeiro, Managing Director of Online Circle Digital, a full-service advertising agency with digital DNA.
Along with managing an agency and teaching at University, I mentor a few young marketing students at RMIT. One day one of these young marketing students told me a story about her worst boss.
She told me that her boss would constantly give her direction on what to do, pass by her desk, tap her shoulder and tell her "What a great job" she was doing, give information on what to do next, and move on. I asked her what was wrong then and in a heart-beat she said she didn't want to work for her – there's no inspiration, there's no charisma, vision, or sense of sincerity. Oops.
That moment opened my eyes. Have I been acting like that?
In an industry that relies heavily on people was I uninspiring for my team? At the beginning I felt myself trying to shut down the thoughts, trying to justify to myself every decision I had made, trying to surrender myself to the calm and easiness of ignorance; but I couldn't.
I knew at that moment (this was 2016) that I had to face my own thoughts, weaknesses, fears and vulnerabilities if I wanted to excel and to start developing new leaders in my way. And I did want to.
Leadership is a tough gig; Google it and you will find hundreds of thousands of articles, it's the most prevalent topic at HBR with over 24,000 articles and many books written about it.
It's confusing and daunting. That set me on a personal journey to discover my own truth about leadership, the elements that together would allow me to be a better person, better marketer and a better citizen.
The most pernicious tall tale of leadership is if you have charisma and vision you are a leader – either you are born or not born with it. The reality is that leadership skills are not inate. The characteristics can be learned, acquired, exercised and honed.
I was lucky enough (my simplification of hard-work) to join another 29 brilliant minds in Australia and to be chosen as part of the Marketing Academy 2018 co-hort.
The 30 of us have now embarked on a journey of discovery, learning, camaraderie, and paying-forward.
This is my story.
The Marketing Academy – Getting Accepted
The Marketing Academy was created by Sherilyn Shackell as a non-profit and voluntary organisation.
Their reason to exist is to develop leadership capability in talented marketers from the Marketing, Media, Advertising and Communications industries through mentoring, coaching and experiential learning. All of The Marketing Academy programmes are provided free of charge.
It's a 9 month programme where 30 selected marketers receive training, mentoring and support to develop themselves in four modules:
Personal Development: How to become an extraordinary human being
People Development: How to become an inspirational leader
Professional Development: How to become an exceptional marketer
Purpose: How to become a change maker
The acceptance in to the programme is a journey itself. The programme is free but highly selective. There is a 3 stage application process, however, firstly you need to be nominated by a senior business leader working within Marketing, Media and Advertising. A nominee then receives an 'Invitation to Apply' which includes the essential information about the 3 stage process.
Stage One – The Application. This phase is your story and achievements. The candidate needs to submit their CV, an endorsement from their current employer and a video showcasing their story and why they want to be in the program.
Stage Two – The Pitch. This is where the masks start falling. In this phase you have a one-on-one with an alumni or someone from The Marketing Academy, where the candidates talk about their commitment, reasons and willingness to be at The Marketing Academy
Stage Three. The Panel. Here the candidate will find her/himself having an interview with a Marketing and HR professional.
It's a very thorough process, designed to be a learning experience from the start.
The Marketing Academy
The Marketing Academy is a not-for-profit organisation founded in 2010 in the United Kingdom, Australia in 2014 and USA and Middle East in 2018.
At the heart of The Marketing Academy is building the new marketing leaders who are going to shape the present and the future of the industry. It's a pretty big ambition, but as I learned during my first bootcamp "If your ambition and your problem can be solved in your lifetime, your problem is not big enough".
The 9 months, full program constitutes of:
3 Boot Camps – Three immersive events (5 day, 2 day and 1)
A mentorship program where each one of the participants is assigned 6 to 8 high profile CEO's and CMO's
A coaching program where each one of us is assigned an Executive Coach
4 Lectures – Each hosted by world class subject matter experts
At its heart, The Marketing Academy aims to identify, filter, empower and educate new marketing Leaders.
To deliver the Scholarship Programme, The Marketing Academy unites an entire ecosystem; Brands, Media agencies, Creative agencies, Publishers, Industry associations, Consultancies, and leadership organisations.
The program puts us, the cohort, face to face with CEO's, CMO's, entrepreneurs, authors, subject matter experts, researchers, academia, inspirational speakers, founders of charities and sporting legends who contribute to the curriculum on a pro bono basis to make the Scholarship a totally unique and immensely powerful learning experience.
For the 30 people that are part of the cohort the program is entirely free (we cover our personal expenses and travel). For The Marketing Academy, as a not-for-profit organisation, they rely on sponsorship and the collaboration of CMO's and CEO's of the country they are in.
The Marketing Academy takes applications between October to December
The Marketing Academy – My journey
In 2016 (for the 2017 cohort), I tried and I failed. In my third and last round, I interviewed with a CMO of a large AU bank and the Head of Recruitment from one of the largest Media groups in the country. I was told that I wasn't prepared and I wasn't there yet.
I refused. I fought. I revolted.
"How dare you to say this of me?" I thought.
The voices in my mind were so loud that I couldn't truly listen to what those two people were trying to tell me. My temptation was to fight, not to listen. If every action is preceded by a thought, our actions can only be as good as the thinking behind our thoughts and if my temptation was to rebel my action would be rebellious. I had to change.
My mentors of the time, Kimberlee Wells (TBWA/Melbourne), Michael Fagan (Kmart Australia) and many colleagues in the industry helped me understand that I could gain strength, courage and confidence with every experience in which I would stop to look at my worse fear face-to-face.
You can hide and you can pretend to anyone but you can't hide from yourself.
Being on the balcony, not the dance floor anymore.
After more than 20 years in Advertising, I've learned a lot. How to write briefings, respond to creative, deal with last minutes changes, deal with difficult people, negotiate with procurement, win and lose pitches and clients, the list goes on.
This turned me into a good marketer and an amazing technician, a person who can find answers really easily. In a normal day, it's very tempting when confronted with problems to jump really quickly to an answer. What this creates is a spiral of dependency and dis-empowerment of our own teams.
"Leaders teach their teams to ask questions to themselves
that they would have asked you"Oscar Trimboli
The world is in a crisis of trust and leadership. Agnosticism is the fastest rising belief in Australia.
Our world of marketing and advertising is in crisis. A crisis of trust and a crisis of leadership with deep repercussions. Somewhere along the line we lost our way and our purpose.
Our new mandate is to work faster, cheaper and with less. A world where weaknesses are hidden, lies and deception are commonalities. We are thought to hide behind our masks, killing our ability to connect and spend more time on the questions we are trying to solve.
With an enormous amount of pressure, we marketers forgot how to lead. Forgot how to be ruthless delegators creating freedom rather than farming control.
After close to 40 hrs of lectures with leaders in the field of Marketing, Business, Behavioral Science, Sports and NFP in my first week boot camp I learned a fundamental truth that Leadership is a potent combination of strategy and character. It's not about being the nicest person around, but it's about being a person who has:
Self-awareness – Emotional, accurate and positive sense of self-worth
Character: Self-management with healthy doses of trustworthiness, conscientiousness and adaptability
External awareness – Empathy and organisational awareness
Social Skills – vulnerability, communication, listening
Focus on developing others
Having a boss who lets you do as you please may sound ideal. However, a 2015 survey of 1,000 working adults showed that eight of the top nine complaints about leaders concerned behaviors that were absent; employees were most concerned about things their leaders didn't do. Clearly, from the employee's perspective, absentee leadership is a significant problem, and it is even more troublesome than other, more overt forms of bad leadership.
Research shows that being ignored by one's boss is more alienating than being treated poorly. The impact of absentee leadership on job satisfaction outlasts the impact of both constructive and overtly destructive forms of leadership.
Be there and deploy true and deep listening. Be focused on the relentless development of people, your people, your family, your staff, your company, your clients. Leadership is not just at your workplace.
What "if"
What got us all here, won't get us "there".
Knowing Darren and TrinityP3, I'm assuming you Ms/Mr. reader are in a position where you can exercise Leadership. Let me tell you something I learned at the Academy. Leadership is about exercising choice – creating your choice and taking responsibility.
It's hard to change people; indeed a Harvard study demonstrated that when people are advised that they have to change their habits or they will die, guess what, a minority changed. People prefer death over change. However, we marketers are by obligation agents of change.
One of the days at the Academy had us think about the most dangerous word in business (and life) – the word "IF". If is paralysis and is cheap justification for conformism and active inertia. There's a destructive potential with both our companies and our people. What you need to do is to invert the perspective of the IF"
If you really knew you and your team could become outstanding what might you give to them today to help that happen?
If you knew your encouragement could transform the thinking of your team or your family, what would you do today to help them feel inspired?
If you knew you had the power to remove processes in your company that make your work more complex what would you get rid of immediately?
Start today using the power of "If" to you and your team and company's favour.
Last thoughts
The Marketing Academy has been teaching me a lot. Learnings that I have been passing along in blog posts, interviews, to my family, my team and my mentees.
I have learned how to be kind to myself, how everybody else suffers imposter syndrome, one day or another, even the most accomplished CEO's have doubts about whether what they are doing is right or wrong.
I will be forever thankful for this opportunity. I've been learning a lot, I've increased my business network three fold, made good friends but more importantly have made peace with myself.
As per you, if you want to get involved with The Marketing Academy you can do it in a few ways:
The program always has a place for the right sponsor. You can sponsor the Academy program or the Alumni program – there are tons of benefits
If you are super experienced and want to share your wisdom you can become an inspirational speaker or mentor
Help to spread the word. The Academy is a gift to our industry and it benefits us all.
Ensure your marketing strategy is not only robust, but also agile. We can assist by reviewing your strategy against your business and marketing objectives. Learn more here
Want more articles like this? Subscribe to our newsletter: