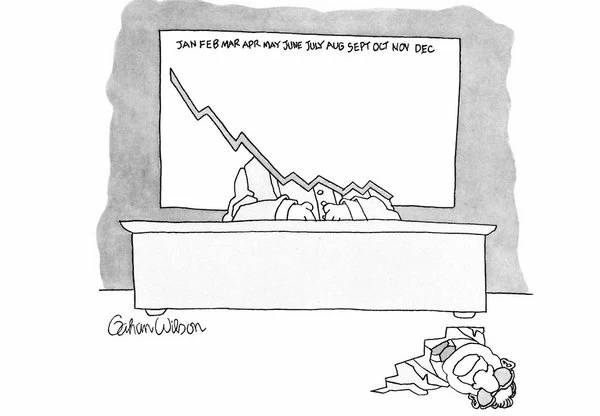 This post is by Michael Farmer, Chairman of TrinityP3 USA and author of Madison Avenue Manslaughter: an inside view of fee-cutting clients, profit-hungry owners and declining ad agencies, which won the Axiom Gold Business Book Award for the best marketing / advertising book of 2016.
WPP points the finger at ZBB as the most important factor driving cuts in WPP's agency revenues — cuts that have taken 35% off WPP's share price from its 2017 high.  Leading industry analyst Brian Wieser identifies ZBB as a major factor suppressing holding company organic growth, along with other factors like increased contract scrutiny.
ZBB is the flavour of the month.  Mention ZBB to an ad agency and watch the panic. "Here it comes!  Another excuse to cut fees!".

ZBB had a more innocent past, when Peter Pyhrr, a manager at Texas Instruments (TI) in Dallas, developed the idea of preparing his '70s budgets as if the previous year's figures had not existed.  According to The Economist, "every assumption had to be rethought from scratch and then justified. It was not acceptable to use last year's expenditures as a benchmark for the current year's budgeted costs."
ZBB was less about budgeting and more about assumption-testing and problem solving. ZBB required an ongoing evaluation of the cause-and-effect factors that drove performance.  If budgets were not delivering the required outcomes, ZBB needed to figure out why.
"Let's check all our assumptions and create new budgets from scratch."  ZBB was an "upstream" activity, re-examining problems, solutions and plans, not just a "downstream" activity that adjusted budget line-items.
In the marketing world, advertisers have brands whose sales, growth rates and profits need to be managed. Agencies are engaged to work on the brands; media plans are established; Scopes of Work are developed, and spend levels agreed.
The budgets that document media, creative and production expenditures are based on assumptions about what combination of media, messaging and content will drive brand performance. Budgets are at the bottom of the funnel.  They are the outcomes of deliberations, not the main act.
If, as is the current case, brands are not growing — and this is true for nearly every legacy advertiser — then the agency, media plan and Scope of Work assumptions need to be re-evaluated.
Ultimately, there may be budgetary consequences, although "cuts" are not the only possible outcome. ZBB's evaluation of "what it takes" to get brands moving again might conclude that greater spend levels are required.  ZBB does not exclusively mean "cut costs."  The "zero" in ZBB is not a benchmark or the only direction budgets should move.
We do not hear much from CMOs today about their vigorous plans to get brands moving again.  All we hear about are their budget cuts and agency changes under the ZBB banner.
Tinkering with budgets and structure in the name of ZBB — while ignoring the problems that the budgets are meant to solve — may make performance problems worse.  Brands that do not perform properly when expenditures are one billion dollars greater will not start to grow when less money is spent.
Brands whose creative fortunes were managed by legacy ad agencies — the Yankees, Red Sox, Dodgers and Astros of the agency world — are not likely to do better under pickup teams that are paid even less. There will be no all-stars on the All-Star team.
Advertisers seem to be looking for simple solutions or sound bites that suggest that they're on top of things.  Their performance problems, though, are complicated.  Brand stagnation is the result of changing demographics (Millennials replacing Baby Boomers), e-commerce (Amazon et al), media fragmentation (digital and social versus TV), changing media consumption (from TV to mobile) and the strength of white-labeled products in the trade.
Properly done, ZBB is an appropriate tool to examine what changes are required in plans, operations and expenditures to address performance challenges.  Marketing, procurement and agencies should work together on the re-examinations.  This is not how it is currently done.
Tinkering with budgets in the name of ZBB discredits the methodology and may make things worse.  Under current ZBB practices, agencies and brands are being enfeebled at an accelerated rate.
Cartoon credit: Gahan Wilson, The New Yorker, The Cartoon Bank.  With permission
This post was first published at Media Village
How are your budgets set? Top down? Or bottom up? Are you using Zero Based Budgeting?Find out how we can assist with budget setting and measurement here
Want more articles like this? Subscribe to our newsletter: