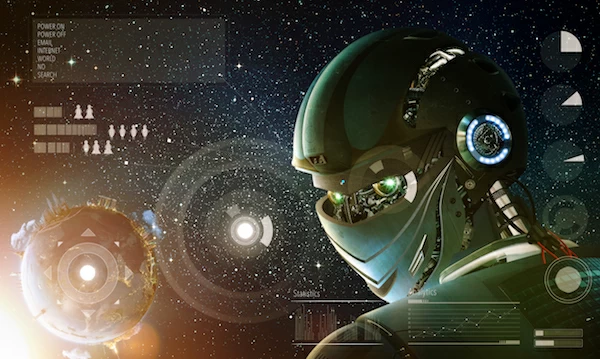 This post is by Mahesh Enjeti, Managing Director, SAI Marketing Counsel and Advisor, Bubblefish. Mahesh has an Honours in Physics and an MBA (with Marketing and Finance as majors) and has spent over four decades in advertising, sales and marketing across services, industrial products, consumer durables and technology sectors.
A lot has been written about how technology will transform businesses in coming years (scratch that, I mean coming quarters) and how consumers will benefit from greater convenience, comfort, customisation and cost benefits. Not a day goes by without a blog, an article, a podcast or a video about AI and how it is going to fundamentally change our lives.
Much of what is being foreseen seems plausible, while there are other things that appear somewhat far-fetched.
Call it synchronicity or mere coincidence, but the week before Easter witnessed a collision of multiple events (read forces) all at once. First, it was this Article in Singularity Hub, about how AI may mean different things to different people. The author, David Pring-Mill attempts to separate the hype from reality. It prompted my piece on LinkedIn titled why I like Natural Intelligence, an impassioned plea not to ignore our innate brain power.
Darren Woolley who read my blog straightaway pointed me to a recent TrinityP3 online survey on how marketers perceived the growing influence of AI. His dip stick research revealed a great divide among us, some welcoming AI with unreserved relish while others sceptical about its long-term usefulness.
A day before that happened, both Darren and I, unbeknownst to each other had attended an Ethics Centre debate titled "Tear down the Tech Giants" at Sydney's Town Hall. A poll taken at the end of the debate also revealed anxieties about these Titans' (Google, Apple, Amazon and Facebook) relentless power mongering and growing influence if unchecked by regulation.
My intent in this blog, however, is about marketers' role and responsibility in a world where technology may increasingly bestow more power to them over their buyers even as the consumer believes she has greater control over her choices, her opinions and privacy.
Neither the TrinityP3 survey (with 96 respondents) nor the Ethics Centre live poll at the Town hall (with an attendance of over 800) was based on a sample representative of the population or randomised to be statistically significant. Yet there are some pointers that seem to be alarming.
I lamented in my blog about how we seem to be ignoring the power of the human brain in our unbridled excitement to embrace AI, a sentiment echoed in the TrinityP3 research where only 8.33% agreed with the teasing statement: "What's wrong with natural intelligence?"
Juxtapose this with the fact that in another poll by the Ethics Centre taken before the debate (as people were walking into the venue), a third were unsure about whether the technology giants' power should be curtailed.
A surprising and ominous finding only days after the Cambridge Analytica storm rocked Facebook (to be fair, the proportion of those undecided fell to 6% after the debate). Imagine what it might have been if a random poll was taken of all people in the absence of any objective information or an informed debate.
Is it that consumers trust the giant tech companies who have access to their personal data more than they would any typical big business?
If more and more firms gain more and more opportunities to identify and profile their targets, and to promote their products/services to them and if consumers remain oblivious or unconcerned about how their data is being shared, I believe the responsibility is on the part of marketers to exercise greater discipline in terms of how the information is sourced and how it is being used.
If they don't, it could potentially come back and bite them…fatally. Surely, there will be more rules and regulations governing data collection, storage and protection in future times, but the one thing that can never be regulated is human greed and mortal temptation.
For years, the consumer was always ahead of businesses in terms of adopting new technology. More recently, a point of inflection may have been reached. As businesses began discovering the capacity of technology to grow revenues, reduce costs, and improve efficiencies, there has been a rush towards seeking out every new concept, construct or contraption without sufficient consideration of its relevance, costs, usefulness and potential downsides.
We marketers seem to be particularly poor at this perhaps because we may have ignored the fundamentals of good marketing, relying on new, shiny props that are continually on offer. We have used NPS indiscriminately, abused strategy, purpose, experience and brand to death, utilised data to make decisions for us rather than with us, and readily bought into programmatic advertising without pausing to scrutinise its dangers.
As AI gathers momentum, it is important for marketers to remind ourselves about trusting our native intelligence and natural instincts in exercising our judgment, employing our wisdom (together with emerging knowledge) and objectively assessing the upsides and downsides of any new application of technology that is available to us.
The reality is when competing businesses reach parity in terms of access to new machines, methods and means, what sets us apart is our core ability as marketers to get the fundamentals right. We will all do well to examine the context of our company, our competition, consumers and cost structure before making any significant investments.
Are you planning your technology transformation strategy? Or perhaps reviewing your existing technology implementation? Find out how we can help here
Want more articles like this? Subscribe to our newsletter: