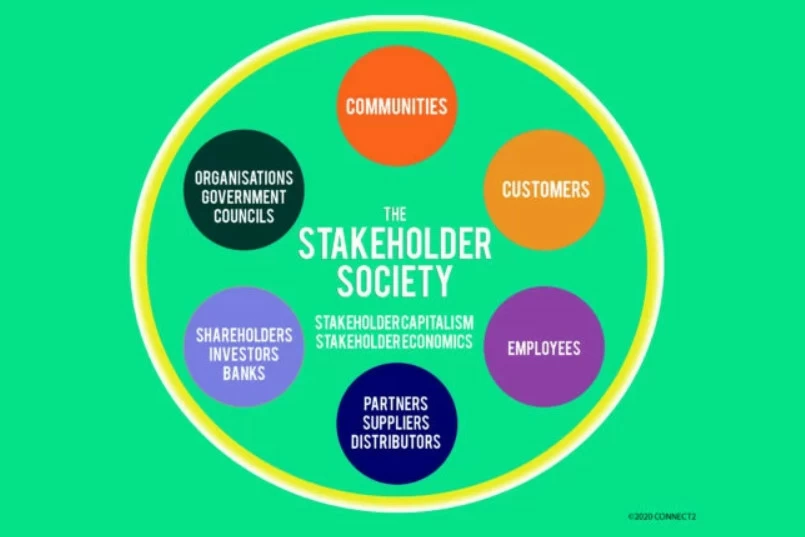 This post is by Chris Arnold, a Doctor of Business and co-founder of CONNECT 2 (the UK's leading business to community engagement marketing agency) and a specialist in communal economics. 
The World Economic Forum are championing Stakeholder Economics and the Great Reset.
Why is Stakeholder Economics a better model for companies to adopt to improve their sustainability and social responsibility, than focusing on Shareholder Value?
With little faith in politicians, most of us now look to businesses to help solve economic, environmental and social issues. Timely, as brands are all desperate to push their purpose and demonstrate that doing good for society and the environment is also good for business.
Ironically, as most of us also blame the very companies making the greatest noise about ethics for human exploitation and environmental damage.
But how much can we really trust the values and ethics of companies driven by shareholder value and therefore a focus on profits? Is this economic model really set up for ethics? In fact, many would say, it's set up for exploitation of both people and the planet.
The World Economic Forum and others (Imperative21 – partners include B Lab, The B Team, CECP, and Conscious Capitalism) are pushing for the GREAT RESET, a move to a more balanced and fairer economic system with social justice and sustainability at its core.
So how did we get here?
Blame the Friedman doctrine, also called 'shareholder theory', a normative theory of business ethics promoted by economist Milton Freeman (Wiki Milton Friedman) – his ideas were published in 1970 under the title, "The Social Responsibility of Business is to Increase Its Profits".
This theory holds that a firm's main responsibility is to its shareholders, 'the economic engine of the organisation' and the only group to which the firm is socially responsible. As such, Friedman believed that the goal of the firm is to maximise returns to shareholders. No surprise this view became the dominate economic model of American business and then European.
Friedman was no champion of ethics, that was for sure. More the economics of greed and exploitation.
The impact of this, and what has been called the 'contradictions of capitalism' has resulted in wealth inequality –
"Many of the very problems we expect corporates to solve are indirectly created by them." Klaus Schwab, Chair, World Economic Forum.

"Focusing on maximising profits to feed shareholders has resulted in massive inequality, exploitation and a planetary emergency."
Marc Benioff, CEO Salesforce.
The new consumer
But since the 70's values have changed, especially those of consumers and the significant Millennial and GenZ generation. 'Profit' has been replaced with 'Purpose'.
By contrast, an alternative and more relevant model of economics for today is Stakeholder Economics (also known as Stakeholder Capitalism) a system in which corporations are oriented to serve the interests of all their stakeholders.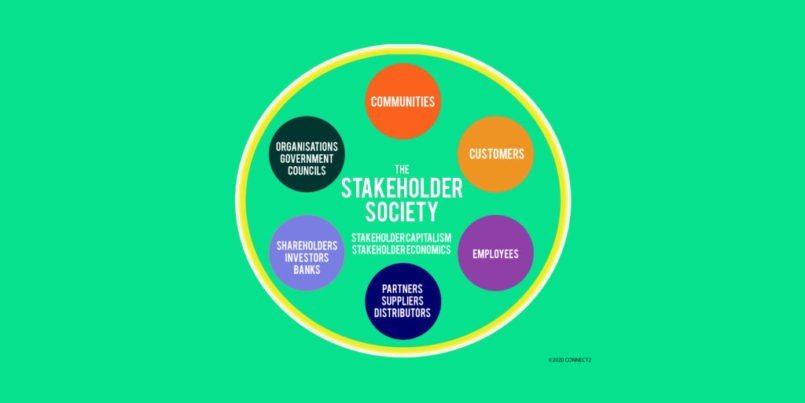 Among the key stakeholders are:
• customers
• suppliers (distributors, partners)
• employees
• local communities
• government (national + local, organisations)
• shareholders (investors, banks)
Under this system, a company's economic purpose is to create long-term value and not to maximise profits and enhance shareholder value at the cost of other stakeholder groups. It takes a longer-term value creation view than Friedman's model.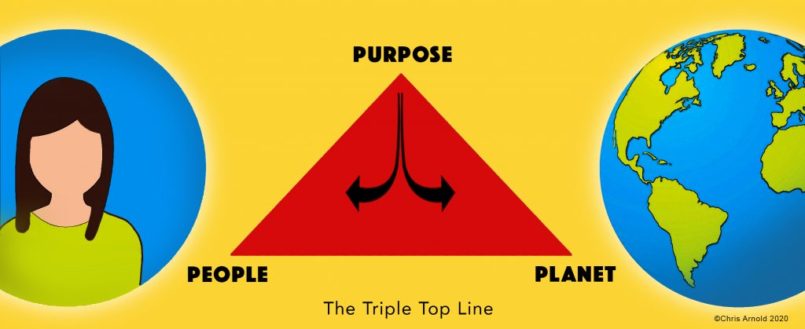 A new model for sustainability
The TRIPLE BOTTOM LINE, People, Planet, Profit, was coined by CSR specialist John Elkington in 1994. The original concept was applied to accountancy and economics, not marketing. It's been a cornerstone of CSR ever since but it's essentially based on the Friedman model of putting profit first.
In today's consumer empowered world, where ethics and purpose actually give a brand a competitive advantage, profit is becoming a nasty word.
71% of consumers say that putting profit before people will lose trust in that brand forever. [KPMG]
For brands using marketing communications to promote their ethics, the P for Profit seems less relevant to both a conscientious business strategy and a marketing strategy.
26 years on, the pandemic has created a paradigm shift in consumer values and the meaning of sustainability, forcing brands to rethink their purpose proposition.
In the 'new normal', the well established Triple Bottom Line has now been replaced by a more consumer centric model: The TRIPLE TOP LINE: Purpose, People, Planet.
While some pay lip service, green wash and spin – the old order adopts the Triple Bottom Line, there is a new philosophy that adopts the Triple Top Line (Read 'The New Rules of Sustainability Marketing').
"It's not HOW much you made but HOW you made it that matters to consumers."
Many established companies, like P&G and Unilever, have discovered that doing good is good for business (Read 'Why Doing Good is Good for Business').

Even in the City, values are changing.
Many new brands and start-ups are being built upon core ethical values – brands driven by a strong core purpose tend to out perform those just chasing profit.
Is covid-19 the catalyst of change?
But now that the pandemic has disrupted the 'world order' and the current economics of many big companies, the World Economic Forum are promoting a different form of thinking, a shift to 'Stakeholder Capitalism' which would create a Stakeholder Society.
Back in 1996 Tony Blair promoted the idea of a 'Stakeholder Economy' as part of the New Labour thinking. In 1998 Will Hutton, writer and former editor of the Observer, published The 'Stakeholder Society', followed by 'How Good We Can Be'. Hutton believes in society becoming a stakeholder in business to encourage it to be good.
Of course even then this wasn't new thinking, it's also the principle of Islamic, Quaker and other religious societies about business thinking.
One organisation creating a change in business thinking is B Lab, it believes companies can be a force for good but that business has to first balance purpose and profit. It has been using its BIA tool to encourage brands to become B Corps since 2006. By the end of 2018, 2,655 companies from more than 50 countries covering 150 industries, had obtained B Corp certification.
Klaus Schwab, a Dr of Economics and founder of the World Economic Forum in 1971 – a not-for-profit foundation committed to improving the state of the world – is a big believer in the 'Stakeholder Economy' (aka Stakeholder Capitalism), so no surprise the WEF are promoting it heavily right now (Schwab is its current executive chairman.)

In 1971 he published 'Modern Enterprise Management in Mechanical Engineering', in which he argued that "the management of a modern enterprise must serve not only shareholders but all stakeholders to achieve long-term growth and prosperity.
In 1971 it was radical thinking. Today it seems the perfect thinking. Good thinking for the new normal.
Want more articles like this? Subscribe to our newsletter: