TrinityP3 builds strategic business partnerships in order to service our clients and share our next practise methodologies locally, regionally and globally.
Ad Cost Checker
Ad Cost Checker is an advertising cost benchmarking calculator that allows you to statistically benchmark the hour rates and fees for creative, media, digital, social, design and advertising production.
At the core of the Ad Cost Checker is an extensive database of agency rates and industry costs collected and used by TrinityP3 in our consultancy practice across a wide range of agencies and advertisers across all major categories and a wide range of spend and budget sizes.
Ad Cost Checker is ideal for:
1. Advertising agencies wanting to check their rates against the market.
2. Advertisers wanting to determine where various agencies benchmark against their competitors.
3. Procurement professionals wanting to independently benchmark their current or proposed agency rates.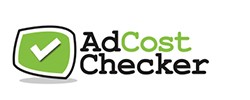 Evalu8ing – Business Stakeholder & Supplier Relationship Management System
The system used by TrinityP3 and other consultants including Navigare, and more, Evalu8ing goes beyond the prosaic score card check list to provide a multidimensional evaluation system that allows you to measure, manage and maximise the performance of complex business relationships.
It's the only online survey to evaluate relationships between up to 8 groups – this can be with:
• suppliers, colleagues or collaborators
• within organisations or across multiple organisations
• within one building, one city or across the globe
For a Free Trial click here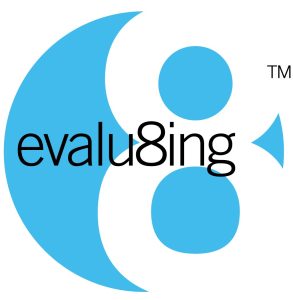 High Profile Enterprises
High Profile enterprises is a search engine optimisation, content marketing and social media consultancy who specialise  in getting fast, effective, business growth using targeted search and social based campaigns.
TrinityP3 has been working with High Profile Enterprises since 2011 and in that time they have achieve outstanding results with 2012 website visitor numbers up by 264%, unique visitor numbers up by 303% and pageviews up by 179%.
The strategic alliance sees the principals of High Profile Enterprise, Mike Morgan and Midge Hand, working even closer with TrinityP3 to bolster the skills set of the team and by providing training, knowledge and consulting services to our clients.

Marketing FIRST Forum – Founding Partner
The Marketing First Forum is a global network of professional marketing consultants. The M1F offering is simple: To help marketers achieve global marketing excellence through local know‐how and effectiveness, with a seamless, unified global offering aligned on services, tools and processes – often mirroring client's own business unit structures.
TrinityP3 is a founding partner of the Marketing FIRST Forum and a thought-leader in the development of 'next-practice' methodologies used across the globe.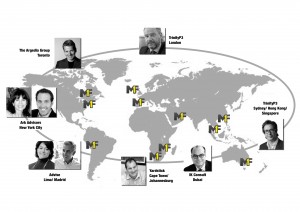 Marriage Equality
TrinityP3 Marketing Management Consultants support Marriage Equality.
We support diversity in the workforce and recognise the rights of our lesbian, gay, bisexual, transgender and intersex (LGBTI) employees to live and work, free of prejudice and discrimination, with all the essential freedoms enjoyed by other members of our organisations and the broader community. The rights and liberties of all individuals are sacrosanct. They are essential in the creation of a healthy, harmonious and open society.
An equitable society, free of discrimination, also allows all employees to function at their best. Australia is a robust democracy however, we support seeing it treat all its citizens equally. Legalised discrimination in one area allows discrimination to flourish in all areas.
Globally, over twenty countries have passed laws to allow same sex marriage, including countries that are culturally similar to ours like New Zealand, the United States of America, Canada, and Great Britain. These countries did so with lower support for marriage equality than Australia is seeing right now.
Not only is marriage equality the only truly fair option, it is also a sound economic option given, that a happy workforce is a productive one. To remain competitive and to attract top talent globally organisations – and nations – must create a fair and respectful environment for all. Equality in the workplace works; Discrimination does not.
We support the right for all our employees to have equal opportunities in life. We therefore support marriage equality.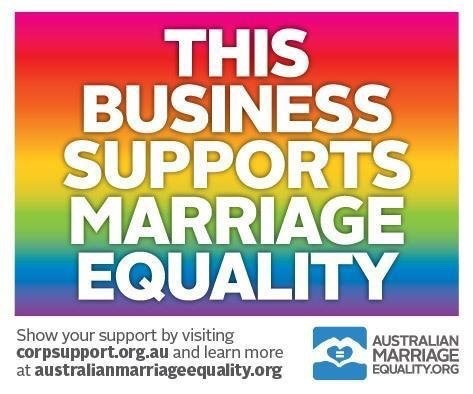 St James Ethics Centre – Corporate Member
St James Ethics Centre is a unique centre for applied ethics, the only one of its kind globally.  Despite the fact that they have 'saint' and 'ethics' in their name, St James Ethics Centre is not a religious organisation, nor is it a sort of moral policeman.
Working both in Australia and abroad for 25 years, they are an independent not-for-profit organisation that provides an open forum for the promotion and exploration of ethical questions.
Ethical issues affect all of us – they are real, tangible and important. Making ethical decisions can be tough. There is real tension in the task of making choices between competing values and principles – especially when the options are equally weighted.
As a corporate member of the St James Ethics Centre, we also work to address these challenging issues.

The CO2counter
The CO2counter from the Gaia Partnership is an important planning tool that assists environmentally aware marketers understand the carbon efficiency of their media strategy. Media effectiveness has always been measured in CMP (cost per thousand as a dollar value) as media buyers seek the optimize reach and frequency at the lowest possible cost. This focus on a low CMP ignores the inherent carbon waste being created. Using their unique methodology and embedded licensed software the CO2counter allows layering of carbon efficiency across the media planning process to fully understand all media channels to deliver effective campaigns with a reduced carbon footprint.