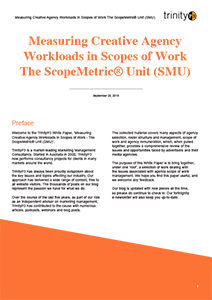 To receive an email link to download this white paper
please complete and submit the form below.
Farmer & Company, TrinityP3's global strategic partner, has been measuring the quantity of work in creative agencies' Scopes of Work (SOWs) since 2004.
Concurrently, TrinityP3 has been measuring the quantity of work in media agencies' Scopes of Work since 2007.
The two firms have merged their measurement efforts to develop a "unified SOW workload unit" that is comparable in size both for creative and media agencies. For creative agencies,
this workload unit is called the ScopeMetric® Unit (SMU). For media agencies, the workload unit is called the Media ScopeMetric® Unit (MSMU).
This White Paper describes the creative agency ScopeMetric® Unit.
The SMU is a unit of SOW work determined by creative resource requirements. It is roughly equivalent in size to a "typical TV origination spot" – between a TV origination of high creative complexity and average complexity.
By 2019, the average creative is completing between 4.1 and 5.0 SMUs per year – an acceptable range of productivity. However, as agency fees continue to decline, while SOW workloads increase, agency creative staffing is under downsizing pressures, and creative productivity levels are increasing above 5.0 SMUs per creative per year. This is not a healthy trend.
When SMUs have been calculated for a given SOW, a number of key metrics can be developed:
Creative Productivity: number of SMUs actually completed by each creative on each client;
Price: Fees divided by the number of SMUs in a SOW.
Creative productivity has been increasing since 1992, and price has been declining, as measured by Farmer & Company in its consulting practice. Average creative productivity is 5.0 SMUs per creative, while price per SMU has declined from $435,000 to $132,620. The limits of productivity increases and price declines have been reached.
Simply fill in your details to download the White Papers.