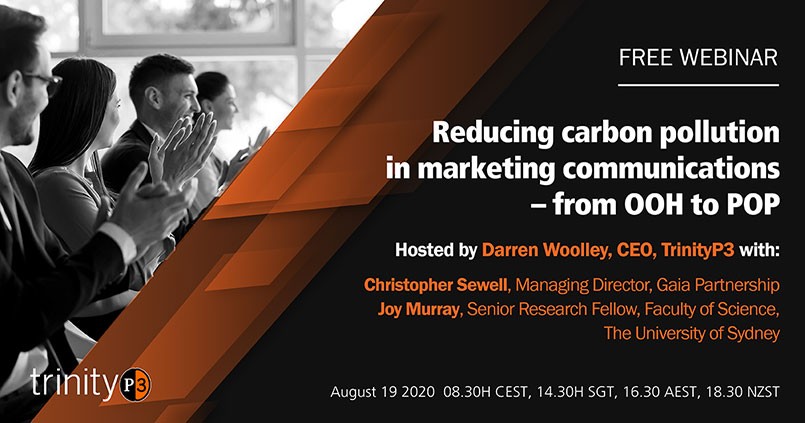 Topic: Reducing Carbon Pollution in Marketing Communications – From OOH To POP
Date: Wednesday August 19
Time: 16.30 – 17.30H AEST
Presenters: Hosted by Darren Woolley, Global CEO, TrinityP3 with
Joy Murray, Senior Research Fellow, Faculty of Science, The University of Sydney
Christopher Sewell, Managing Director, Gaia Partnership and Business Director, Environmental Services at TrinityP3
Description: Consumers are demanding brands not just whitewash the issue of carbon pollution, but also take tangible steps to reduce it. And not just in manufacturing, operations and distribution, but in the very marketing and advertising that drives demands. But where can a marketer and their agencies start?
During the webinar we discuss:
CO2 contribution from marketing comms – A case study of the Green Beer
The impact of digital including research on the impact of Facebook advertising
Printed POP versus Electronic POP and the need to include the total supply chain
Print versus electronic retail catalogues and the opportunity to reduce waste
We will be discussing the practical opportunities for marketers to reduce carbon pollution in marketing comms and advertising. Anyone interested and responsible for delivering a more efficient and cleaner marketing program will get value from this webinar.
Video Recording:
Relevant Blog Posts:
Something about Facebook all marketers who care about the environment need to know
Get more than just environmental lip service from tender responses
Why marketing communicators need to see through greenwashing and how to start
The dangers of piggybacking the Government's environmental policy
Has Australia moved from environmental trailblazer to carbon pariah?
Placing a financial value on a sustainable business
Sustainable marketing, what does it mean for marketers?
Sustainability and the hidden cost of your media inefficiency
The challenges of marketing in a carbon constrained future
Click here to view other webinars.