To see the link to download this white paper please complete and submit the form below.
Measuring and analyzing indirect GHG Emissions from in-store POS retail advertising at a leading retailer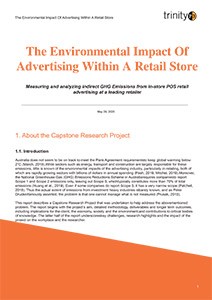 Australia does not seem to be on track to meet the Paris Agreement requirements to keep global warming below 2°C (March, 2019).While sectors such as energy, transport and construction are largely responsible for these emissions, little is known of the environmental impacts of the advertising industry, particularly in retailing, both of which are rapidly growing sectors with billions of dollars in annual spending (Pash, 2019; Mitchel, 2019). Moreover, the National Greenhouse Gas (GHG) Emissions Reductions Scheme in Australia requires companies to report Scope 1 and Scope 2 emissions only, leaving out Scope 3, which typically constitutes more than 70% of total emissions (Huang et al., 2019). Even if some companies do report Scope 3, it has a very narrow scope (Patchell, 2018). Thus the actual extent of emissions from investment heavy industries is barely known, and as Peter Drucker famously asserted, the problem is that one cannot manage what is not measured (Prusak, 2010).
This report describes a Capstone Research Project that was undertaken to help address the above mentioned problem. The report begins with the project's aim, detailed methodology, deliverables and longer term outcomes, including implications for the client, the economy, society and the environment; and contributions to critical bodies of knowledge. The latter half of the report underscores key challenges, research highlights and the impact of the project on the workplace and the researcher.
Simply fill in your details to download the White Papers.