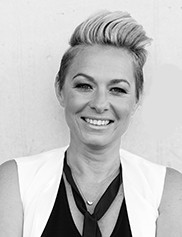 Senior Consultant
Kylee is a consultant and coach specialising in transformation, social mobility and leadership wellbeing.
With over 20 years' of operational experience and 15 years as a leadership coach, Kylee has a unique talent for challenging dominant logic and getting to the root of what really matters, enabling diversity of opinion to stimulate creativity and produce unprecedented breakthroughs in performance.
In addition to her depth of knowledge in Strategic Planning, B2B Marketing, Brand Development and Distribution, during the onset of digital transformation Kylee transitioned into a Change Management role where she was accountable for the consolidation of marketing operations and supply chain logistics, and a variety of market optimisation, merger and acquisition projects.
In 2015, with a passion for advancing women in leadership, Kylee co-found TEAM Women Australia – a not-for-profit organisation specialising in the power of storytelling to mobilise change.
Described as "one of the most engaging and authentic leaders of our time" and an "effervescent force of nature", it's Kylee's compassionate, practical no-nonsense approach that earns her the trust and respect of others.  
Kylee is a consummate storyteller, a descendent of the Wakka Wakka and Kalali Nations, mother of three children and an ambassador for FlexWorkDay.
Our People
TrinityP3 Marketing Management Consultants are industry professionals who have a minimum of ten years industry experience and are subject matter experts in all areas of marketing, media and advertising. Located across Asia Pacific, Europe and the Americas you can meet our people here.
If you are interested in working with us then click here.