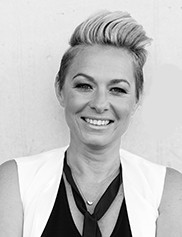 Senior Consultant
Kylee is a consultant and coach and our resident expert in leadership transformation, resilience and wellbeing.
With over 20 years' of operational experience and 18 years as a leadership coach, Kylee has a talent for challenging dominant logic and getting to the root of what matters – enabling diversity of opinion to stimulate creativity and produce unprecedented breakthroughs in performance.
In addition to her depth of knowledge in Strategic Planning, B2B Marketing, Brand Development and Distribution, during the onset of digital transformation Kylee transitioned into Change Management where she was accountable for market optimisation, merger and acquisition projects and the consolidation of the national distribution and logistics of News Corp Australia.
Described as "one of the most engaging and authentic leaders of our time" and an "effervescent force of nature", it's Kylee's compassionate and no-nonsense approach that earns her the trust and respect of others.
Kylee is a Wakka Wakka woman and descendent of the stolen generation. She is an ambassador for Flexible Working Day and The Mentor Evolution, a mother of three children and the CEO of The Performance Code – a coaching consultancy specialising in compassionate integrity, resilience and wellbeing.