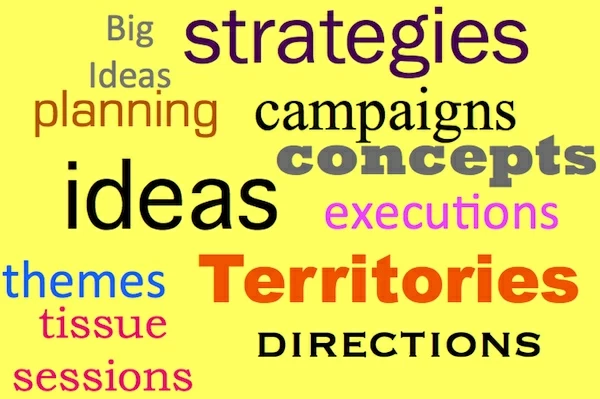 Concepts, big ideas, territories, tissue sessions, brain storming and more are all terms people use in marketing and advertising to describe various steps in the development process. The problem is that often there is no agreement in what these terms mean and so achieving business strategy alignment is almost impossible.
A few weeks ago we were facilitating a TrinityP3 Engagement Agreement with a client and their agencies and the first hour was spent simply getting agreement and alignment on what these terms that they had been using for several years mean.
So what are these terms and what do people generally think they mean? Here is a starting point but I would really like to hear your thoughts on this.
Brand Idea or The Big Idea: This is a unifying brand idea from which the communication concept is developed. A great big idea has the ability to last much longer than the annual plan.
Concept or Creative Concept: This is the specific communication idea that is developed from the big idea. There can be multiple different concepts for every big idea. See territories.
Territory: These are the different areas of concept relating to a big idea or brand idea. They are usually not media or channel specific although often presented this way.
Executions: This is the specific media or channel expression of the concept.
Themes: These are usually associated with concepts and can be an intermediary step between brand idea, concept and execution.
Tissue Sessions: This is the process of developing and exploring a number of concepts to a brand idea or a number of executions to a concept.
Campaign: This is the multiple channel execution of a concept.
Strategy: This is basically problem solving or developing a solution to an issue, problem or opportunity.
Planning: Not interchangeable with strategy, planning is the process of mapping out the implementation of the strategy solution.
Directions: Is similar to territories in it defines a number of expressions of the big idea or concept.
Do you agree? Or is there a different and perhaps better definition?
There are plenty more. So let me know.
Hopefully we can build a definitive glossary or terms and help get marketing business strategy alignment between marketers and their agencies.
Want more articles like this? Subscribe to our newsletter: