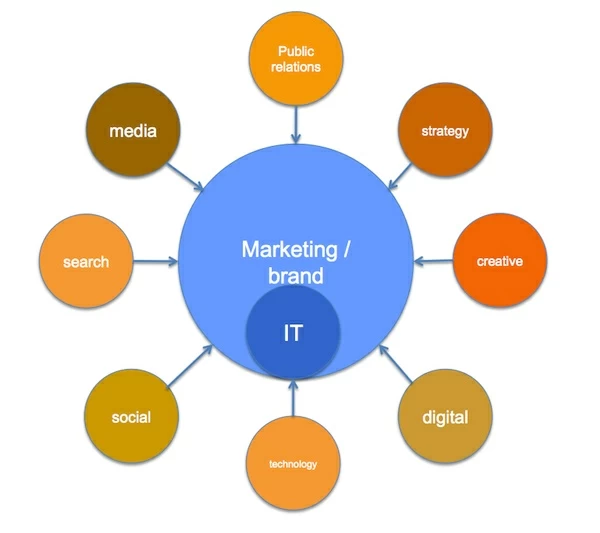 If your creative agency is now digital, and your media agency is digital, your PR agency is digital, your sales promotion company is digital and your digital agency is now digital then where does responsibility for managing your digital and online assets reside?
There is a difference between creating advertising collateral such as television commercials and digital and online assets. Most television commercials are created, consumed and discarded, ending up on the advertiser history reel or on the award reel. While online, the opportunity is to have every spend on production become an investment in building and developing on-going assets.
This requires a level of strategic management of these on-line assets. But in this model below, who is best to do this? After all these agencies could and probably do claim digital capabilities, but who is best positioned to manage the overall on-line investment? Media? Brand strategy? PR? Creative? Or maybe even the marketing or brand team or perhaps their IT department?
The current model most advertisers have in place acknowledges that digital ideas can come from literally anywhere and wherever these ideas come from that is where they are implemented. It creates a highly fragmented approach to the online presence and asset.
Why is this a problem? We have seen time and again the disaster of having multiple agencies managing the online implementation and build.
We have found advertisers with websites located and housed on multiple servers and in multiple locations, including one on the server of an agency they had fired three years earlier.
Customer data on multiple servers associated with sales promotion micro-sites which lacked the record structure to allow the data to be consolidated into a single database effectively losing years of data collection.
An advertiser with multiple brand websites almost all built within different platforms making it difficult to share assets and requiring the agencies to re-create these assets on a project by project basis.
A website that needed to be decommissioned soon after completion as the website did not conform to legal and global brand guidelines.
So who should be responsible?

It depends on circumstances such as:
The size and complexity of the online investment and strategic requirements – eg. e-commerce, content management, database, mobile, seo, etc
How fragmented is the organisation structure with various brands and business units with a requirement to have an "all of business" approach
Compliance requirements that require either setting these or aligning to existing technical, legal and brand guidelines
The ideal solution is for all technology strategy and implementation management to be owned by the organisation and specifically by those responsible for the overall technology requirements, to facilitate the integration into the existing infrastructure. This depends on the IT function within the organisation being willing, resourced and experienced in managing technology projects for marketing.

The most common issue here is that the IT function is often under-resourced and inexperienced in dealing with marketing and the strategic requirements being delivered by their external agencies. In this case we have found appointing an external technology management partner that can act as a conduit and facilitator between marketing, IT and the other agencies is an ideal solution. The choice of the right technology management partner is essential.

A technology management partner needs to fulfil some important criteria for success, including:
Have experience and understanding of the strategic requirements of marketing (talk fluent marketing)
Yet also have expertise and capabilities in and across all of the appropriate IT platforms (talk fluent IT)
Have proven and rigorous IT project management and implementation skills (manage types and sizes of projects)
Be able to work with your other suppliers and not be or be seen as a direct threat to their roles and responsibilities (talk fluent agency and be friend not foe)
Be able to design and implement technology strategies and ideas created by others (not suffer from the "not invented here" syndrome that affects so many agencies)
The type of company this is depends on the needs of the marketing strategy and the skill sets required. We have now advised many of our clients on this strategy and worked with procurement and the essential internal (IT, Sales, Management etc) and external stakeholder (Agencies and other Suppliers) to define the requirements of this strategy and select the appropriate service provider.
Of course the right supplier strategy and structure depends on your marketing requirements. But with online, mobile and other digital becoming the main game for marketing communications and more of the budget moving to this spend category, having the right strategy and structure is becoming increasingly important.
What strategies are working for you?
Want more articles like this? Subscribe to our newsletter: