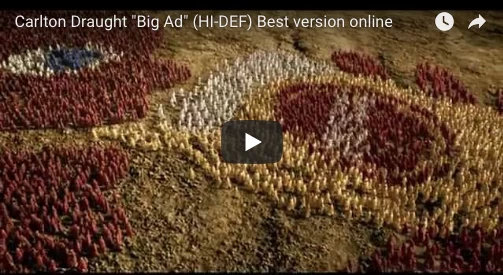 When we raise issues about advertising costs, the most common accusation from the agencies is that we inhibit the creation of the big idea.
Firstly we are certainly not against the big idea. For any advertising to be effective, it needs to be noticed by the target audience before it can engage them in the message.
Secondly the comment infers that big ideas only come from big budgets.
The Big Idea
Most advertisers are looking to their agencies to provide them with the big idea that will resonate effectively with the audience in a way that delivers an increased result.
But there are two parts to the big idea:
The idea itself
The execution of the idea
In linking the delivery of the big idea to cost, people are jumping over the actual idea itself and invariably going straight to the execution where the budget is usually consumed in production costs.
There is a thought that the test of any big idea is that it shines through an average execution, but really sings with a great execution.
But what happens when there is no idea, or a poor idea at best?

That's when people try to make up for the lack of a big idea with a big production. This is when they embrace the latest Hollywood technique or a new expensive treatment. 
This is when the big idea is no longer the idea, but becomes the big execution with the associated big budget.
The Big Budget
Sometimes the big idea really needs the big budget, but this is a subjective decision made by the advertiser and their agency. But when the big idea is the production then there are a number of issues driving the budget:
Using new production techniques usually requires employing specialist production staff
Even then there is usually a high level of experimentation to make that particular technique work
When big productions work they work exceptionally well. But when big productions fail they fail spectacularly.
When the production budget and the risks are big, it is important to make sure there are processes in place to manage the risk.
Sometimes the production company and agency will minimise the risk of not delivering the big idea by increasing the production budget even further with increased contingencies often obscured within the estimate.
A better strategy is to ensure the most rigorous pre-production process before one cent of the budget is spent.
What are your experiences with the big idea? Leave a comment to let me know.
Want more articles like this? Subscribe to our newsletter: