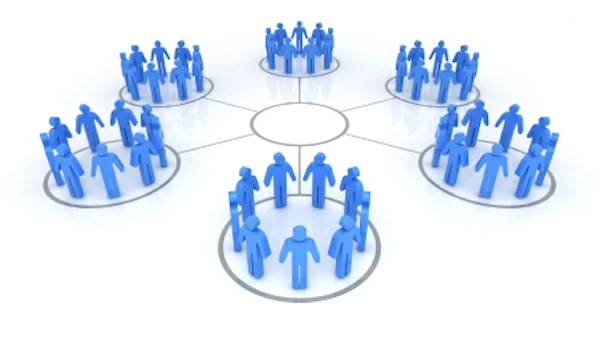 This is a guest post from Shawn Callahan – Founder of Anecdote, a management consulting firm that uses its expertise in story to inspire enduring change.
Does your organisation have a culture that works for the team, community and network types of collaboration? Or are you fighting against a culture that stifles collaboration? Stifling culture may include a singular focus on individual achievement, a culture that does not value sharing knowledge or expertise, or simply ignoring the network.
THE ROLE OF LEADERSHIP
Leadership is a keystone for establishing supportive collaboration cultures, especially in teams and communities. This is based on how leaders mainly embed their beliefs, values and assumptions in the fabric of their organisation. There are six main behaviours that leaders display that mould the organisation's culture.
What leaders pay attention to, measure, and control on a regular basis—are they paying attention to collaborative strategies and behaviours from team, community and network perspectives?
How leaders react to critical incidents and organisational crises—are they sacrificing long-term goals for short-term fixes which sabotage collaboration? Does fear of connecting to the larger network keep them from tapping into it?
How leaders allocate resources—are they investing in the collaboration capability? Is it attentive to all three types of collaboration?
How leaders express their identity through deliberate role modelling, teaching, and coaching—as our leaders collaborate, so do we!
How leaders allocate rewards and status—are your leaders rewarding individual or collaborative behaviours? Or both?
How leaders recruit, select, promote, and excommunicate—are collaborative talents sought and nurtured?
Much community collaboration is voluntary, so the issues of status and reputation carry a different weight than within teams and formal organisational structures.
TEAM CULTURE
Team collaboration requires a culture that values and supports specific interdependencies between people. In other words, we look out for each other and we can't succeed without each other. Do your organisation's teams have clarity around the following?:
Priorities – team success over or in alignment with individual performance
Targets – delivering outcomes on time, to budget and to specification
Learning – learning from within and across teams:

honest, constructive feedback
knowledge sharing, not hoarding

Explicit team processes:

communications
working and work flow
identity-focused role clarity
decision-making.
COMMUNITY CULTURE

Much community collaboration is voluntary, so the issues of status and reputation carry a different weight than within teams and formal organisational structures. Communities can be challenged because they don't have the 'stick' of 'do this work or you won't get paid', and the status of organisational role may not be relevant. So community leaders often lead from their own passion. They either gain the support of members, or they are rejected. Members engage and build their own reputation through contribution, which may later indirectly reflect back in their rise within the organisation. Some things to examine in your organisation's community collaboration culture include:
Are there incentives or rewards for participation in communities or in addition to one's team roles? Are there disincentives?
Do people have time to participate in communities or are they only 'on your own time'? If the latter, how do you convert that knowledge and participation back into your organisation's goals?
Is there clarity about what information is OK to share from teams to communities?
Is the community there to support people who wish to enhance their craft, or is it merely an organisational initiative for sharing knowledge that people are instructed to attend?
NETWORK CULTURE
Networks are reliant on stimulation of various points or nodes rather than centralised leadership. A need is expressed and, somewhere, someone in the network who can respond to that need replies. Some factors to consider in supporting network collaboration in your organisation include:
Network collaboration is reliant on the sending and noticing of signals around issues of shared interest. How do employees attend to this sending and receiving in ways that are useful to the organisation?
With information overload, the ability to filter and scan the messages that fly across a network is critical, from both a tool and a skill perspective. Have those who are good at this in your organisation been identified? Are they given time and support to play this role?
Identity and trust manifest differently in networks, where identity is more about what you know than who you are, and trust is about consistent delivery and quality rather than a personal sense of trust and one-to-one reciprocity. In other words, you can trust someone without getting to know them. Are employees in your organisation aware of and using this distinction to best participate in relevant networks? Are they rewarded for participation that builds their network reputation?
Networks can raise the profile of employees and so create a perceived or real threat of their being poached by other organisations. Are key employees being rewarded so they don't WANT to leave? Bright stars will shine, so leaders had better be aware of the danger and be proactive!
Networks can make leaders feel as though they have nothing to lead. Individuals can easily bypass nodes in the network that they don't care to interact with, making one person a leader to some and irrelevant to others. So leadership becomes distributed and embodied in the actions of each individual. How does your leadership culture (noted above) work with this distributed leadership style in network culture?
 From a White Paper by Shawn Callahan, Mark Schenk and Nancy White. 
Want more articles like this? Subscribe to our newsletter: