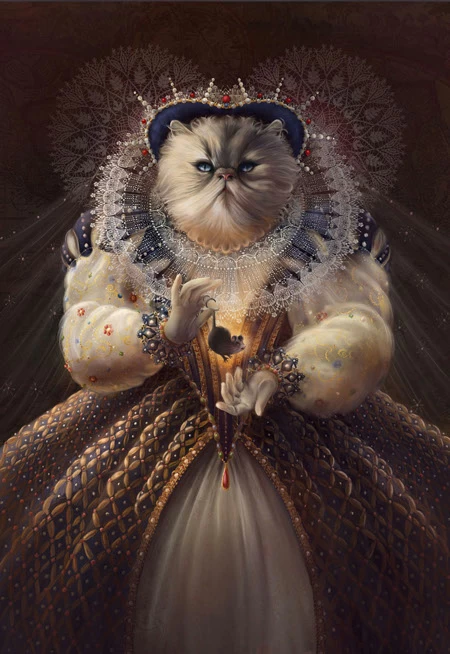 This post is by Toronto-based Pat Pirisi, an advertising creative director and Katherine Gougeon, a writer and strategist who are currently branding their joint marketing consultancy. Watch this space and judge whether they get their top button right.
True story.
The CEO of an Asian automobile corporation flew to Toronto for a presentation by his newly minted ad agency.  The car company was a motivated challenger brand relatively new to the Canadian market, and the agency, keen to impress, had spent weeks sweating the creative.  For the entire meeting, the CEO sat in inscrutable silence, seemingly immune to the energy and charisma of the senior team and the ideas they'd worked so hard to develop.
When it was all over, the group leaned in for some feedback. Which concept did the CEO prefer?  Each had the potential to become a viral sensation, in the tradition of talking babies or, well, pretty much anything involving cats.
The CEO's response (which, legend has it, took the agency a few days to fully decode) was as concise as it was cryptic.
Pointing to the collar of his shirt, he said firmly: "Top button."
Huh?
Anyone who has ever owned a dress shirt knows that if you don't get the top button right, the whole garment goes askew: it doesn't look or fit as it should.
The way the CEO saw it, a brand is a lot like a dress shirt: with the top button being the smart, sustainable idea on which the brand – and ultimately the business – is built. For this CEO, no execution – no matter how clever or crowd-pleasing – was an end unto itself.
In today's age of amusement, hitching one's brand to an outlandish or sensational creative premise seems like a nifty shortcut to likes and page views.   But if the strategic message driving it is not meaningful or consistent, the communications will be fleeting and forgettable.

Unto itself, a raccoon wearing a suit and a monocle seems like a disposable amusement. But through the strategic lens of 'refinement' – reinforced in everything from Porter Airlines' stylish uniform design and upscale snacks to the classy tone and manner of its print executions and radio spokesperson, the raccoon becomes a convincing brand ambassador for the notion of 'flying refined'.
As attention spans and media spends continue to splinter, it's more important than ever that communications be anchored in a driving idea that comes through in every aspect of brand marketing. No matter what point on the communications chain people access your brand, the primary message they receive should be consistent.
GE – another brand that achieves this singularity – is notable because its positioning strategy also provides the thread that connects the company's disparate industries.  'Imagination at work' aptly communicates GE's dedication to life-enhancing innovation – whether in the field of aviation, medical equipment or household appliances.  With such a powerful linchpin, GE's top button is impeccably fastened.
Giving considered attention to the top button is especially important in a landscape where communications are not just consumed – but CREATED – at breakneck speed.  Marketers lament that consumers are bombarded with content but fail to consider the flip side of the equation: the effort required to create this onslaught. Working across multiple channels on ever-tighter deadlines, even the most resourceful and prolific communicator needs a compass: the 'top button' that guides their efforts. Without one, the ingenious execution that does manage to break through and find its audience may do so in vain.
While no brand can afford to make its message disposable in favour of amusement, ignoring amusement, the shiny gem that draws people in, is not an option either.  The top button – the brand's defining value – must co-exist with amusement to transcend 'likes', create meaningful connections, and spur sales.
At the heart of every powerhouse brand and successful business is a uniquely articulated and emotionally stimulating proposition that drives everything you do – from the tone of your catalogue copy to the strategy behind your wackiest, feline-inspired Youtube video.
Is your top button done up right?
Original image by kind permission of Christina Hess from animalsfromhistory.com
Want more articles like this? Subscribe to our newsletter: