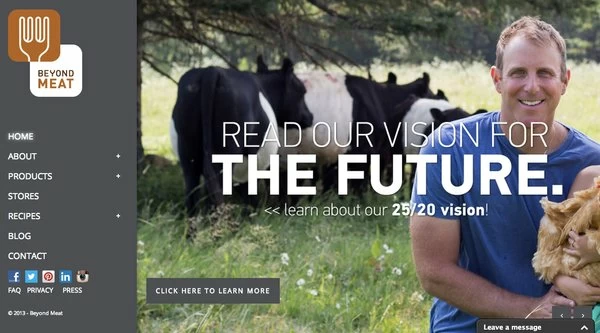 This post is by Anton Buchner, a senior consultant with TrinityP3. Anton is a lateral and innovative thinker with a passion for refocusing business teams and strategies; creating visionary, data driven communication plans; and making sense of a more complex digital marketing environment.
There have been plenty of brand disasters. You'll hopefully be aware of New Coke, Lance Armstrong, Vegemite's iSnack 2.0, and the BP oil spill to name a few.
However on the flip side, there have been plenty of great brand transformations. My colleague Stephan Argent, wrote a thought provoking post about brands that have successfully reinvented themselves. And Darren Woolley picked it up as an update to the CMO Network group in LinkedIn which created some equally thought provoking commentary of other brands that have reinvented themselves.
From my point of view, successful brands are the ones that can continue to connect to customers, shareholders and employees.
So for this post, I thought I'd look at brands that are successfully tackling their transformation in the digital age.
Beyond Meat
A Californian-based startup, Beyond Meat, is disrupting the chicken production market with a plant-based product to make chicken-free strips. It's a higher quality chicken substitute at a lower cost, and according to Bill Gates who is an investor, he couldn't tell the difference when compared to real chicken. The Beyond Meat factory produces the equivalent of approximately 18M chickens a year (compared to about 8.6b total chickens slaughtered nationally in the US per annum).
And they're currently working on a ground beef substitute that can be used for Tacos, lasagna, spaghetti bolognese etc.
Will they succeed on their vision? To reduce the world's consumption of animal meat by 25% by 2020. Beyond Meat has been picked by CNN to have a major impact on digital culture and as a start-up to watch. And with financial support from Twitter co-founders Evan Williams and Biz Stone, I can see a digital conversation groundswell coming soon.
National Geographic

As a child, I remember thumbing through Mum and Dads' yellow bordered, National Geographic Magazines and being transported to exotic lands with strange people, animals, colours and textures.
National Geographic Society (NGS) is a great example of a powerful brand that is moving with the times and transforming itself in the digital age – albeit a massive undertaking that they're still experimenting and working out how to best promote cross-functional and cross-divisional collaboration.
Under the helm of CEO John Fahey, rather than die a natural print death with revenues declining, NGS embarked on a restructure, breaking down of silos, and made large bets on various forms of digital media including internet, movies, TV and cable programming including striking a $100M deal with Fox in 2012.
Fahey also appointed Amy Maniatis, the Society's first CMO since the organization was founded 126 years ago. Maniatis has been integral in successfully harnessing the power of social media – driving over 20,646,799 Facebook Fans, and 4,091,738 Instagram followers to widen National Geographic's reach and engagement through its stunning photography, amazing stories and rich video content.
American Express

American Express is taking digital change seriously. Their Chairman and CEO, Kenneth Chenault, says, "Successful transformation involves two things: ongoing reinvention and constant values, or unchanging change. One of the most important elements is that you must also be willing to break down your own business model to cannibalize your own products, because if you do not, someone else will."
American Express is moving beyond a piece of plastic and expanding into mobile payments. It has moved past traditional marketing to partnering closely with Twitter, Foursquare and Facebook. It has launched a major play for small businesses – American Express Open – with Shop Small ideas such as Small Business Saturday and Open Forum (insights from experts for business owners).
Recently American Express has also linked many different media strands together, including live music, social video, online streaming, and social media, to launch American Express Unstaged, a YouTube channel that caters for an online, music hungry audience with story-telling content capturing journeys to events.
Equally as important, American Express realised it had to reengineer its call centre strategy to fully transform with the times. They changed their recruitment policy from seasoned call centre reps to employees of service companies: top-tier hotels, cruise lines, and customer-centred stores resulting in improved customer satisfaction scores and an approximate 10% increase in service margins.
Dominos

Have you tried a Dominos Pizza lately? If you have, then you'll appreciate how they've changed and why they're posting great company stock and profit growth figures.
In 2008 Dominos had a problem. People were saying that their pizzas "tasted like cardboard" and, as a result, sales were in decline. They had fallen to last amongst the national pizza chains.
Rather than abandoning their product because it wasn't selling, Dominos focussed on admitting that it wasn't good enough and offered customers a promise to change it. They undertook extensive customer research and finally unveiled a new recipe involving healthier and better quality ingredients.
However unlike the New Coke example, Dominos took an open and honest approach to the marketplace that resonated. Dominos revamped its digital presence with Domino's Australia estimated to now take over 50% of all orders now through digital means, including online and via mobile phone apps.
Dominos appointed Splunk to manage its ecommerce service and deliver actionable data insights on stores, coupons, and other real time activity to further drive sales. Also, only Domino's has pizza tracker, so that customers can track where their pizza order is.
McDonalds

In 2003, global media headlines were citing "hamburger hell" as a way of condemning the fast food giants. Customer needs were changing with the rise of obesity, negativity over fast, cheap food, and the ethical dilemma of sourcing food from extreme distances. Anti-Maccas sentiment was finally setting in after decades of growth.
McDonald's knew it had to transform to become 'demand driven' rather than 'supply driven'. People were looking for healthier solutions and McDonald's acted by launching new ranges including premium food menu items such as Premium Salads in 2003, healthier gourmet wraps and sandwiches in 2008, and lower cholesterol options, experimenting with healthier cooking techniques to sell meat that is oven-baked rather than fried.
Also, McDonald's started changing its polystyrene beverage cups with paper cups as a result of a 2011 shareholder resolution.
Has it all been successful? McDonald's Australia has almost doubled its profits over the last 10 years. In 2012 McDonald's Canada has undertaken an unprecedented $1b investment to transform restaurant design, functionality and the customer experience including the highly successful "Our Food. Your Questions" digital platform. You'd have to say that they're getting it right for their target market – having moved well beyond a burger, fries and Coke company.
I wonder which brands would be on your list? And more importantly what can we learn from their reinvention?
Share your top brand reinventions by leaving a comment.
Want more articles like this? Subscribe to our newsletter: