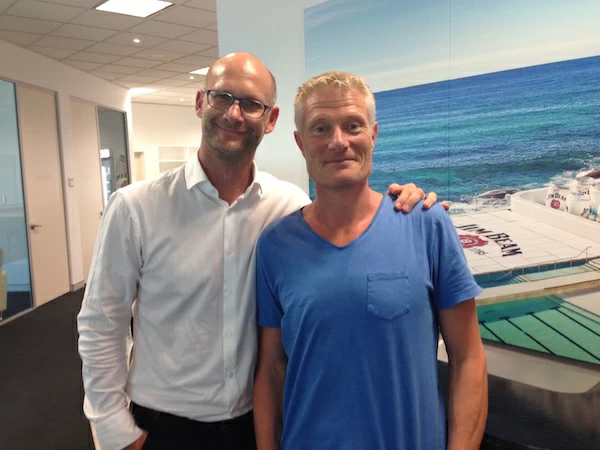 This post is by Darren Woolley, Founder of TrinityP3. With his background as analytical scientist and creative problem solver, Darren brings unique insights and learnings to the marketing process. He is considered a global thought leader on agency remuneration, search and selection and relationship optimisation.
The relationships between advertisers and their agencies are becoming more complicated and difficult to define. When they work well this junction of creativity and commerce can have a significant impact on both parties.
But what are the key criteria or ingredients for high performing advertiser and agency relationships? What are the challenges in managing these relationships? What advice do you have in regards to managing the relationship? And what changes will these relationships need to face in the foreseeable future?
Four thoughts on managing Advertiser / Agency relationships continues here with Beam Suntory Australia and their agency The Works.
James (right) and Damian (left) have worked through many changes in the Beam business. Both partners have changed and adjusted to the market conditions and have fostered one of the most successful longer standing relationships in the business.
The Works and Beam Suntory Australia have been partners for over 10 years and continue to develop their relationship further. The Works recently worked on the global campaign for Jim Beam.
Beam Suntory Australia: James Sykes, Vice President Marketing APSA
The Works: Damian Pincus, Founder and Creative Partner
What are the key ingredients for great client – agency relationships that really matter?
The Works:
The job of any good client is to get more than their fair share of an agency's passion, energy and creativity. If you want to achieve that then be great partners, understand and respect each other's businesses and motivations.
Beam Suntory Australia:
Put yourself in their shoes. Learn a bit about your agency's business model and how they make money. Help them be effective as a business too.
Treat them as people first. Their people will have a different agenda to yours, respect that and work with it, just like you bend to the agenda of other customers and suppliers like Coles and Woollies.
Do everything you can to avoid imposing time constraints. Good thinking takes time, more time than sales businesses tend to have. But unrealistic deadlines drive less good work and less happy people.
What frustrates you the most in managing agency relationships?
The Works:
Dancing around our handbags and not making decisions is time wasted. Layers of decision makers can be frustrating as it tends to blunt the idea and slow the pace of what you are trying to achieve. Be honest and get access to the decision makers.
Beam Suntory Australia:
Not talking straight, not fessing up when things aren't going great, not calling out when the client is being unrealistic, and over selling ideas or talking up turkeys.
What's the one piece of advice you'd give to other marketers to manage their agency relationships better?
The Works:
Be clear, open and transparent about your ambitions for the brand/business.
Beam Suntory Australia:
Share your own frustrations – problems shared are problems solved.
How do you think agency relationships will change in the future?
Beam Suntory Australia:
Fuck knows. What goes round comes round. Agencies will have to stop hollowing themselves out and clients will have to start paying a fair price for quality thinking.
The Works:
I think as budgets tighten there will be more consolidation of agency partners and a larger focus on what really delivers. Media and creative agencies will continue to become one.
Agencies and Advertisers: If you have Four Thoughts to share on good agency / advertiser relationships please contact us for more details on how to participate.
Want more articles like this? Subscribe to our newsletter: