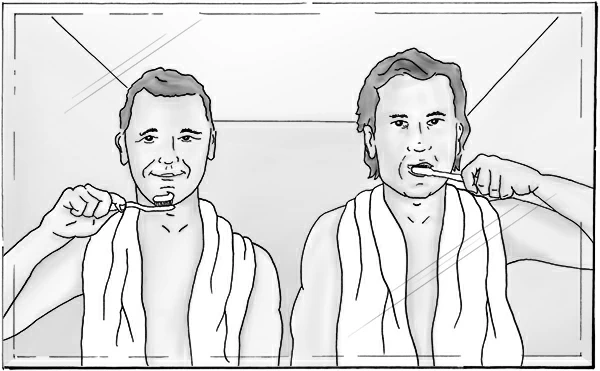 This post is by Darren Woolley, Founder of TrinityP3. With his background as analytical scientist and creative problem solver, Darren brings unique insights and learnings to the marketing process. He is considered a global thought leader on agency remuneration, search and selection and relationship optimisation.
The relationships between advertisers and their agencies are becoming more complicated and difficult to define. When they work well this junction of creativity and commerce can have a significant impact on both parties.
But what are the key criteria or ingredients for high performing advertiser and agency relationships? What are the challenges in managing these relationships? What advice do you have in regards to managing the relationship? And what changes will these relationships need to face in the foreseeable future?
Four thoughts on managing Advertiser / Agency relationships continues here with Colgate-Palmolive and their agency George Patts Y&R.
Until his recent promotion, Peter (left) and Jason (right) were responsible for overseeing and managing Australia's most enduring relationship, founded at the establishment of the George Patterson Advertising company in 1934. But in fact it goes back further to 1921, when the entrepreneurial young account man, George Patterson himself, took the opportunity to successfully launch the soap brand in Australia.
The George Patts Y&R and Colgate-Palmolive relationships is considered to be the longest client / agency relationship in Australia, recently celebrating 8o years and still going strong. Today it is still producing the results including the recent successful launch of  Colgate Optic White integrated with Australia's Next Top Model and the Colgate Mouth Guards campaign with a partnership with the South Sydney Rabbioths.
George Patts Y&R – Jason Buckley, CEO ANZ, Y&R Group
Colgate-Palmolive – Peter Torrington, GM, Malaysia, Singapore, Brunei & Indonesia (Previously Marketing Director, Colgate-Palmolive ANZ)
What are the key ingredients for a great client / agency relationship that really matter?
George Patts Y&R:
Shared vision. Integrity. Nimbleness. Passion. And in the case of our 80 year relationship with Colgate, longevity.
Longevity however, can be a double-edged sword. On the positive side it provides a window of time over which we can demonstrate integrity to earn trust. It creates a safe environment within which we can push creative boundaries. And an incredibly rich history of learnings to build from, so we're never moving backwards.
Conversely though, as with any long-term relationship (especially a globally aligned one) it's easy to slip into taking each other for granted. Certainly over the course of 80 years there have been ups and downs, but we keep coming back to seeing each other, and our business challenges, with fresh eyes. Finding new reasons to want to work together is key.
Colgate-Palmolive:
Mutual respect and a passion for creating business outcomes is fundamental, and that's fostered with on-going, authentic feedback. Like in any long-term partnership, clear communication and joint understanding are both critical ingredients for success.
We look for the agency to deliver creatively and remain flexible – while celebrating success together and trying new things to keep the teams motivated.
What frustrates you most managing client / agency relationships?
George Patts Y&R:
The necessary balance between process and nimbleness.
Don't get me wrong – our global process is critical to our success. It adds valuable rigour to our work. But at the local level when there's strong conviction on a direction, we're eager to execute immediately and impact the market. We get impatient and want to move.
Colgate-Palmolive:
Ensuring both parties are on the same page – any miscommunication can cause frustration for both the client and agency.
What's the one piece of advice you'd give to other marketers to manage their agency relationships better?
George Patts Y&R:
Invest effort into building consistency.
Our best work is done when there's strong mutual respect but that's difficult in a market like Australia where there tends to be high churn of staff. We really hit our stride creatively when a consistent team is in place (on both client and agency side) and people aren't operating in a cloud of fear about the relationship. You need to be able to weather speed bumps together and know that you're both in it for the long term to take risks and grow together.
Colgate-Palmolive:
Invest time in the agency relationship.
By building a strong understanding of each other and keeping the communication going you deliver better results and a sustainable partnership.
How do you think agency relationships will change in the future?
George Patts Y&R:
A return to the days of Marketing & Agencies together at the boardroom table.
In times gone by, Marketing & Agencies held a powerful role with the Board. Marketing wasn't seen just as an expense line item, but rather a revenue generator.
We're now seeing a return to Marketing and Agencies being more valued by the Boards. We're not just being tasked with executing communications but leading things like… championing a consistent view of the customer throughout the organization, helping clients to adapt business models for today's digital disruption, finding more seamless and effective ways to manage digital assets for the long term, quantifying the value of brands to the organisation and shareholders, etc. Our remit and the impact we're able to have on our clients' business is broadening.
Colgate-Palmolive:
The partnerships need to be broader and more flexible.
With more information available and new ways to connect with consumers the partnership needs to stretch into new areas.
There also needs to be a continued evolution of the flexibility in the way work is done and resourced. There will be greater focus on developing content, managing information and building on-going two-way relationships with consumers.
Agencies and Advertisers: If you have Four Thoughts to share on good agency / advertiser relationships please contact us for more details on how to participate.
Want more articles like this? Subscribe to our newsletter: