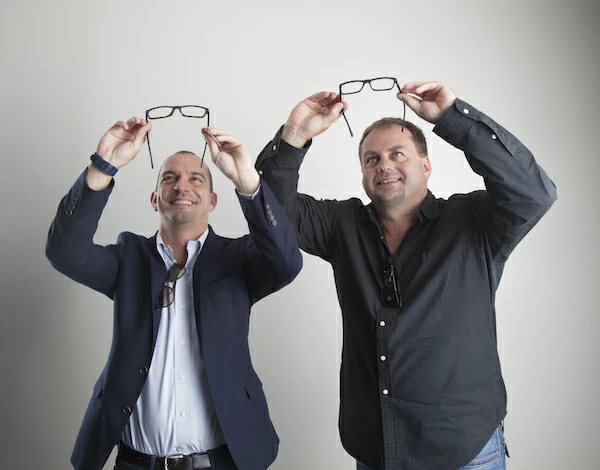 This post is by Darren Woolley, Founder of TrinityP3. With his background as analytical scientist and creative problem solver, Darren brings unique insights and learnings to the marketing process. He is considered a global thought leader on agency remuneration, search and selection and relationship optimisation.
The relationships between advertisers and their agencies are becoming more complicated and difficult to define. When they work well this junction of creativity and commerce can have a significant impact on both parties.
But what are the key criteria or ingredients for high performing advertiser and agency relationships? What are the challenges in managing these relationships? What advice do you have in regards to managing the relationship? And what changes will these relationships need to face in the foreseeable future?
Four thoughts on managing Advertiser / Agency relationships continues here with Luxottica and their agency SapientNitro.
Chris (right) and Marcos (left) have worked together through a succession of minor and major digital platform enhancements and developments, more specifically for the OPSM brand, that includes the full customer journey from online commerce to in-store experience leading to significant revenue results for the brand.
The SapientNitro and Luxottica Australia match grew out of a global relationship between the two in the US and Milan and has strengthened here since their first project in June 2012.
Luxottica Australia: Chris Beer, CEO Asia Pacific, Greater China & South Africa
SapientNitro: Marcos Kurowski, Managaing Director, Australia
What are the key ingredients for great client – agency relationships that really matter?
SapientNitro:
Without trust you cannot have a real relationship. Easy to say, hard to do. Establishing trust requires both parties to take a leap of faith early on, giving something with no expectation of return; it needs to feel a little scary and uncomfortable.
But that's just the start.
Real trust is built in adversity, when things don't go to plan or as expected. The toughest times are where real relationships are forged, in the fires of adversity. How both parties react during those tough times says everything about the relationship; even more specifically the behaviour of the leaders sets the tone for the rest of the team.
Luxottica Australia:
I strongly believe that the key to a great agency relationship is a mindset, not any one particular magic set of points. A mindset of partnership where each partner brings a set of skills and attributes, and they need to be challenged and stretched.
A client doesn't want to have a relationship that's comfortable, it needs to be one that stretches and challenges both parties to be better every day. I've had a saying since I took over running the business that I want less suppliers and a few partners, and we have been true to this for a long time now. You have to bring a mindset as well that, like any good partnership or relationship, sometimes you have good days and other times not so good days.
It's about being open and transparent in feedback when it's great and not so great, so moving forward we can build. To this day, we have been highly committed to this mindset and it ensures we have great positive and transparent relationships that allow both parties to do great work and serve our customers better, which is why we all exist.
What frustrates you the most in managing agency relationships?
SapientNitro:
If you're frustrated, you have to sit down and talk. Great relationships aren't characterised by frustration because tension points can be openly discussed and addressed. It really is that simple.
Luxottica Australia:
As I've set out our philosophy around partnership and agency above, we don't really have any great frustrations because we worked hard and built the relationship and trust from the very start, so when a tension point arises, and they do, the relationship is always bigger than a personality or an issue. Therefore, the investment up front is the key advice to anyone, and also to appreciate it's a two-way street.
Those who value the two-way partnership in a genuine way will no doubt get discretionary effort, it's simply human nature. We can transact with anyone; we only want to partner with a very select few.
What's the one piece of advice you'd give to other marketers to manage their agency relationships better?
SapientNitro:
Make the first move – trust first. You'll be amazed at what you get back, from the right partner.
Luxottica Australia:
This question has been answered above.
How do you think agency relationships will change in the future?
SapientNitro:
A macro change we are seeing is that increasingly our role is not just to make stuff for our clients, but help them build up their own capabilities. "Training", organisational design, change management and internal comms – all those areas are becoming important. It might be counter–intuitive for the owner of the fish shop to be out teaching his customers how to fish but it is also hugely rewarding and a powerful sign of a client/agency relationship that matters.
Luxottica Australia:
The future of agency relationships and future trends, I think, is becoming more and more clear. As we do, the deep understanding and trust that partnerships can bring allows the agency to be and feel part of the organisation's goals and ambitions and collectively work together to bring them to life.
I see the big change personally for the agency industry is one of consolidation, as the marketing channels collide and become totally integrated into the changing ways customers want to interact with brands and products and to personalise this experience. Organisations are continuing to look for an agency that can work with them through all the channels so they are integrated and do not need multiple partners (which adds cost), but most importantly runs the risk of not being fully integrated and congruent across channels.
Agencies and Advertisers: If you have Four Thoughts to share on good agency / advertiser relationships please contact us for more details on how to participate.
Want more articles like this? Subscribe to our newsletter: