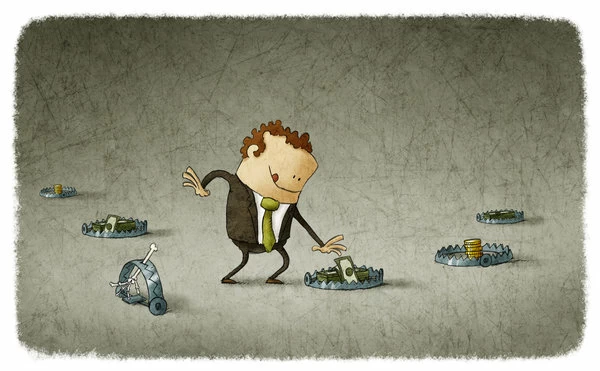 Bill Merrick has more than 20 years experience in international business, gained in marketing, advertising and PR – from packaged goods to infrastructure. He is now, from London, partnering with Darren Woolley to launch TrinityP3 UK – to bring all of their combined experience and insight to clients in Europe.
If you're a Marketing Director right now, and a lot of people are, then life has become quite complicated.
If you're not a Marketing Director these days, then don't worry, it doesn't take as long or as much to become one as it did in the past.
The downside is that when you do, the role doesn't tend to last very long for a lot of people. The average tenure in most industries is between 40 – 45 months in the US and UK. That doesn't seem too bad.  Or is it?
However, when you look closely at the numbers – there are a few who have been in place so long they inflate the average.  The average, especially in the more recent roles is much less. It's always a struggle to work out if this is a good or bad thing – since the truth is as hard to find here as it was in Brexit or the US Presidential campaign.
But that's OK, if you're one of the ones whose tenure is in the 12-18 months range, when you're done, you can switch to being either a "Thought Leader" or "Subject Matter Expert" or even, God Bless, "A Content Storyteller," and make lots of new friends on LinkedIn.
In my first post at TrinityP3, I said that the reason I'd joined up with Darren Woolley and his team was so that I could help save the marketing directors of the world.
I have since realised that it can be quite challenging – as many of them believe they don't need saving.  Perhaps "saving" was overly ambitious and a little patronising.  I apologise if people found it ambitious.
Perhaps "watching over" might have been better, as there can be carefully (and carelessly) laid traps for them out there.  And like all people who need to survive to prosper, knowing what can leap out of the shadows at them – and perhaps what to do about it – can be quite sensible.  Ignoring the signs or not recognising them, can be very, very unpleasant.
But here's the rub. Many of us have noticed that – sadly – selfies appear to be at an all time high, but self-awareness an all time low.  
A helpful list…
So to try and meet my objective of helping out, I thought I'd make a helpful list of the mistakes that can cause a marketer all sorts of problems if they can't identify them – and learn how to deal with them accordingly.  
Interestingly, the list that follows seems to be the one that the survivors, long-term marketers and people who teach marketing seem to agree upon….
After all, if a cricket ball, baseball,  football, or any other kind of rapidly moving object is heading for you – the smart thing is to avoid it hitting you.  One can of course – if trained in the ways of that game, smash it "out of the park, into the net, over the posts or over the boundary" depending upon the sport you use to provide your pearls of wisdom.  
Now wouldn't that be better than waking up with a bump on your head and a dent in your CV?
And before we finally get to the list, there is another problem with being a marketer these days. It is that a great deal of the time, the biggest mistakes are not only not easy to see coming, but in fact, in some instances are turned on their heads, then stolen and are re-positioned as "The New Best Practice."  
This is rather like having a best practice suicide list.
So let's unmask these little pests – who they are – what they do – and how the hell do good operators manage them?  
Here is the top 10 list of traps  
They have been assembled with the help of some great people, forged out of challenging situations – and ironically, but not unexpectedly – tend to come up time and time again.
They are not in order of priority – almost any one of them can bring things chaotically and maliciously undone.  
If you would like some advice on avoiding any of these traps, please see the service link at the end of each section for more information.
1. No clearly defined and agreed marketing strategy and precise articulation of measurement and hence – success
The very best marketers have a very clear view of where they sit within the context of their environment. What they have to offer, where it fits, how it needs to reach the people who can buy it.  How it needs to be sold – and who is most likely to buy it.

They will put in place systems, checks and measurement that relate to a

real

business

outcome

. (Market share, increased distribution, new markets, new customers, and yes, revenue. (But not "likes".

)

They write it down and share it.

They get agreement to it.
Marketing Business Alignment service 
2. No clearly articulated communication strategy
The best operators know exactly to whom they

should

be talking – and what those people need to hear. They are also clear about what they want to have happen.  Where and when it's likely to have the most impact. And all of this based upon the appropriate homework, research and advice.

They will have made sure that the story they want to tell is adapted to the appropriate targets through the chain.  Even simple looking distribution channels can have more than one audience. (Often, the most ignored is the internal one.)

Good operators know that the best people to impress with their finely honed messages are their prospects and customers – not their neighbours in Shoreditch. (Unless of course,

they

are the target market.) And the message should be in the language and idiom of the recipient.
Marketing Planning Process Review service
3. No media or channel strategy
Talking to the people you need to means being where they are – when they're there. Not where and when you wish they were. This is the most common of all traps and has been for few years.  Good marketers should insist that their media and channel agencies can prove what they are recommending. Everything and everyone should be aligned to hit the defined targets. This should mean that they are all aligned not only to the strategy, but have a chapter that is compelling to their part or role in the story.  

Good marketers should be able to articulate this clearly to their media agencies and allow them the appropriate resources to do the job properly.  

Good marketers make sure their strategy partners work to agreed objectives and measures aligned to a business outcome.  Great marketers interrogate anyone that tries to tell them that one channel or one approach can do it all.  

The really good marketers assess their media partners on the value they help create – meaningfully, measurably, and transparently.

Good operators know that just because you can measure something doesn't make it valuable. The measure of anything a marketer does – has to relate to the business outcome.  Digital is highly measurable. Nearly all of the measures are highly questionable. Refer to any of the industry press for the current issues with measurement.  There's a lot, you can actually measure them.
Media Transparency, Performance and Value Assessment 
4. No agency roster strategy
Great marketers have structures internally and externally that align to the business plan. The plans are flexible and are reviewed often as needs change. The relationships should be reviewed often and openly.  (See point 6.)

The best marketers normally have a few very good people managing very few, but very well matched external resources.

These resources will be aligned with their clients and aligned with each other. A specific collaboration model and measurement system is vital.

All performance will be interdependent and measured and remunerated on the independent and

appropriate contribution to the business

.
Strategic Supplier Alignment service 
5. No agency remuneration strategy or model
The best marketers have a few chosen partners and will reward them based upon what they bring to their part of achieving the marketing and business objectives. They will also recognise that reward works best when it is aligned to value contribution, not just output. It takes a lot of skill and hard work to get right, but when it does, can work like magic. It can also mean that the agencies will want to contribute more and work together better. This avoids the next trap….
Agency Remuneration and Negotiation service
6. The urge to raise a fever; Pitch….
Good marketers know that "Looking for new ideas" is not a strategy and before they even think about a pitch should have their own house in order.  (Strategy, resources and so on.) They will also align everything internally and only

then

externally. And of course – at the same time implement a

real

collaboration model.

They know that pitching can have unforeseen consequences – especially that a lot of heritage knowledge and real talent can be forever lost. (Advertising archaeology has been sadly lost in the past decade.)

Pitching is an excuse to not deal with real issues like grown ups. If things aren't working, is it just the agency's fault?
Relationship Performance Evaluation service 
7. Fragmented budgeting
Good operators will budget from scratch through every marketing discipline and cycle and know how to build reserves for defensive or new attacking positions. They will only do the same thing over again if they have checked every detail of why the outcome will be the same or better.

They know that it is better to do less well than stretching to try to do everything weakly.

They know to keep

everyone

happy in the knowledge that marketing is making a real and measured contribution by keeping other stakeholders well informed and consulted. This must include the board, the c-suite, the supply chain, distribution channel and suppliers across the entire spectrum. (Not just marketing suppliers.) This avoids completely the real problem of being "told" what to do by those who can.

The good operators set objectives for spend – "I want this, and will need to spend this." They do not ask, "I wonder what will happen if I spend that?" (Unless they

begin

with that question.)
Budget KPI and ROI setting service 
8. The lemming approach to marketing. (Let's all be thought leaders and run off the cliff together)
Good operators know that the teenager argument, "but everyone else will be there" doesn't work for parties and certainly doesn't for marketing. (For many brands and categories, it doesn't even work for social media.)

The smart marketers know not to listen to the deluded, the ill informed, and the zealots who cry, "There is only one way!"
This is most prevalent in the recent areas of marketing and as  I don't want to name names, I'll just called them digital and social.
9. Not using or understanding the value of valid, precise research
The best marketers do their own research. They know that well-informed strategies based upon facts that they know are true to

their

business, context, geography and environment will perform. They will never use research from another context to try to shoehorn a pet theory into their strategy. They know that doing this is deluded, dangerous and simply not valid.

They also use real research – and

real

researchers. Survey Monkey saves money on research. It does not normally save anything else.  

Really great researchers, like scientists, use research to test a hypothesis – not to find something out. (This is true, but needs a book.)

One can't test a piece of stimulus – one can only test a person's reaction to it. But you have to be very good at interrogating people on

what came out for them

– when

something has gone in.

The training for this is much more stringent than hearing and then latching onto the phrase, "I don't like it."
10. Spending their time with the wrong people on the wrong things
***
There is, as we can see, a lot that can go wrong. There is also a lot that can go right. The real problem is that sometimes people are just really to blame for the things that go wrong.
The training industry knows very well the truth of the phrase, "People don't know what they don't know". As marketing has become more and more complex, it has become more and more fragmented and as a result, in a lot of areas – a lot more specialised.
Lots of people now work in areas of marketing that know little of real marketing and the other disciplines that make it work.  
A little knowledge is a dangerous thing
I'm deeply troubled by many people I meet in the industry these days who purport to "know it all," but really know just enough to badly skew some very important decisions. Some of the dramatic impacts are only now appearing after years of misguided investment.  I can't help it, but on behalf of many people, "We told you so".
A bit more real collaboration, more cooperation – and a lot more understanding and knowledge of all the basic components of marketing and communication – and how they actually work – will help. One only has to spend a few hours on LinkedIn to see how low the standards have become.
As someone said, "A little knowledge is a dangerous thing".
However, great marketing directors are like great generals, they know what it takes to win wars, what battles to pick, and what specialist resources they are going to need to get the job done and what the price and spoils of victory will be.
They know what they know – and make sure that someone on their team knows what they don't. But they don't try to know it all – and they certainly shouldn't pretend they do. But they should know whether something fits and where it fits if it does.
And all the people in these internal and or external teams should concentrate on what they know and how they fit – and get a grasp of what they don't.
And if all of this doesn't work, and you do get trapped – may I offer our services to come and get you out? We cover all these areas and a few more. We've seen lots of traps.
And as everyone knows, falling in is the easy part.
Click here to learn more about how TrinityP3 can assess the strength of your delivery and work with you to trim the fat, untangle the threads and improve your marketing results.
Want more articles like this? Subscribe to our newsletter: