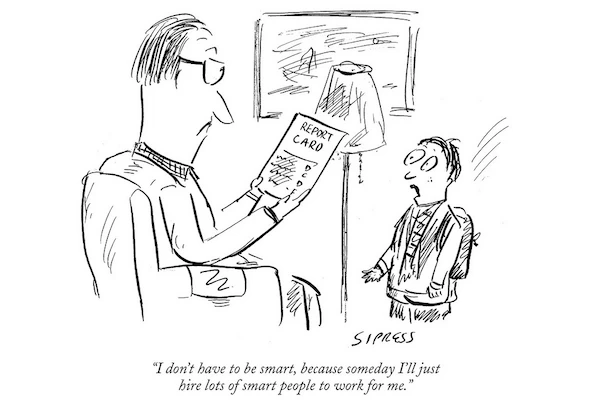 This post is by Michael Farmer, Chairman of TrinityP3 USA and author of Madison Avenue Manslaughter: an inside view of fee-cutting clients, profit-hungry owners and declining ad agencies, which won the Axiom Gold Business Book Award for the best marketing / advertising book of 2016.
Transformations are tough.  They put organisations between the proverbial "rock and hard place."  The executives in place have not been successful in managing long-term declines — yet, they need to be mobilised to "do something completely different," whether or not they have the understanding for it or the requisite skills.
Senior executive leaders are challenged by transformations, which require bold and unwavering leadership, but since this kind of leadership has been lacking (which is why transformations are required in the first place) existing leaders may not bring enough commitment and conviction to overcome their organisations' doubts and resistance.
When IBM was headed to insolvency in 1993 — its proprietary mainframe revenue had nearly halved from $13 billion (1990) to $7 billion (1993) in the face of competition from open-sourced software — the board turned to an outsider, Lou Gerstner, to lead the company.
Gerstner had no experience in the industry, but the board reasoned that an outsider would be better at defining a new strategy in an industry whose rules for success were changing. Gerstner was initially reluctant to take the job, putting the odds for success at only one-in-five.  It took the persuasion of a key board member to sign him up.  "You owe it to America to take the job," the board member said.  "IBM is such a natural treasure that you have an obligation to fix it."
Gerstner's biggest fight was with the existing IBM culture, which battled and resisted to preserve IBM's organisation, skills, proprietary products and ways of doing business — even though these "ways" were clearly failing in the marketplace.  Ultimately, Gerstner prevailed and transformed IBM into an integrated consulting service provider, but not before neutralising or firing many whose resistance stood in the path of change.
What about today's advertising agencies?  They are led by insiders, experienced industry leaders who have personally experienced the ravages of Madison Avenue's Manslaughter. They are not unaware of the need for change.
Unlike Gerstner, though, they tread a delicate line between continuity and change while trying to articulate a new vision with clarity and conviction.  Sometimes they draw on the past ("we need to become more creative and win more awards") and other times they speculate about an entirely different industry future ("advertising as we know it is dead").
Does this sound confusing?  It surely is, which is why those of us who work in the industry are often puzzled by where its leaders are trying to take it.
Agency executives who lead transformations need strong executive allies, new types of talent and the elimination of resisters.  Inevitably, senior executives will need the help of clued-in executive search firms.

Not all search firms see their challenges in the same way.  Most executive search firms are prepared to "fill needed positions" in accordance with client job descriptions, much as they have in the past.  Others see themselves as having to become part of the transformation effort itself.
"When agencies transform," stated Raj Das, Head of Digital at Buffkin Baker, "they need executive partners who understand the new requirements and challenges — and the difficulties that new executives may have integrating into an old, but changing culture.
It's not enough to find new executives who have certain skills and experience.  It's about thinking through what it will take to make them successful once they land in their new jobs."  To this end, Buffkin Baker spends as much time educating itself in the "transformation situation" as it does in conducting actual searches.
"There's a 'before-and-after' aspect in any of today's complicated searches," said Das.  "We have to understand the transformation challenges as well as our clients.  Since there are uncertainties in any transformation, this means assessing risks and making reasoned judgments in partnership with our clients."
Agencies are not the only organisations that need to transform.  Advertisers, too, need to rethink their marketing and procurement practices, particularly in the ways they think about how they plan their marketing spend/mix, design their Scopes of Work, and how they use and remunerate their agencies.
Unarguably, the trends of the past decade have turned agencies into commodity suppliers of low-cost client-determined marketing deliverables, and although costs have been reduced, brands have gone stagnant.  The shift in power from agencies to advertisers has not been a slam-dunk success.
In this age of disruption, transformation is the "new normal," putting a strain on those who wish they could fall back on the comforts of the past. Whether you're an ad agency, executive search firm or advertiser, you probably need to up your game to be capable of working in more meaningful ways with your customers and suppliers.
Even the consulting firms, who have had four decades of astonishing success, need to rethink how they work with their advertiser clients, and how to use the creative assets that many of them have accumulated in the past few years. No one escapes from the need to transform.
Cartoon credit: David Sipress, The New Yorker, The Cartoon Bank. With permission.
This post was originally published at Media Village
We exist to help you drive best possible performance outputs. We can help you innovate to achieve this with these Agency Performance Services
Want more articles like this? Subscribe to our newsletter: