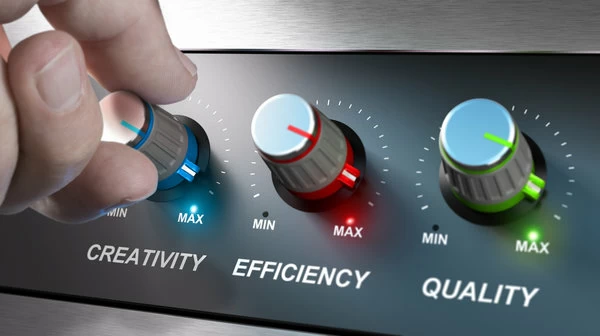 This post is by Anton Buchner, a senior consultant with TrinityP3. Anton is one of Australia's leaders in data-driven marketing. Helping navigate through the bells, whistles and hype to identify genuine marketing value when it comes to technology, digital activity, and the resulting data footprint.
Following on in our 'Become an Instant Expert' series of posts aimed at demystifying marketing in a tech-driven world, we'd like to focus this post on agency performance. Outlining some of the important areas to understand and make more efficient in order to maximise the value of your agency partners and suppliers.
We often hear junior marketers say that they are swamped with the current scope of work that they are handling, and that they're wasting too much time managing multiple agency partners.
Sound familiar?
Change starts with you
Well there's something you can do about it to help your marketing and agency teams become more efficient and productive.
And here's the first tip. If you wait for others to change, then you may be waiting for a long time.
Change can start from within.
There are 4 key points to learn about when looking at your agency performance. And just to clarify, by agency performance, we mean how effectively your agencies are helping you solve your marketing challenges.
Ask yourself
Answer these questions to get a feel for what environment you're currently working in. What we call the "as is" state:
Are you briefing all relevant agencies together?

Are all the agencies coming back as a united front with integrated solutions, or are they pushing their own barrow?

Are your agencies pushing the boundaries with solutions? Or just delivering what you expect?

Do you clearly understand all the roles of people at the agency, or do you see a procession of people attending meetings?
We'll explore each question.
Are you briefing all relevant agencies together?
When it comes to briefing, whether it's for a campaign, or some other marketing activity, it's important to have all relevant agencies involved upfront.
There's nothing worse than developing big campaign ideas, only to see digital, social, or customer experience teams involved late in the development or production process. This only serves to duplicate activity, and waste valuable marketing budget and time.
When preparing a brief, you'll need to also make sure that you've involved the relevant stakeholders within your business prior to the briefing – whether it be product, sales, tech, data, analytics, etc. And most importantly, making sure that their input is logical and aligned, and not just from their own silo business unit perspective.
One of the biggest gripes we hear from agencies is the waste of time and rework required due to internal client teams not being aligned prior to briefing.
So if this sounds like your organisation, then you can create a simple tick list of stakeholders that must input into the brief prior to briefing the agencies. And then have a final tick area for alignment that one of your senior managers must be responsible for.
If the tick list isn't complete, then agencies don't get briefed. Simple.
Are all the agencies coming back as a united front with integrated solutions, or are they pushing their own barrow?
If you feel that your agencies aren't working well together, then you may have a larger structural agency roster problem.
It may be that you have too many agencies on your roster, and that they are competing with each other for your business. There may be too many generalist agencies that are trying to steal each other's scope of work, and hence increase their agency revenue.
Or it may be that your organisation simply hasn't clearly defined the best structural roster of agencies. Or worse still, hasn't clearly defined the role of each agency, and hasn't clearly defined the services and type of work expected from them.
What can you do about it? You're just expected to work with whatever agencies are thrust upon you. Aren't you? Well, no.
You can inform your manager, and let them know the time that you are wasting, and that you can see that the agencies aren't responding as a united front.
Your manager can then probe deeper into time efficiencies, budget allocations and other important agency performance measures.
Junior marketers generally have a pretty good gut feel for assessing whether agency solutions really are delivering on a brief and are working logically together having considered all channels and touch points.
What would you say?
Are your agencies pushing the boundaries with solutions? Or just delivering what you expect?
In an ever-changing technology and media connection landscape, this is an important area to understand.
A marketing team often wants its agencies to push the boundaries, however, when it comes to implementation, they may be reluctant to take the risk to implement them.
If this is the case with your organisation, then you need to clearly define what risk territory you are willing to play in.
Spend some time as united marketing and agency teams discussing the landscape. Map out how far you are willing to push the boundaries. It's always a good idea to involve your legal and risk management teams in these sessions.
We worked on a project recently where the risk appetite for a client was low, however the agencies wanted to deliver bleeding edge ideas. The definition of insanity comes to mind. It was a case of wasted agency resources, frustrated agency staff, and a poor client / agency relationship. Not a great place to be.
Another tip for learning how to take advantage of opportunities is to make sure that your marketing manager has set aside budget for blue-sky thinking. Some of the leading organisations around the world have set aside 5%, 10% and even up to 20% of their marketing budget to test blue-sky ideas and opportunities.
This takes away arguments when it comes to how to pay, and also creates a culture of "will do" versus "won't do".
Do you clearly understand all the roles of people at the agency, or do you see a procession of people attending meetings?
We touched on this earlier when looking at whether agencies were responding as a united front.
When identifying the role of each agency, it will be critical to then define the roles of team members within each agency.
Often this is set out at a contract and agency appointment stage and then teams hit the ground running.
However you see the agency estimates more regularly than your managers, and you probably see all sorts of titles listed with head hours and costs. Do you know what everyone who is listed actually does?
Even more importantly, do you know why it takes the time listed to do the role that they are doing? If not, then simply ask: what do they do, and why does it take so long?
Make sure you are armed with an answer that you understand so that you can then inform your manager. It's a simple tactic to ask the agency to explain it so that your management team can understand it.
We worked on a project recently that listed 5 strategists. And between you and us, there weren't 5 strategies. It was a huge agency cost blow out that the client was totally unaware of.
Has this post helped you become an instant expert?
Well these are just a handful of starter ideas. If you feel that you need further assistance in assessing your agency or agency roster performance from a strategic, structural, scope of work, or value perspective, then you can become even more of an expert by reading more here.
And if interested to discuss with us, then we'd love you to forward this page link to your manager.
Thank you for reading. Here is your TrinityP3 Instant Expert Certificate:

PS – remember to stay tuned for the next posts in the 'Become an Instant Expert' Series:
1. Marketing performance measurement
3. Media performance
4. Digital and technology alignment
5. Agile marketing delivery
6. Environmentally sustainable marketing
TrinityP3 exists to help you drive the best possible performance outputs. We can help you innovate to achieve this with these Agency Performance Services.
Want more articles like this? Subscribe to our newsletter: